Candy Class with Ryan and Eric Berley

Tuesday, September 25, 2012 at 7:00 PM (EDT)
Event Details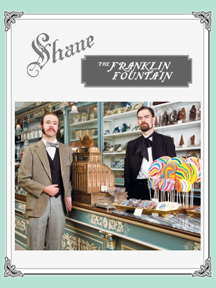 Candy Class with Ryan and Eric Berley of Franklin Fountain
Tuesday September 25,  7-8:30pm
Come to this FREE hands-on demonstration with the owners of Shane Confectionery (America's Oldest Candy Store) and The Franklin Fountain - Ryan and Eric Berley. Employing some of their vast collection of confectionery tools, curiosities, and candies, Ryan and Eric will begin with an illustrated lecture on the historic and industrial arts of Philadelphia's confectionery past.  After that it's straight to the sugar! We'll be pulling taffy, learning about lozenges, and casting candy from their antique metal molds. Each participant will take home a "clear toy" of rock hard candy cast from molten sugar.
Candy Class has been coordinated to address questions of the continuation of Philadelphia's industrial heritage raised by Temple Contemporary's Advisory Council.
Always sporting his iconic mustache, Eric Berley has always been the "Ice Cream Brother" while Ryan has conquered candy. Eric's passions include historic architecture and business leadership. This year, he recently added beehives to the Shane Confectionery roof and hopes to be involved with the creative side of sweets menu planning for Franklin Fountain.
Ryan Berley was born and raised in Media, in suburban Philadelphia.  After a number of years in the antiques business, he started The Franklin Fountain, an early 1900s soda fountain & ice cream saloon, with his brother Eric in 2004.  Six years later, they purchased Shane Candies and embarked on a full-scale restoration spanning over 18 months, re-opening as the Shane Confectionery in December 2011, celebrating the history of America's Oldest Candy Store since 1863. 
A display of the Berley Brothers confectionery collection will be on view at Temple Contemporary through October 12, 2012.  
When & Where

Temple Contemporary
Tyler School of Art at Temple University
2001 North 13th Street
Philadelphia, PA 19122


Tuesday, September 25, 2012 at 7:00 PM (EDT)
Add to my calendar
Organizer
Our mission is to creatively re-imagine the social function of art. We believe that democratic leadership is the most appropriate way to produce an artistic program that inclusively responds to pressing issues of local and national significance. This democratic ethos is embodied by a forty-member advisory council of neighboring high-school students of color, Temple University students and faculty, as well as civic/cultural leaders representing a range of skills (nurses, farmers, philosophers, artists, community activists, historians, etc.). To each annual meeting every adviser brings one question that they do not know the answer to.  It is out of these questions, and the debates they provoke within the council that determines Temple Contemporary's programming.

This process grounds us in a position of public service to address contemporary questions of urgency and simultaneously necessitates a fundamental philosophical shift for the organization: from a single curatorial/authorial voice to one that recognizes social engagement and debate as the determining factor of our programming. This re-ordering of conventional gallery values foregrounds curatorial accountability, reciprocity, and exchange, as the basis of Temple Contemporary's social life, and our social values.
Funding for Temple Contemporary comes from The Andy Warhol Foundation, The Fels Foundation, The Barra Foundation, The PEW Center for Arts and Heritage, The Pennsylvania Humanities Council, The Pennsylvania Council on the Arts, Tyler School of Art and Temple University.