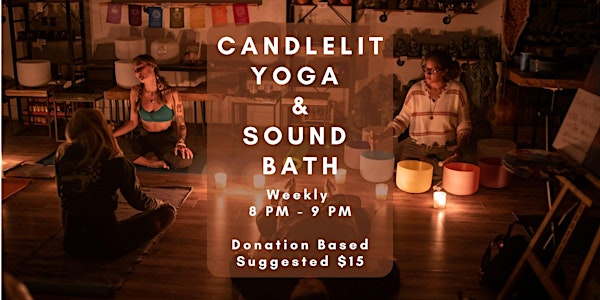 Candlelit Yoga and Sound Bath
Location
Earth's Elements
421 University Avenue
San Diego, CA 92103
Refund policy
Contact the organizer to request a refund.
Eventbrite's fee is nonrefundable.
ALL LEVELS WELCOME! An hour of gentle stretching poses, promoting deep relaxation. Suggested Donation: $15
About this event
***This class has now changed from 9 PM to 8 PM! Please make note and we hope to see you soon!***
What can I expect?
An hour of gentle stretching poses, promoting deep relaxation, and ending with a guided meditation. Accompanied by singing bowls and candlelight, creating a healing space to unwind at the end of your day. 
What should I bring?
This is a no-props restorative class, but you are welcome to bring them if they are used in your personal practice. 
Please bring a mat (they are provided if you do not have access to one).
Please bring yourself on time so as not to disturb others you in their mediations.
Who are the teachers?
Erin D'Amore & Lisette Archer-Barber
Erin D'Amore
ig:@erinoflove
https://www.erinoflove.com/
Erin D'Amore (aka Erin of Love) found and fell in love with yoga in her early twenties after 15 years of competitive dancing. The ability to move and express herself through movement with the union of breath and spirit, led her to complete her 200hr Yoga Teacher Training in 2015 in San Francisco, CA. Although Erin doesn't view herself as a yoga "teacher," but more a yoga guide-- creating hour-long experiences to journey inward and align with your higher purpose. She is interested in all things spiritual and mystical, and is currently working on a Tarot Advisor Certification.
Lisette Archer-Barber
ig: @illuminatingcrossroads
https://www.illuminatingcrossroads.com
Hello, my name is Lisette Archer-Barber. I am an intuitive guide for others that may feel stagnant, alone, or in a transitional phase by utilizing reiki, light language, sound, and metaphysical tools to connect with one's higher self to support clearing any fog that the 'self' may be experiencing. I assist with bringing awareness to the actions and choices one makes to align one closer to their purest 'self' without all the layers and masks we tend to wear daily. By bringing the connection to 'self' back into awareness, we can genuinely illuminate the 'self' one wants to express to others.