Event Information
Refund Policy
Contact the organizer to request a refund.
Eventbrite's fee is nonrefundable.
London Tierney from Particle Goods joins us for a 2 part candle-making workshop that focuses on the technicalities of the practice.
About this Event
This two part introduction to candles will convey the important technicalities that aspiring candle-makers need to be aware of in a discussion and demonstration based class.
The class takes place over two sessions, a week apart. The discussion part of the class on April 14 will cover the equipment, suppliers and context for candle-making. In the demonstration-based portion of class on April 21 London will demonstrate how to make a candle from start to finish, addressing a wide range of troubleshooting techniques and safety as well.
SESSION BREAKDOWN
Wed., Apr. 14: Day 1 - Overview of Candle Making
Today's session will cover the basic equipment and materials needed to make candles as well as tips on how to set up your professional candle making studio -- including a list of suppliers. The session will cover the types of wax readily available on the market, how to determine the one best for your application, and how to test. We will discuss both paraffin and vegetable-based waxes, as well as a brief cover of fragrances vs essential oils in candles - including a brief overview of aromatics appropriate for candle making.
Wed., Apr. 21: Day 2 - Demonstration Session
In this second session, we will cover the technicalities of container and wick selection, wax temperature, fragrance load, pouring, troubleshooting techniques and - of course - safety. The session will be demonstration based.
NOTES
This class does not cover scent formulation for candles, but does cover the hows and whys of making the candles themselves. If you are interested in formulating scents for candles, please check our schedule for our Candle Making 101: Introduction to Formulations class, taught by Ashley Eden Kessler on April 23rd.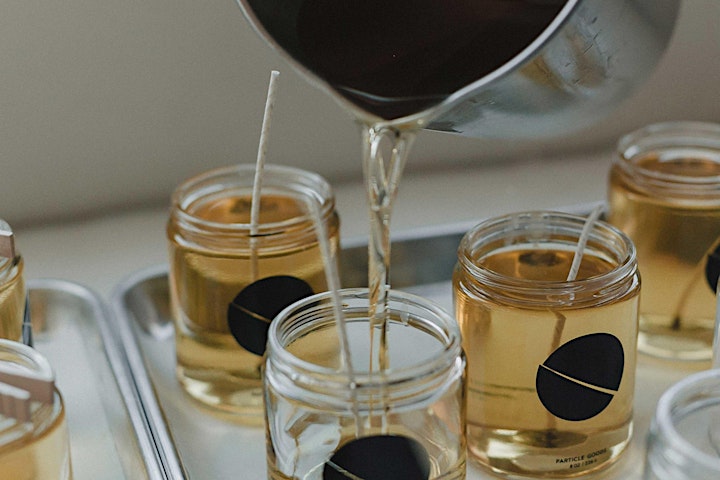 ABOUT LONDON TIERNEY
Particle Goods was founded by London Tierney in 2017. While recovering from a chronic sinus condition and emotional burnout she was deeply inspired by the connection between scent and the body as a way to promote mindfulness and process grief. Exploring scent played a large role in restoring her physical and emotional wellbeing. Each fragrance she creates for Particle is inspired by natural formations and reminiscent of a youth spent exploring the wilds of Utah, Washington, and Idaho. In her previous creative life, she has been a shop manager, screen printer and textile designer, teacher, and a tour guide at a chocolate factory.
Learn more at https://particlegoods.com/
ATTENDANCE AND REFUND POLICY
This is an online class that will take place on Zoom. The Zoom link will be sent by email approximately 24 hours before the class. Lest this email end up in your spam folder, please be sure to add hello@artandolfaction.com to your address book.
+ Event times are listed in Pacific Time (PDT); please use a time converter for your local start time.
+ Please download and install Zoom before the class starts, to avoid last minute technical issues.
+ Please be sure to attend, live! Learn more about how we teach here and review our community guidelines here.
+ Unfortunately, we cannot offer refunds or credit for missed sessions. Here is our refund policy: Cancellation with refund or credit requests made two weeks or before the materials list or syllabus has been sent will be honored with gusto! Refunds or class credits requested after the formula or syllabus for the class has been sent, on the day of the course, or after the course has started will not be granted. Note also that event tickets are non-transferable.
Date and Time
Location
Refund Policy
Contact the organizer to request a refund.
Eventbrite's fee is nonrefundable.