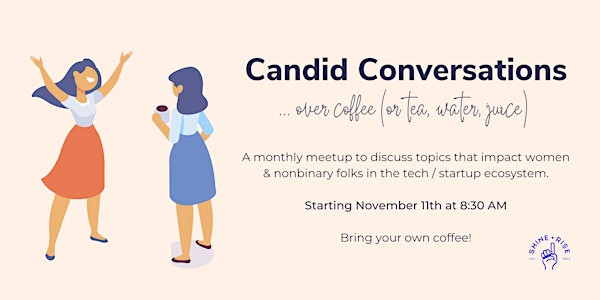 Candid Conversations
Join Shine & Rise for Candid Conversations — a new monthly meetup.
When and where
Location
Ann Arbor Club 103 East Liberty Street #3rd floor Ann Arbor, MI 48104
About this event
1 hour 30 minutes

Mobile eTicket
Join Shine & Rise for its second Candid Conversation and explore the topic of job-related negotiation. The ability to negotiate successfully—whether for yourself or your organization—is a critical leadership skill. A 2022 study from Credit Karma reveals 31% of women say they don't feel comfortable asking their employer for a raise and 66% of women say their current salary is holding them back from reaching their financial goals, including paying off debt and saving for retirement. 35% of women surveyed said their low salaries were preventing them from being able to afford necessities like rent.
If you've been sleeping on negotiating a raise, are reluctant to counter a job offer, or are long overdue to raise your rates, this is the space for you. In this 30-minute session, you will make progress in identifying choices, understanding critical steps, and applying them to the situation you face. Even if you're not seeking higher compensation, we'll cover why it's never too early to build your self-advocacy muscles. Join us on December 2nd and increase your comfort level in managing negotiations while learning to successfully advocate for yourself. Don't forget to BYOC (Bring Your Own Coffee).
The program is limited to the first 20 people that register. Pre-registration is required and FREE. Attendees will be encouraged to submit anonymous questions on the topic prior to the event as well as participate in a lively discussion during the event. Questions can be submitted here.
Hosts: This month the event is hosted by Shine & Rise members Parker Tracey and Jennifer Olmstead. If you would like to host a future event, email hello@shinrise.org.
About our Facilitator
As a Congressional staffer-turned-energy lobbyist, Parker spent the past twenty years as a professional negotiator in the public policy trenches, primarily in Washington D.C. Outside of crafting legislation and advising decision-makers, Parker has served as a coach, mentor, and facilitator for the past 25 years.
Parker is a leadership coach to public-facing top performers in sports, public service, and the arts. Her specialty is helping clients negotiate seasons of uncertainty and explore intentional transitions between what was and what's next.
Parker profoundly cares about our next generation of leaders and is committed to opening doors to those who traditionally haven't had access. Through her pro bono work, Parker is proud to support change-makers who operate in spaces resistant or hostile to change.