Candid Conversations - An Interactive Networking Game
Description
Candid Conversations - An Interactive Networking Game For Heart-Centered Business People!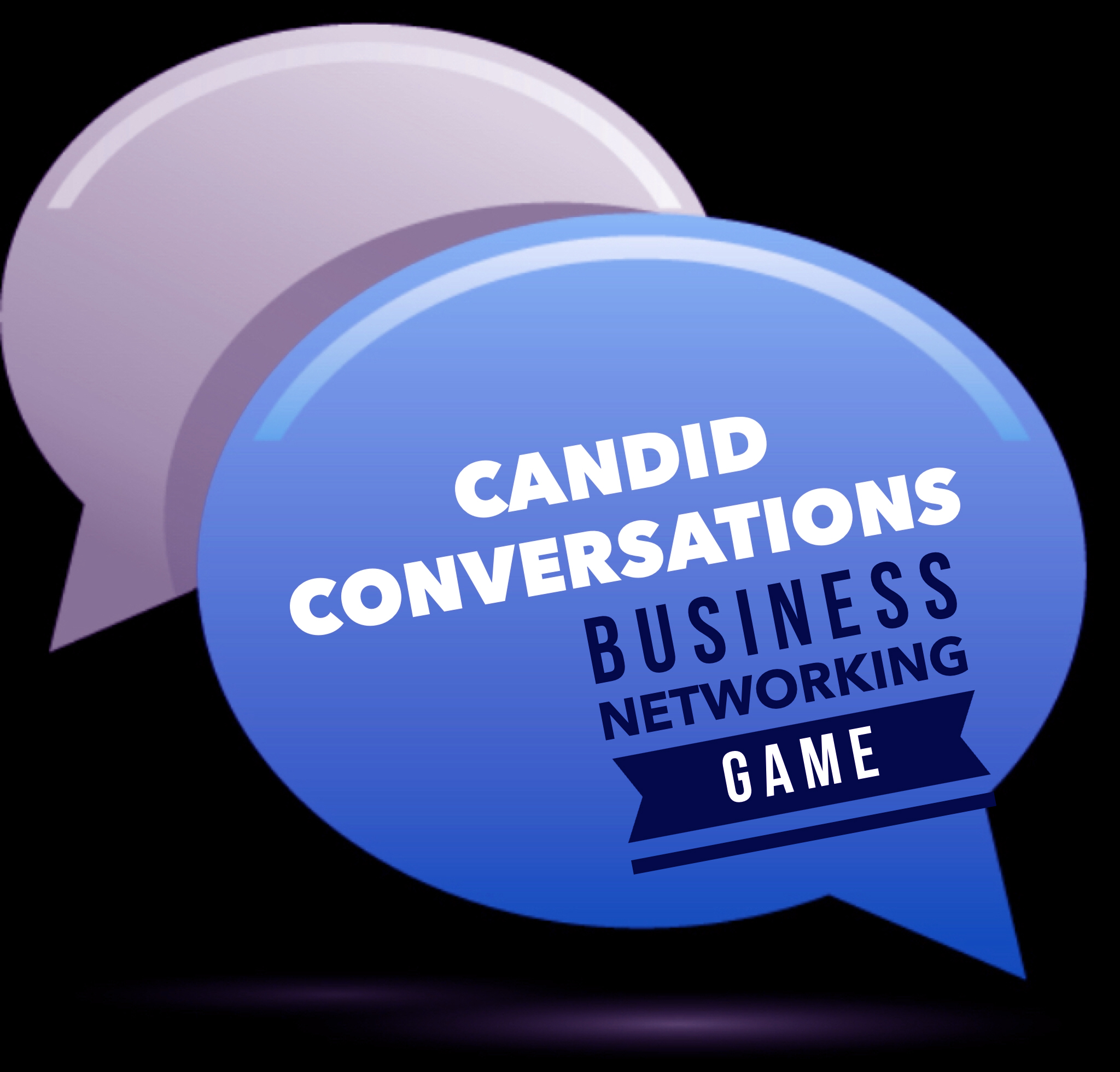 It's been shown the best way to build solid, long-lasting business relationships is to first get to know someone on a more authentic level to see if you like them as a person.
Let's have some fun networking tonight and get to know one another in a more genuine way!
So how does this event work?
Everyone will be seated in groups of 4 - 5 people.
Prior to beginning our Candid Conversations game, we will have a facilitated discussion about how to feel more relaxed and comfortable, be more approachable and connect better when meeting others for the first time.
At the beginning of each game round every table will be given a fun and thought-provoking question to answer and discuss amongst themselves. These questions break the ice, making conversation easier and helping people get to know each other better.
Sample questions might be:
- If you were given $10 Million dollars to do good things with, what would you do?
- What song always makes you feel like dancing?
- If you could be anyone of the opposite sex for a day who would you be?
- What's one thing no one would ever know just by looking about you?
At the conclusion of every round participants get up and move to another table … and it will all begin again!
There is ONE RULE for the event: you are asked to not to talk about your business. Don't worry, there will be lots of time to exchange business cards during the meet and mingle portions of the night.
At the end of the evening you will have met and really gotten to know many of your fellow attendees and discovered who you genuinely click with. From there, figuring out who you want to do business with gets a whole lot easier!
EVENT TIMING:

Doors open at 6:00 pm

Workshop begins at 7:00 pm

Come early and have dinner off the restaurant menu. (Food and drinks are at your own cost)



TICKET PRICE:

Advance Tickets: $15.00
At the door: $20.00 (If available)

Please note, this is a smaller event, so tickets are limited. HST is included in all ticket prices.


Our facilitator for this unique evening will be:
Barbara Katz

Barbara specializes in interpersonal communication. She is a professional facilitator and teaches people how to connect better in their personal and professional lives by communicating in a more genuine, confident and playful way!

She is a trained Co-Active Coach through the Coaches Training Institute and has been awarded a Practitioner Certification from NLP Canada. She also holds a Bachelors of Commerce degree from Ryerson University.

Also, she is the owner of Socially Savvy Group, a business that helps people "click" better with their clients, and the founder of Flirt Factor, a company dedicated to improving communication between the sexes. http://www.FlirtFactor.com

We look forward to seeing you for a fun and interactive evening!