[CANCELLED]The Korean War through the Prism of the Interrogation Room
About this Event
Through the interrogation rooms of the Korean War, this talk demonstrates how the individual human subject became both the terrain and the jus ad bellum for this critical U.S. war of 'intervention' in postcolonial Korea. In 1952, with the US introduction of voluntary POW repatriation proposal at Panmunjom, the interrogation room and the POW became a flashpoint for an international controversy ultimately about postcolonial sovereignty and political recognition.
The ambitions of empire, revolution and non-alignment converged upon this intimate encounter of military warfare: the interrogator and the interrogated prisoner of war. Which state could supposedly reinvent the most intimate power relation between the colonizer and the colonized, to transform the relationship between the state and subject into one of liberation, democracy or freedom? Tracing two generations of people across the Pacific as they navigate multiple kinds of interrogation from the 1940s and 1950s, this talk lay outs a landscape of interrogation – a dense network of violence, bureaucracy, and migration – that breaks apart the usual temporal bounds of the Korean War as a discrete event.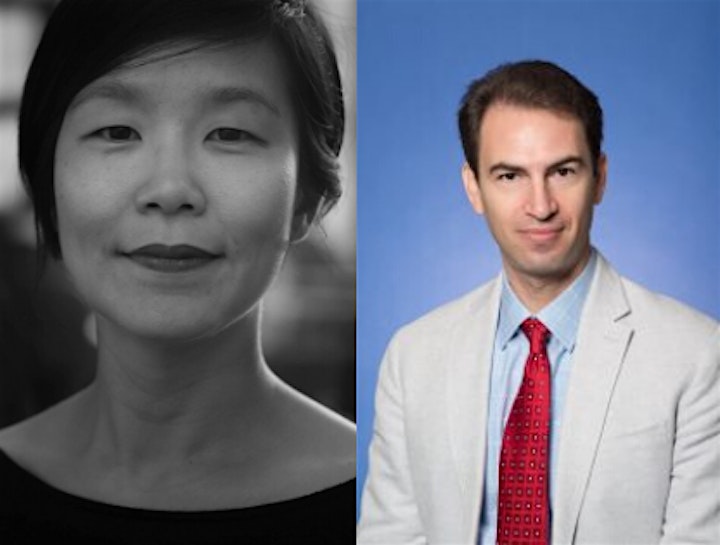 Speaker
Monica Kim (left) is Assistant Professor in History at New York University. Her book, The Interrogation Rooms of the Korean War: The Untold History (Princeton University Press), is a trans-Pacific history of decolonization told through the experiences of two generations of people creating and navigating military interrogation rooms of the Korean War. She has published work in journals such as Critical Asian Studies and positions: Asia critique concerning U.S. Empire, war-making, and decolonization. She is also a member of the Editorial Collective for Radical History Review. Her research and writing have been supported by fellowships from the Institute for Advanced Study, the Penn Humanities Forum at University of Pennsylvania, and the Korea Foundation.
Moderator
Gregg A. Brazinsky (right) is Professor of History and International Affairs and Deputy Director of GW Institute for Korean Studies. His research seeks to understand the diverse and multi-faceted interactions among East Asian states and between Asia and the United States. He is the author of Nation Building in South Korea: Koreans, Americans, and the Making of a Democracy (University of North Carolina Press, 2007) and Winning the Third World: Sino-American Rivalry during the Cold War (University of North Carolina Press, 2017). He served as Interim Director of the GW Institute for Korean Studies during the Spring 2017 semester.
This event is on the record and open to the public. Your photo or video may be taken during the event for education or promotional purposes. Your visit grants permission for our use of these photos and videos.
The Elliott School can coordinate with the university to reasonably accommodate most disabilities. If you need specific accommodations, please contact GWIKS at gwiks@gwu.edu. Requests should be made as soon as possible, but at least three business days prior to the event to ensure full accommodations: Disability Support Services | Motherhood rooms | Gender Inclusive Bathrooms.