*******CANCELLED*****Community Forum on Immigration - Secure Communities &...
Description
Due to the low number of RSVPs we've received thus far for the Immigration Forum on DACA and Secure Communities, we have decided to CANCEL the workshop scheduled to take place on Thursday, August 30th.
We are exploring other avenues for making this information available to our community, for example by working with school administrators to take information on DACA directly to students and their families.

If you have any questions on Secure Communities or DACA, do not hesistate to contact the Office on African Affairs by emailing us at oaa@dc.gov or by calling 202-664-6213.

Thank You.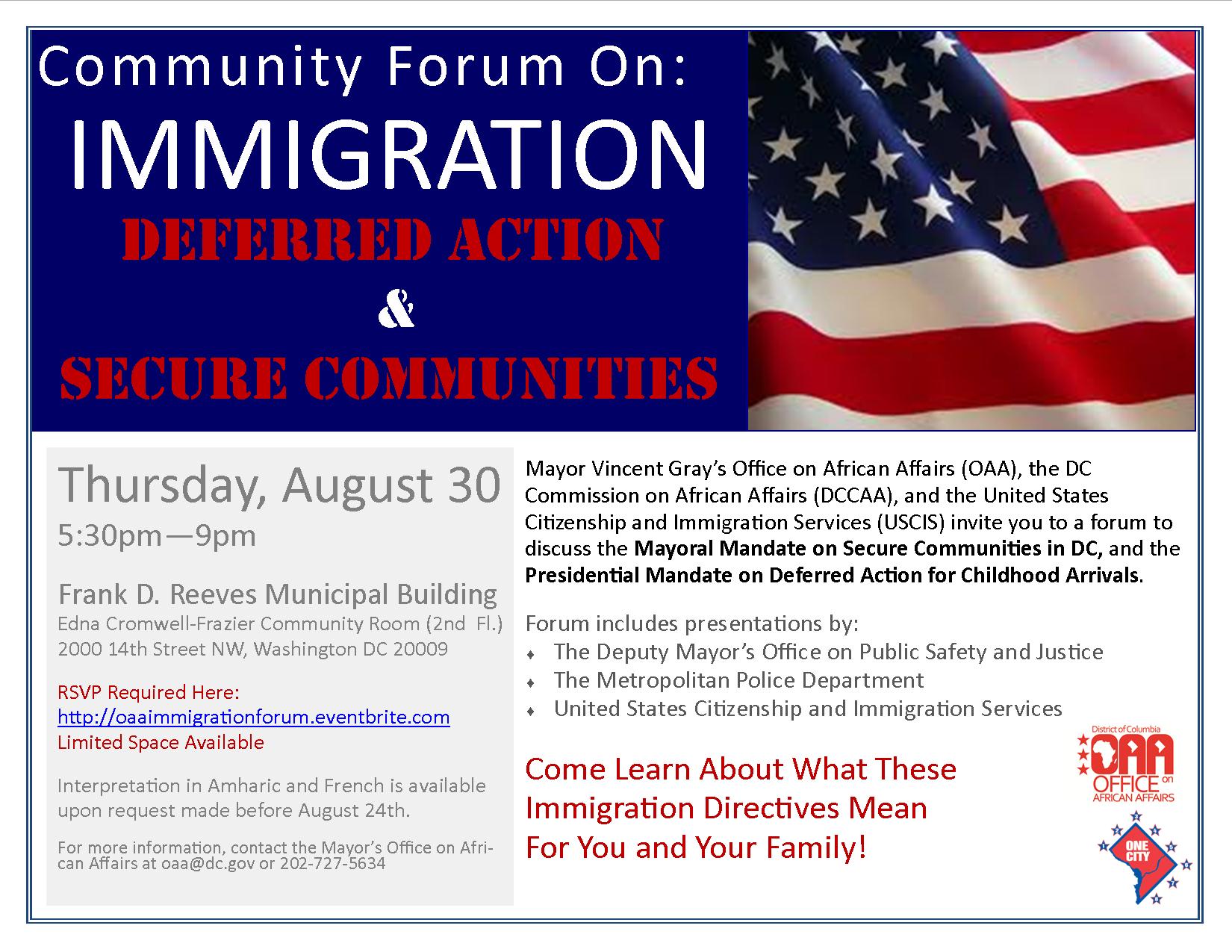 Mayor Vincent Gray's Office on African Affairs (OAA), the DC Commissionon on African Affairs (DCCAA) and the United States Citizenship and Immigration Services (USCIS) invite you to a forum to discuss the Mayoral Mandate on Secure Communities in DC, and the Presidential mandate on Deferred Action for Childhood Arrivals.
Forum includes presentations by:
The Deputy Mayor's Office on Public Safety and Justice

The Metropolitan Police department

United States citizenship and Immigration Services
Come learn about what these immigration directives mean for you and your family!
Date: Thursday, August 30
Time: 5:30pm-9pm
Address: Frank D. Reeves Municipal Building - Edna Cromwell-Frazier Community Room (2nd Floor)
2000 14th Street NW, Washington DC 20009
Limited space available! Interpreation in Amharic and French is available upon request made before August 24th.
For more information, call OAA at 202.727.5634 or email at oaa@dc.gov.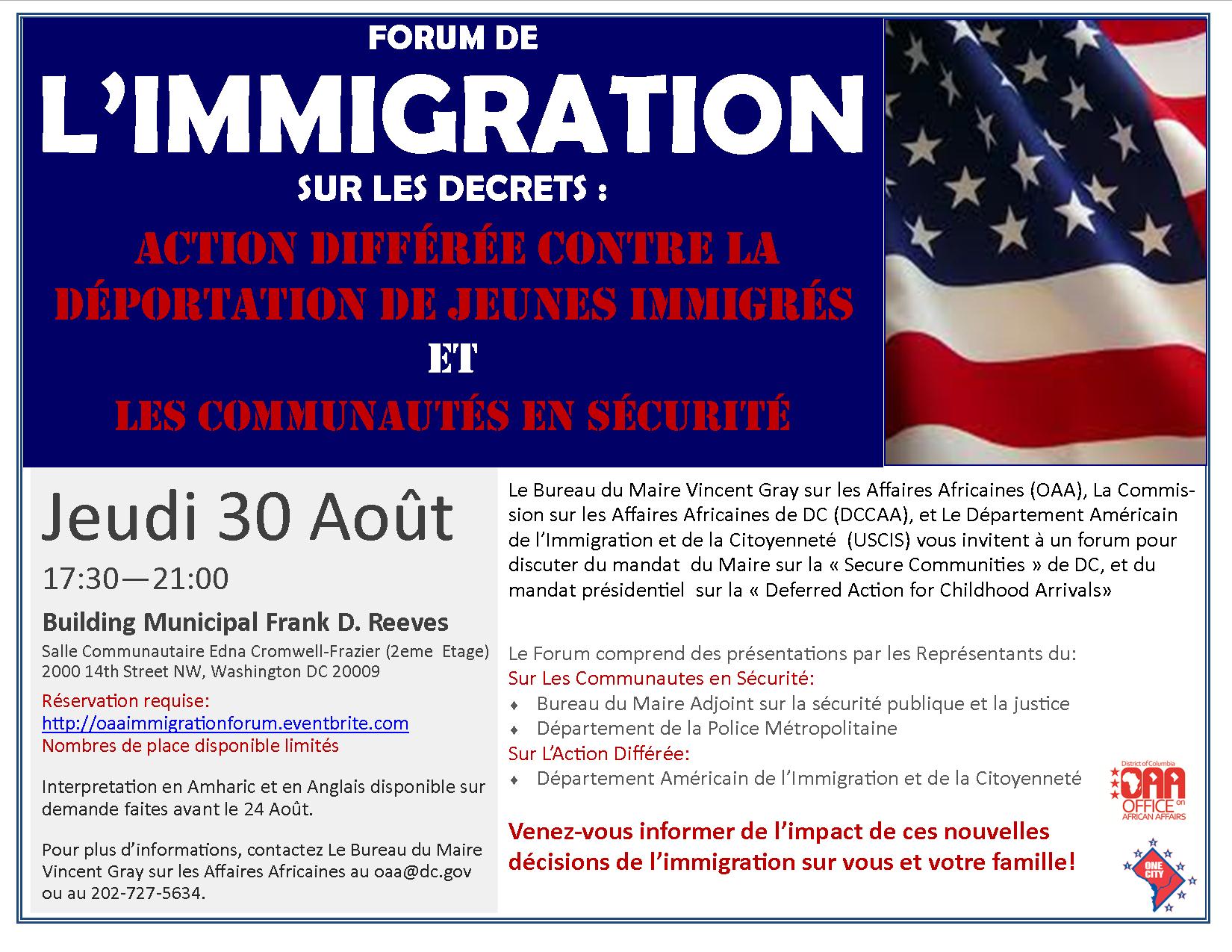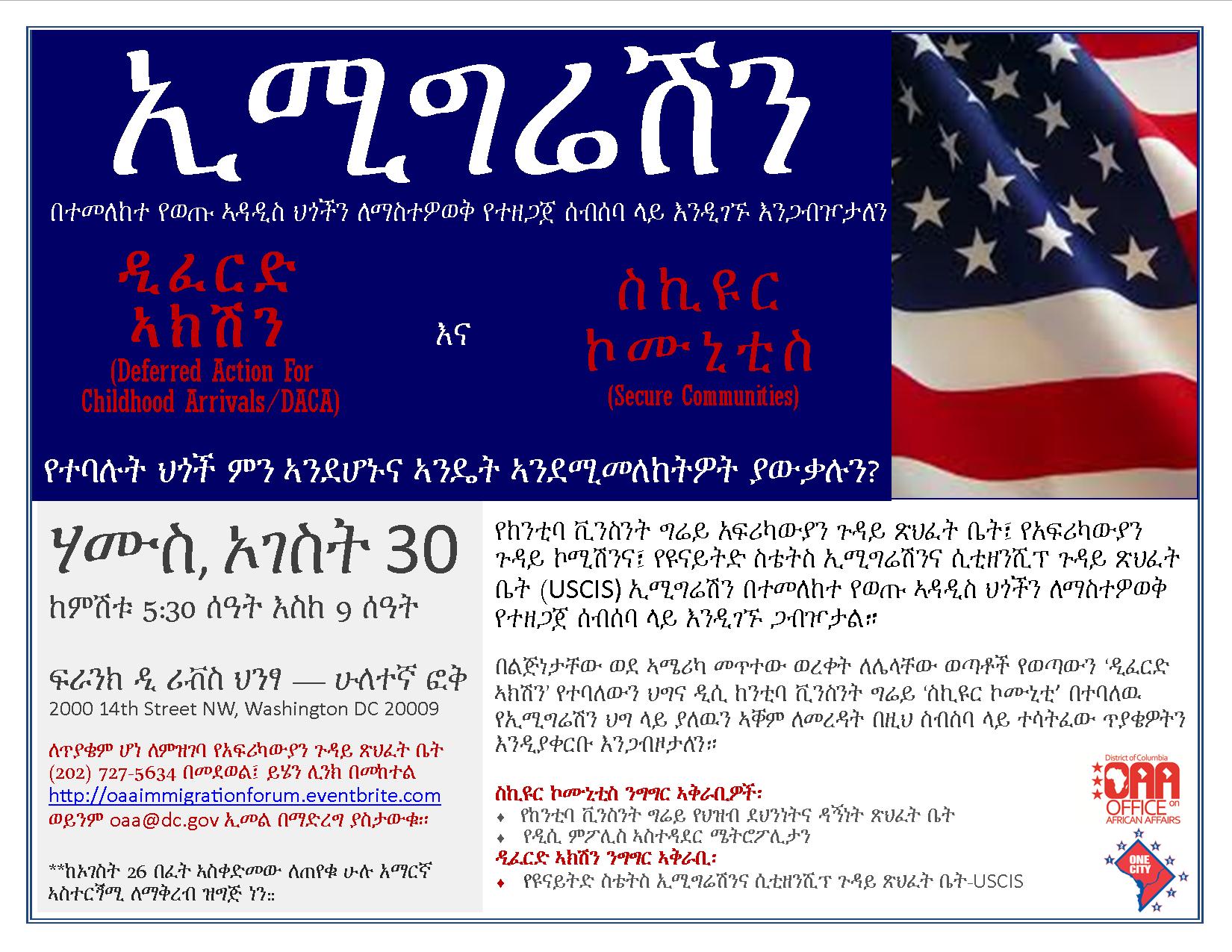 Organizer of *******CANCELLED*****Community Forum on Immigration - Secure Communities & Deferred Action
The mission of the Mayor's Office on African Affairs (MOAA) is to ensure that the full range of health, education, employment, social services, safety, business and economic development information, services and opportunities are accessible to the District's African immigrant communities. By serving as the liaison between the District's African immigrant communities, District government agencies and the Mayor, MOAA aims to: Improve the quality of life of the District's diverse African born..