About this Event
Due to the cancellation of GDC2020 we've decided that the SpielSchön event will NOT take place.
Framed by the world's largest game conference – the GDC – we invite you to a special evening celebrating the beauty of Austrian culture and its games.
Under the motto "beauty" we'll showcase examples of award-winning Austrian games. Their stellar visuals on canvas will be accompanied by live music, Austrian wine and delicious treats.
Meet the minds behind the games and become an artist yourself. A lot is waiting for you at the SpielSchön gallery 2020!
Exhibitors and audience
Get insights to unpublished games by award-winning studios and experience CES awarded VR technology. A game throughout the evening will bring you closer to studios winning the Apple Design Award and Red Bull starting to integrate games into new markets.
Exchange ideas and questions with developers on site and discuss the potential future of games with high level business partners, investors, publishers, academics and the press.
About the hosts
Silicon Valley-based government initiative Open Austria, Vienna- based game design agency Playful Solutions and the Austrian developer association Pioneers of Game Development Austria are hosting the event.
Come with a playful mindset and we'll take care of you with food and drinks!
Useful Links
- Pioneers of Game Development Austria
- Bongfish
- Rarebyte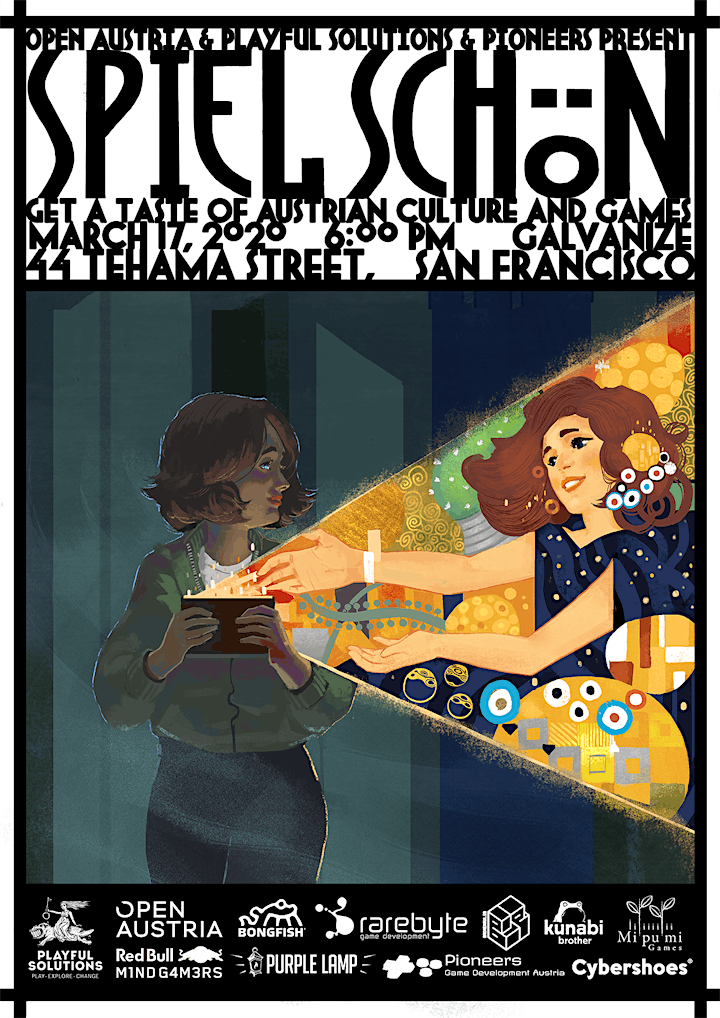 About SpielSchön 2018