Sales Have Ended
Ticket sales have ended
We are so glad to have you join us. We'll be in touch soon with further information. - "The Lisas"
Event Information
Location
(now online on FACEBOOK LIVE)
17901
United States
Sales Have Ended
Ticket sales have ended
We are so glad to have you join us. We'll be in touch soon with further information. - "The Lisas"
Description
THIS in-person EVENT IS CANCELLED
DUE TO COVID-19
and has been moved online to FACEBOOK LIVE HERE

on June 6, 2020 (noon EST)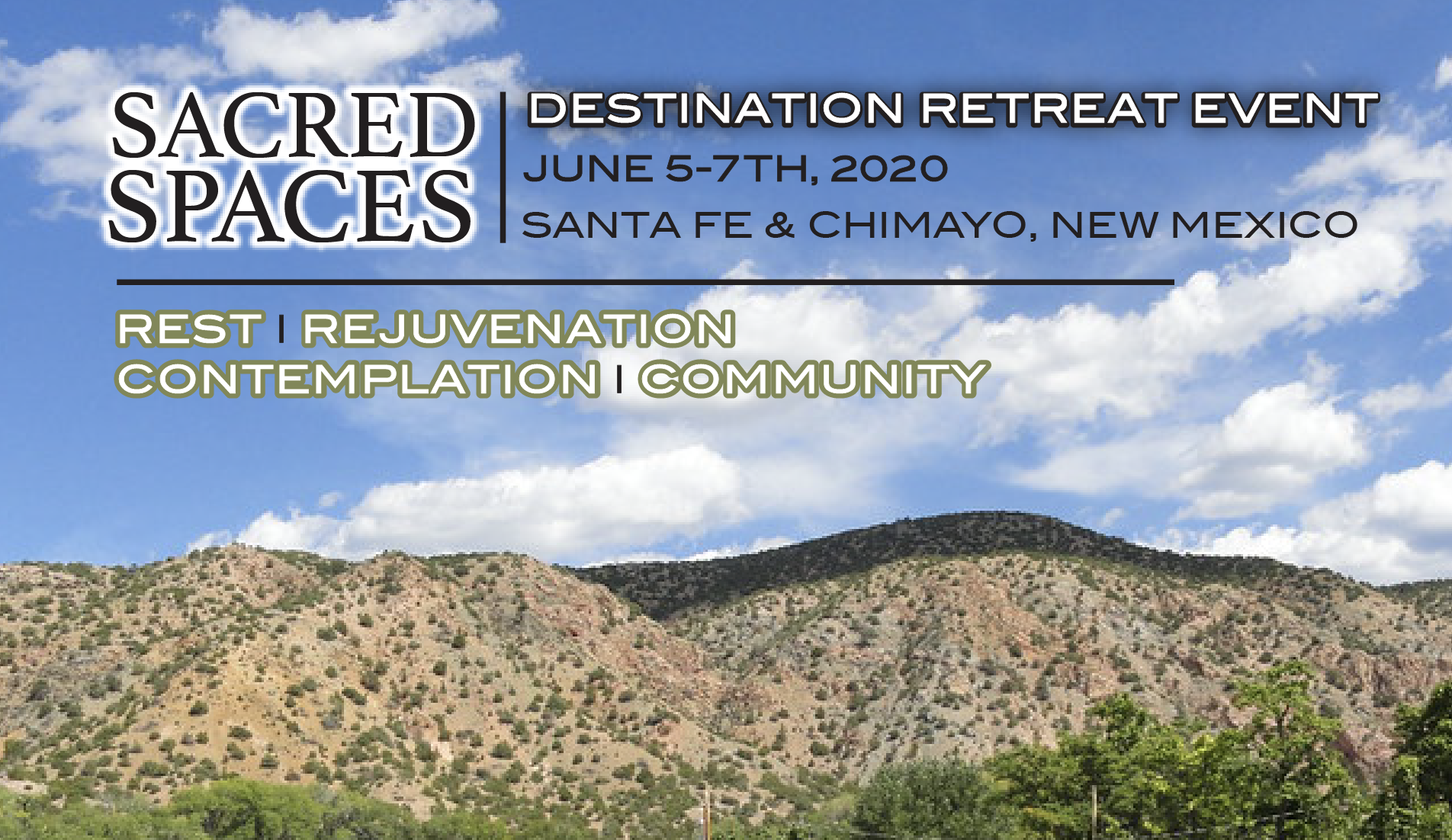 SACRED SPACES - JUNE 2020
DESTINATION RETREAT EXPERIENCE

SANTA FE | CHIMAYO
New Mexico

June 5 - June 7
---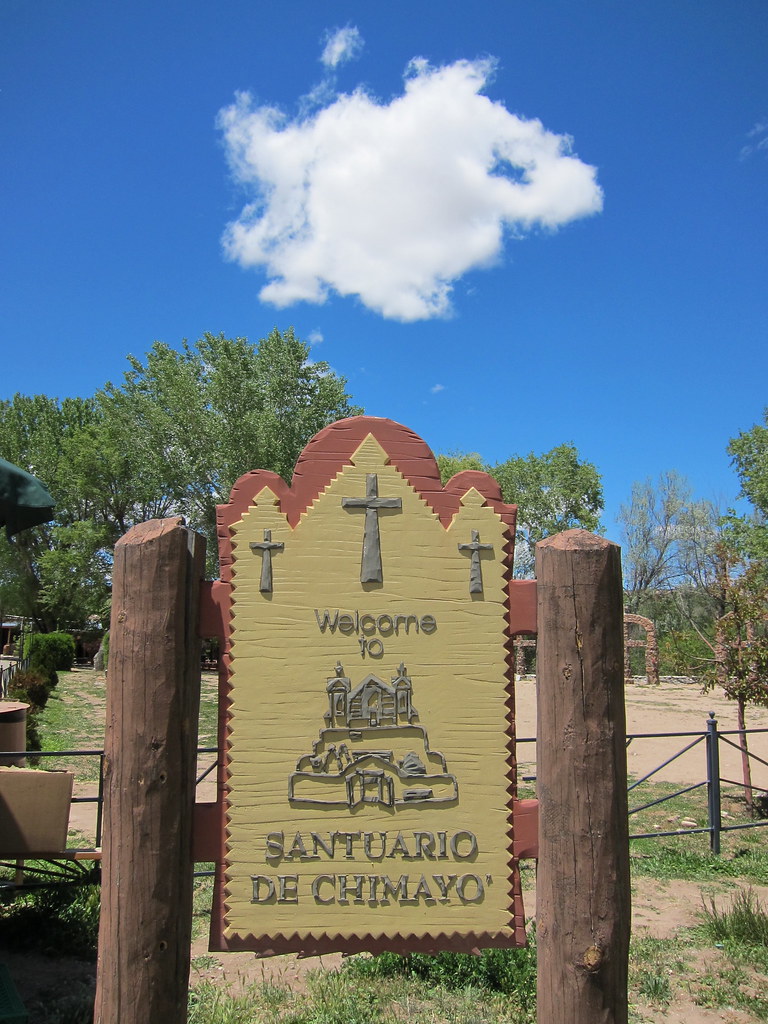 Come away and rest-

Join us for an enriching contemplative experience in extraordinary Santa Fe, New Mexico and travel with us to the historic and beloved Chimayo sacred site.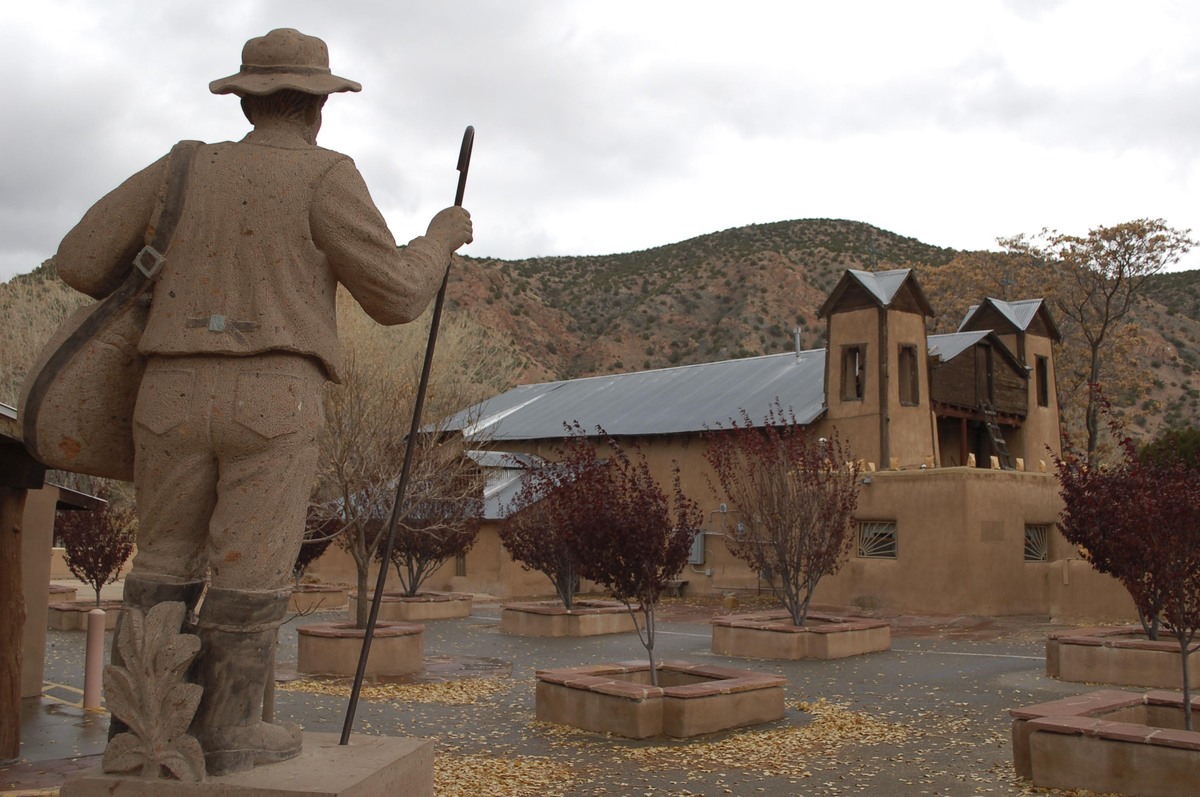 (Pilgrim statue at Chimayo, New Mexio)
---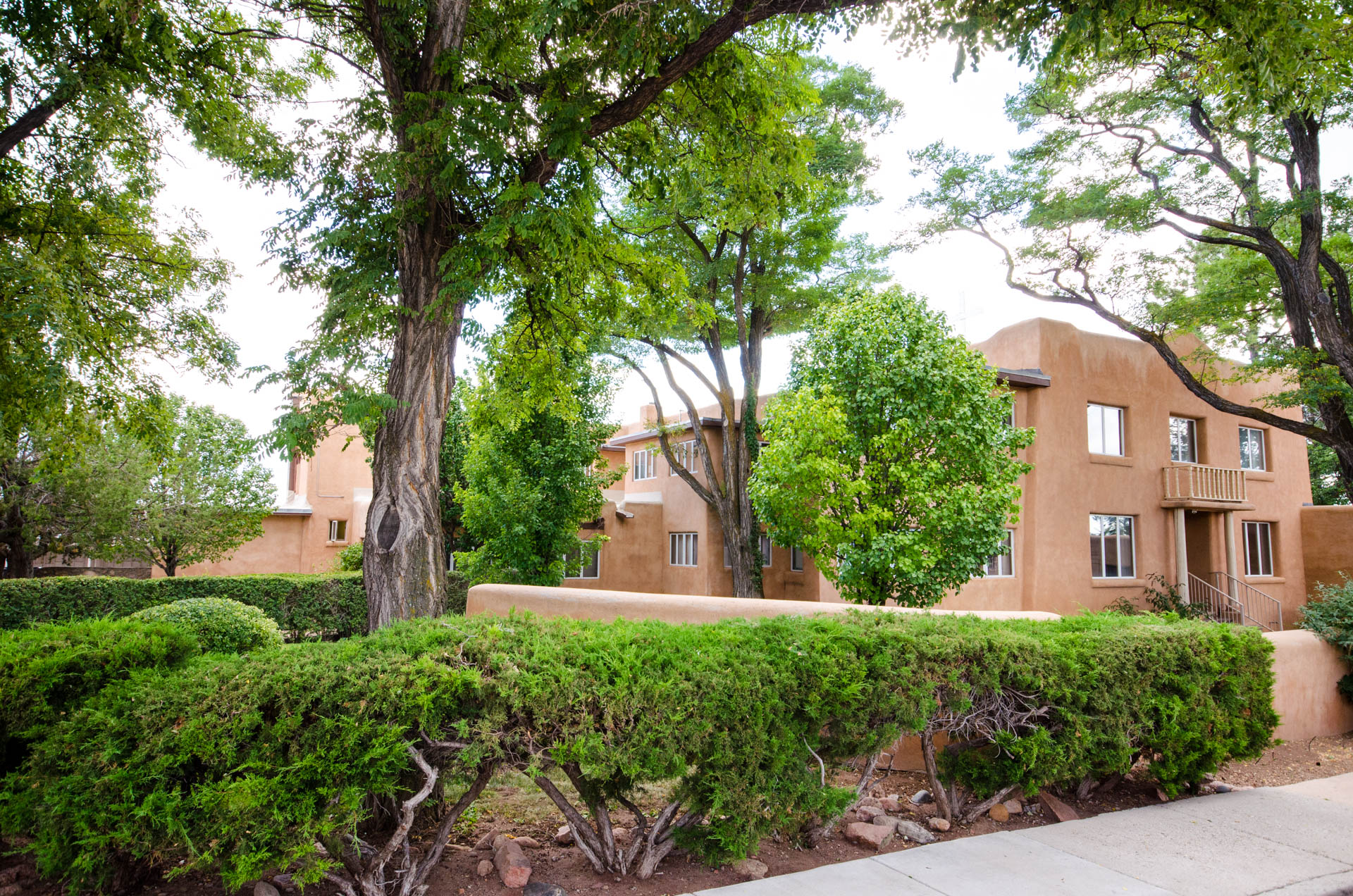 [ Photo of IHM Retreat Center - Santa Fe, New Mexico ]


SACRED SPACES
If you ever wanted to travel to where the vistas are other-worldly and majestic as far as the eye can see, the high deserts of New Mexico await you.
If you've also wanted a push to venture on a spiritual journey with the support and company of others–this is your opportunity.
The New Mexican high desert is a place of stunning beauty and landscapes that inspire awe. Many sense the potency of the area and are drawn to spiritual reflection while there. It is also a region with a long history of spiritual pilgrimage to sacred places of prayer and devotion.
In June, 2020, we are preparing a time and space to gather together for a special journey of the heart and to a treasured sacred site.
If your heart longs to experience spiritual practice and experience a local site sacred to the people of the high desert, in a supportive and refreshing atmosphere, we hope you'll join us.
This is not a typical retreat experience or a consumer-minded excursion. We will get out of the way to make space for the Spirit to work in your heart and we will walk along side you as companions on the journey.
Soul Care and Hospitality.
Friday evening, when you arrive from your travels we will be waiting to welcome you. A delicious reception of food and beverages and a time of refreshment and care begins then. There is no packed weekend program of activities and speakers. You can slow down. Enjoy some conversation as you like; relax as you settle in.


On Saturday morning a tasty breakfast will start our day together. This will be followed by an introduction and engagement with a contemplative prayer practice and a presentation/reflection. There will be time after to reflect peacefully on your own or converse and enjoy your surroundings - or all of the aforementioned.
After a first-rate delectable lunch, we will prepare our hearts for an inward journey and learn about the place we will be visiting. Then, we will venture together through the majestic landscape of New Mexico to visit Chimayo (a 45 min drive). This is one of the most visited sacred sites in the United States that you may've never heard of.
FINANCIAL SUPPORT and Generousity:
We don't want cost to be an obstacle for attending and we are trying to encourage donations and sponsorships to make this
possible
by giving partial scholarships and/or travel stipends as funding supplies last.

• If you need a support, please contact us with your need.
• If you can sponsor someone or contribute in some way so someone can participate who cannot afford to come, your help would be greatly appreciated.

Two ways to help:
1. Email us: contact@sparkmymuse.com to help - you can be a sponsor of the event. We will feature you as a sponsor.
2. Use the donate option in the ticket area and your funds will be directed to someone who needs it.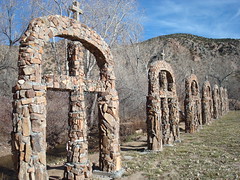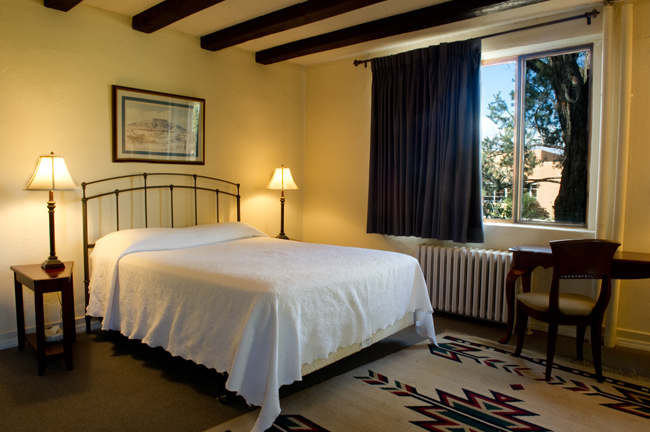 [Photo of single room
accommodation]
Saturday, June 6 - Morning: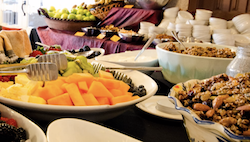 - Delicious Breakfast 8-9 a.m.,
Morning gathering will have an introduction to and engagement with a spiritual practice; guest reflection and/or reading; then a period of rest / reflection (free time) before lunch.
- Gourmet Lunch 11:30 am;
• Preparation of the heart for our trip to the sacred site; 1:00-1:30pm leave to travel to Chimayo, NM;
- Approx 5-6pm Supper and reflective conversation at Ranchero de Chimayo (order and pay on your own); then we will return to Santa Fe; relax or retire for bed.

Sunday, June 7 -

- Delicious Breakfast 8-9 a.m.
- Check out from your room is 10am, but your bags can be stored in a special area while we continue together.
- 10:15 a.m. Gathering for Contemplative Prayer Practice; reflection/or reading; Closing and farewell approx. 11:30am
- You are welcome to stay until 3pm to relax and enjoy the grounds or visit a nearby museum. We are located just 2 blocks from about 4-5 museums and the beautiful botanical gardens.
- Some of you may wish to plan ahead and come to New Mexico early or add on days following the retreat to enjoy the truly unique sights and amazing experiences only available in this part of the world. Visit Indigenous Pueblos and experience their arts and culture, see one of many local churches–some of them built as early as the 1600s, admire the local arts,
jewelry/craftsmaking, museums, and much more while you're already in New Mexico.

To find local experiences (and get $15 off) or
accommodates
(get $30 off) before or after our Sacred Spaces time try this special AIRBnB link.
• Participants will be sent a final Sacred Spaces itinerary just prior to the event date.

We are so gladdened to journey with you.
FAQs
Where are we lodging?
We are staying at the IHM Retreat Center (see map above) Friday (June 5) and Saturday (June 6) for two nights. It is located just two blocks from a number of museums on a hill above Santa Fe. It is only two miles from the famous Plaza in town.
Lodging costs are based on double occupancy.
• A limited amount of single rooms are available for an extra cost (see ticket area). If you are local to Santa Fe or for other reasons do not need lodging, you can select the "without lodging" ticket option. All planned gourmet meals with the group and the round trip transportation costs to Chimayo are included in the price of the program.
Where are we eating when off-site?
Saturday night (June 6) we will supper at Ranchero de Chimayo. You will be responsible to pay for any food that you would like and gratuity on your own. The center of Santa Fe is just two miles away from our lodging and has many food options and über transportation is available if you'd like to get food in town. IHM Retreat Center does not allow us as hosts to bring food onsite or prepare or store food on-site to have for you. You, as an individual can bring a drink and sanck to have for yourself during non meal times.
What if I have dietary needs?
Please make your dietary needs known to us and they will be accommodated. Use the contact link below.
Are there ID or minimum age requirements to join this event or other considerations?
This event is best suited for adults with an affinity for or generous curiosity about contemplative spirituality, prayer, and those also ready to learn about the sacred practices of the New Mexico region and a beloved sacred site.


What are my transportation/parking options for getting to and from the event?
Our Santa Fe gathering spot (IHM Retreat Center) is a stop on the very convenient Sandia Shuttle ($36 plus tax - one way) and takes about 75 min to get from the Albuquerque airport to the retreat center - many times a day. Shuttle reservations should be made to insure a spot (888-775-5696 and you can call 24/7). For those coming by car, there is ample free parking.

Rental cars from the airport are available also.
• The cost of the program includes round-trip transportation from Santa Fe to Chimayo!


Are there accommodations for ambulatory disability (or other kinds of disabilities)?


Moderate physical ability is needed to walk and stand during the Chimayo site visit, but it will not be a strenuous outing. We will walk at an easy pace and pause often. You can sit to rest when you'd like. Go at your own pace. If you think you will need any accommodations, please let us know. Email: contact@sparkmymuse.com
What should I bring?
- notebook and pen.

- Money for your Saturday evening meal in Chimayo $25-30.

- Money, if needed, for the Sandia Shuttle service to IHM retreat Center comes direct from the ABQ airport and back 19 times a day. (Reservations are needed and can be made online 24/7.) It cost $36, plus tax, one way trip.
- Wear comfortable clothing.
– Jacket
[Bring a jacket because the elevation makes this area is cooler than you might expect in the morning and at night, but walking in the sun can be very hot. The locals recommend layering clothing.]
- Wear comfortable shoes
- A refillable water bottle or some bottled water for the trip on Saturday.

– Wearing hat, sunglasses, and sunscreen are smart choices on Saturday.
Please note:
We are discouraging use of smartphones, computers, and digital devices during this weekend time and ask that you keep your phone on airplane mode most of the weekend to limit distractions for you and our whole group. Think of this as a truly special and sacred time apart for deep renewal. Your weekend is an opportunity to limit, fast, or wean from technology as a form of spiritual practice and soul care.
How can I contact the organizer with any questions?
Use this email: contact@sparkmymuse.com - also you can use the link below.
What's the refund policy?
A refund will be issued, if needed, minus $50 cancellation fee and the fees incurred with Eventbrite, up to 7 days prior to the event.
Do I have to bring my printed ticket to the event?
If you have been sent a confirmation, then we know you are coming and that is all you need. We will be emailing you with updates and information.
Is my ticket transferrable?
Yes. It can be given to someone else, but you need to arrange this with us beforehand. Contact us if you plan to transfer your ticket.

Is it ok if the name on my ticket or registration doesn't match the person who attends?
Yes, but only if you first make us aware of this change.


Can I bring a guest in my single room?
No. The ticket price for a single room does not allow for a guest.
Date and time
Location
(now online on FACEBOOK LIVE)
17901
United States