CANCELLED - Rooted in Our Community: Farming Up-Close and Personal
About this Event
Join us for breakout sessions and discussions on:
1. Farming, Fertilizers and Soil Health
Hosted by the Cecil Soil Conservation District (CSCD); learn more about what the CSCD does and their focus on building healthy productive soils all while mitigating nutrient runoff. Here from farmers about required nutrient management plans, best management practices, fertilizer application and what they are implementing on the farm to do their part to nurture healthy soils. See how this all comes together and leads to better water quality in the Chesapeake Bay.
2. Breaking Down the Buzz Words
Regenerative Agriculture, CAFO, Organic, Gluten Free, GMO, Non-GMO, Sustainable, Pastured raised, Free-range, Grass-fed, Antibiotic Free, Hormone Free, All Natural, Locally Grown, Vegan – Navigating your way through the good food vocabulary is confusing. We'll break it down for you.
3. Waste not, Want Not?
What happens to all of the waste generated on farms? Where does the cow manure go? The chicken litter? Are our waterways in danger? We'll answer all of those questions and even tell you how farm waste is being used to generate 100% renewable energy right here in Cecil County!
4. Preserving the Future of Farming
This panel discussion focuses on the balance of economic development and the preservation of farmlands in our region. Hear from experts about the importance of farmland protection for the next generation of farmers and from the manager of the Cecil County Office of Economic Development.
Agenda
8:30 Registration with coffee and light breakfast
9:00 Welcome
9:10 The Root of Agriculture: Presentation by the Maryland Agricultural Education Foundation
9:30 The Changing Faces of Agriculture
15 Minute Break
10:30 Breakout Session
Choose one of four discussions.
11:30 Eat and Greet: Lunch catered by Rumbleway Farms and meet with exhibitors
12:30 Breakout Session
Choose one of four discussions.
15 Minute Break
1:30 Breakout Session
Choose one of four discussions.
2:30 Ice Cream and Networking Featuring Kilby Cream Ice Cream and Closing Remarks
For questions please contact:
Maureen O'Shea
moshea@ccgov.org
(410) 996-8469
Thank you to our Sponsors!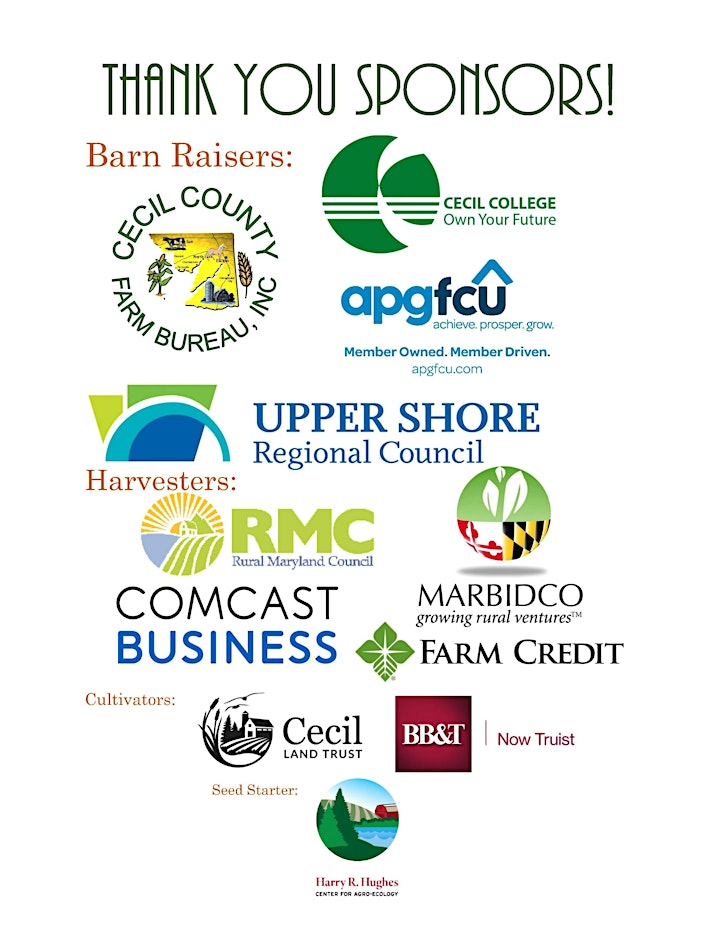 Hosted by: