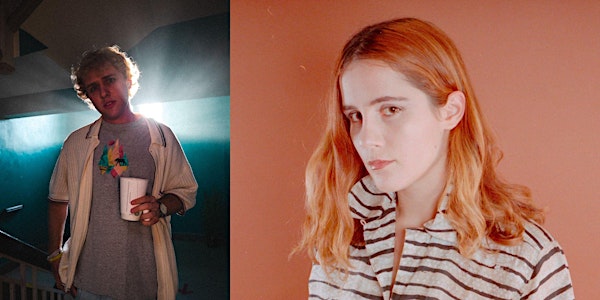 CANCELLED: Rae Isla, Brendan Abernathy @ Fremont Abbey
Abbey Arts presents: Rae Isla, Brendan Abernathy live at Fremont Abbey
Date and time
Starts on Saturday, April 19, 2025 · 8pm PDT
Location
Fremont Abbey Arts Center 4272 Fremont Avenue North Seattle, WA 98103
Refund Policy
Refunds up to 7 days before event
About this event
2 hours 30 minutes

Mobile eTicket
"Born on an island near Seattle, Rae Isla's americana pop songs capture the turmoils and triumphs of being a young queer woman who's unafraid of change. Rae got her start on the opposite coast in Brooklyn's indie scene, collaborating on early releases with producer Gianluca Buccelati (Lana Del Rey, Arlo Parks) and self producing/releasing her first EP in 2018 while working full time for start-ups. After five years in NYC, Rae now divides her time between Brooklyn, Seattle, and Mexico City. Her debut album Another Life, produced with Garrett Eaton (Holly Miranda, Gracie & Rachel), is a ten-track journey detailing the end of a relationship and the subsequent loss, exploration, and reinvention that happens afterwards. At times exuding warm earthiness and others biting introspection, Rae examines her own life while seemingly hovering just above it. Another Life sees Rae depart from her more pop-centric sound and settle into what she describes as her roots of folk, country, and americana. The album is featured in Rolling Stone, Billboard, Complex, Los40 Mexico and more. It charted #163 in NACC's top 200."
-Artist Bio
"Unafraid to write about the parts of his story that scare him most, Brendan Abernathy is known for his contemplative lyrics, memorable melodies, and a captivating live performance you will feel in your soul. Creating a fresh but familiar sound combining notes of Maggie Rogers with James Taylor, John Mayer, and Ed Sheeran, Brendan's intimate words and powerful vocals speak straight to the listener's soul.
Since August 2019, Brendan has lived out of his car, touring the US selling out concerts across the country in Atlanta, Phoenix, Seattle, Portland, DC, Gainesville, and Boulder. In 2022, Brendan opened for Johnnyswim on their Southeastern tour, and he has begun touring the festival circuit -playing the 30A Songwriters Festival, the Brookhaven Cherry Blossom Festival, Starry Night Festival, and the Southern Wilds Festival. He has generated over 1.5 million streams and played over 300 live shows, focusing on the individual and building a loyal following. "We all just want to be seen and loved, and I try to do that -- see and love."
His first two projects deal with indecision, comparison, loneliness, and dreams, where Brendan brings hope to his darkest moments. His forthcoming LP – Single and in Love – is a heart-throbbing, authentic, yet soaring work telling stories of anxiety, singleness, and sacrificial love."
- Artist's Bio
@ Fremont Abbey Arts Center
7p doors, 8p show
All ages, some seating available, bar w/ID
ABBEY ARTS EVENT INFO:
Check tickets for show time
Fremont Abbey is ADA accessible on either level.
Service animals as defined by the ADA are allowed. Service animals are defined as dogs that are individually trained to do work or perform tasks for people with disabilities.
We have chairs with standing room in back.
Seating is not reserved or guaranteed, unless noted.
Please refrain from talking or texting during the show.
No video from the seating area please.
Please limit photos during the show so as to not distract other attendees from the experience.
We are an all ages venue. Kids 10 & under are free at Abbey Arts concerts & arts events unless noted.
Entering the venue indicates agreement to adhere to the Abbey Respect Policy. All are welcome.
ABBEY ARTS, SEATTLE | NONPROFIT 501C3, NON-RELIGIOUS, EST. 2005
Presenting welcoming music, arts & cultural experiences for people of all ages & incomes.
Home Venue: Fremont Abbey, 4272 Fremont Ave North, Seattle, WA 98103 / 206-414-8325 Ballard Homestead: 6541 Jones Ave NW, Seattle | + South Park Hall, Woodlawn Hall Greenlake, UHeights Auditorium (UDistrict), St Mark's Cathedral (Capitol Hill), & more
Note: All ticket sales are final unless noted. Lineup and performers are subject to change, no refunds for change of support acts.
--------------------------------------------------
See Updated Public Health Safety Info at the bottom of this page under Abbey Arts Presents. All Abbey Arts venues adhere to WA State & King County health guidelines. Thanks for helping keep our community safe!
--------------------------------------------------
About the organizer
Public Health Info:
Be sure to check your events ticketing page for any special requirements per event.
That being said, we still strongly encourage people attending to follow all safety protocols shown below and per King County Public Health.
Attendees are welcome to wear masks at their discretion, all are welcome. Please don't discriminate based on mask or no mask. Some people may opt to wear a N95 for their own protection.
Please check your specific event details before purchasing a ticket.
THESE GUIDELINES MAY CHANGE AT ANY TIME DUE TO PUBLIC HEALTH GUIDELINES
-----------MORE INFO--------------
All Abbey Arts employees & volunteers are vaccinated.
We are operating at full capacity and do not have any capacity restrictions unless otherwise noted in the event description.
We have added hand sanitizing stations and air filtration systems around our venues. We encourage you to regularly sanitize and fully wash hands when you use the restroom.
****
By entering the Venue, you and the members of your group voluntarily assume the risks of contracting COVID-19 and agree to release, waive, discharge and covenant not to sue any Artist performing or Abbey employee or company (including their owners, officers, employees, volunteers, agents and the City of Seattle), and hold these entities and persons harmless from liability regarding any and all claims relating to COVID-19 and indirectly or directly arising out of or relating to the Venue or event.
****
Individual events may have additional safety measures in place, see Ticketing pages for details.
-----------------------
ABBEY ARTS, SEATTLE:
NONPROFIT 501C3, NON-RELIGIOUS, EST. 2005
Fremont Abbey | Ballard Homestead | South Park Hall | St Mark's Capitol Hill | The Auditorium @ UHeights |  & more
Independent nonprofit, non-religious, all ages/incomes. 
Low Fee Tickets! No hidden high fees like Ticktmstr. :-)
[ Click here to subscribe to our optional text messages. ]
[The views and opinions expressed at events are those of the artists and performers and do not necessarily reflect Abbey Arts. About Page | Respect Policy.]
Refunds may be available per event settings.
No refunds due to support act changes.
Tickets for rental events may be via their website. 
Note: Entry requirements are subject to change. By purchasing tickets to this event you agree to abide by entry requirements in effect at the time of the event. Check the venue website leading up to your event for the latest protocols.