CANCELLED PVD Lady Project Does: Barre

Saturday, July 30, 2016 from 9:30 AM to 10:30 AM (EDT)
Event Details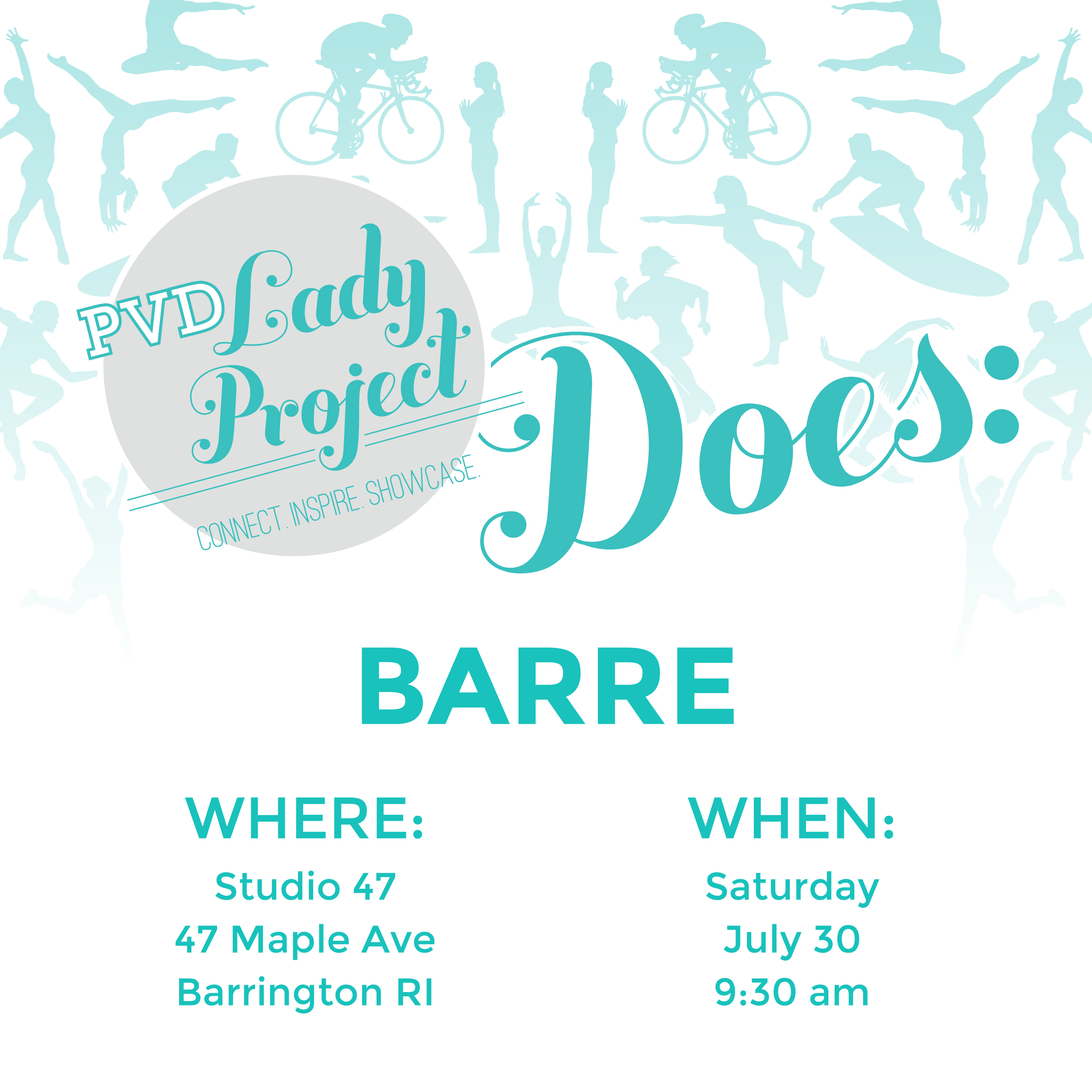 PVD Lady Project Does: Barre
Saturday, June 18 at Studio 47!
Join the PVD Lady Project as we sculpt and tone at Studio 47. This class is open to all levels. Please wear socks and clothing that is comfortable to move and stretch in.
Please print out and bring this WAIVER with you, too.
About Studio 47:
At studio 47, our goal is to not only change your body, but to change the way you move through life – physically, and mentally. Founded in 2008 by Elizabeth and Mora, studio 47 at Barrington Pilates began with a simple vision: to marry the challenge of Pilates with the power of community. Our members have a lot in common – sore buns being one of them – but they also have different bodies, backgrounds, ages and goals. We take those differences, and blend them into energizing, one-of-a-kind, Pilates-based workouts. Both former dancers, Elizabeth and Mora craved a workout full of grace and control, but grounded in wellness and a healthy lifestyle. They came together to create a signature Pilates style in a studio that offers both breezy, chill vibes for Pilates equipment workouts, and a sleek studio space for group mat and standing Pilates classes. Walk in and enjoy our trendy boutique lounge that, as we like to say, "brings a little city to the suburbs." On the go? Never miss a workout with our Virtual Studio. Just log in, and we'll deliver the burn right to your computer or tablet screen. Ready to get started with studio 47? Visit us at 47 Maple Avenue, in Barrington, RI, for your first class. We're movers, we're friends, we're Pilates dorks, and we're excited to meet you. Welcome!
About Lady Project Active Events:
We hope to provide fun, active events where ladies can chat, connect and learn a thing or two about a new class or sport. Ideas for our next active spot? Let us know.  
The Lady Project is a 501(c)(3) non-profit organization that connects, inspires and showcases awesome women doing amazing things through membership, events and community engagement. The Lady Project is based in Providence, Rhode Island, where chapters in Providence, New Haven, Boston, Nashua, New York City, Washington DC, Seattle, Philadelphia, Boulder, San Diego and Dallas host monthly events where women can connect, get inspired and learn about what other awesome women are doing in their cities.
Your event ticket includes all and any local and state sales tax.
Questions or media inquiries? Email: hello@PVDladyproject.com
FAQs:
Q: Do I need to be a member to come to this event?
A: Nope! This event is open to all ladies. Some of our events are members only, though. Learn more about membership here.
When & Where

Studio 47
47 Maple Ave
Barrington, RI 02806


Saturday, July 30, 2016 from 9:30 AM to 10:30 AM (EDT)
Add to my calendar
CANCELLED PVD Lady Project Does: Barre