Description
Dear Polytopiers, We're so sorry to tell you that this year's event is being canceled or postponed. We will begin issuing refunds today. Please stay tuned.
We recommend you take this time to relax, recharge, and seek pleasure in the little things. Stress is the enemy right now. We will be together soon!
Love from Gabriella and the entire Polytopia Team!
FIFTH ANNUAL POLYTOPIA - A POLYAMORY AND OPEN RELATIONSHIP SYMPOSIUM AND CELEBRATION!

This year's theme is Radical Loving for a Radical New World. Come explore with us how to use ethical non-monogamy as a tool for building sustainable communities, decolonizing relationships, and bringing more love into the world.
Curious about polyamory? Opening up your relationship? Already loving in a nontraditional way and ready for something more?
This three-day exploration of polyamory includes an opening night celebration, 21 workshops, panel discussions, and parties. Learn from our experienced and inspiring presenters as they share knowledge, tips, and wisdom. Bring your friends and extended poly family, meet new friends and lovers, and find your people!
This year's headline presenter is Christopher Ryan, Ph.D., author of Sex at Dawn and his newly released Civilized to Death. His TED talk has had over 2.2 million views, and his podcast, Tangentially Speaking with 299 episodes, has several hundred thousand listeners.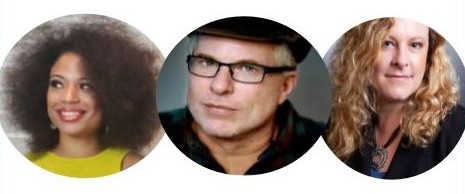 Joining him is Dr. Zelaika Hepworth Clarke. They specialize in human sexualities, gender and relational diversity, clinical and cultural sexology, sexosophy, sexecology, African-centered social work, anti-racist sexuality education, critical autoethnography, and Ọ̀ṣunality, an African-centered, sex-positive, post-colonial paradigm that affirms diversity in sensuality, sexual pleasure, and eroticism.
And, Dr. Elisabeth Sheff, author of The Polyamorists Next Door: Inside Multiple-Partner Relationships and Families as well as numerous academic and legal articles about polyamory, gender, families, and sexual minorities.
We are excited to bring you these fantastic minds as well as the other stellar presenters who have applied. The remaining presenters will be announced on or before March 15 - stay tuned for the list.
---
---
Polytopia is for people new to navigating the joys and pitfalls of loving more as well as those already well-experienced with polyamory who want to love even better and/or are looking at ethical non-monogamy as a way of building a tribe and creating a new, possibly more, sustainable way of relating. Workshop formats include lectures, panel discussions, and experiential embodied activities for dyads, triads, and more.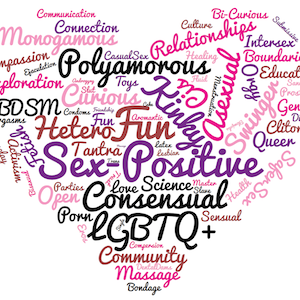 For the second year, Polytopia is taking place at the Crowne Plaza Downtown Convention Center near the city center. Shopping, sightseeing, restaurants & bars are all within walking distance and close to public transit. The hotel is holding a limited number of rooms for us at reduced rates. Call the hotel and tell them you're with us.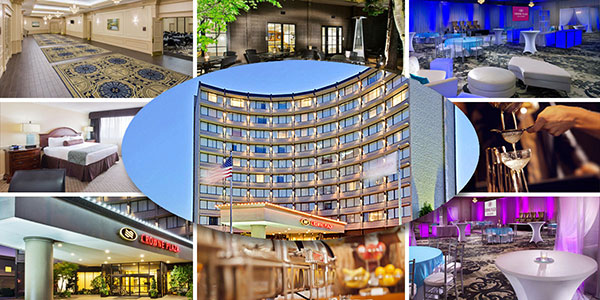 All daytime events are for adults 18 and over. Evening events are 21 and older. Membership in Sex-Positive Portland is not required to attend events and workshops of Polytopia. Still, there are some areas of Polytopia: The Party! on Saturday night only accessible to members of SexPositive Portland and their guests. Check out Sex Positive Portland on Meetup.com to find out more about membership. Discount code for SPP Members is SPPMember

What are you waiting for? Come enjoy a great weekend filled with everything that Polytopia, Sex-Positive Portland, and the Crowne Plaza have to offer!
---
---
ON SALE NOW . . .
Poly Patron - Show your gratitude for the beautiful life you lead and support Polytopia at a higher level this year. Every person who contributes $250 or more receives everything included in the weekend pass (see below) plus early entry to all events (waiting at the door!), reserved seating, lunch both days, dinner on Saturday, and first pick of workshops. Your patronage will help supplement our reduced rate workshop tickets for the underserved, minority, and low-income folks. Thank you for making Polytopia more accessible to all!
Full Weekend Pass - Includes the opening night keynote by Christopher Ryan, an entertaining panel of relationship experts, followed by optional poly speed dating, no-host bar, and socializing with new and old friends. Then, two days of informative and inspiring workshops, panel discussions, book signings, and more all at the beautiful Crowne Plaza. On Saturday night, dance the night away at Polytopia: The Party! Each day you will have a choice of three different workshops and several options for lunch affinity groups and discussion panels.
Saturday and Sunday Day Passes: Wanting to make the most of Polytopia but don't have a whole weekend to learn and play? Attend Polytopia for the day, either Saturday or Sunday. Day passes include your choice of three different workshops, and on Saturday, attend Dr. Ryan's presentation with special guest, SexPositive Portland Founder, Gabriella Cordova. These passes go on sale on April 1st.
Workshop selection as a pass holder: The sooner you buy your pass, Patron, or full weekend pass, the sooner you can select your preferred workshops (once all the presenters are announced). Once you purchase your pass, you will receive an email to reserve space in the workshops you want most. Day passes sales begin after early bird tickets close.
Advance purchase party tickets: Plan ahead to have a smooth check-in at the door - Not coming for the whole weekend but wanting to be a part of it all? Opening Night Presentation and Social, and Saturday's Polytopia: The Party! tickets are $20 each this year online and $25 at the door.
Access for all: If you are young, part of a marginalized community, or are in particular financial need - for whatever reason, please use this discounted access form and let us know what level of support you will need.
ON SALE AT POLYTOPIA . . .
Discussion panels and special topic affinity groups happen during the lunch hour at Polytopia. If you'd rather eat elsewhere and still join in our lunchtime offerings, affordable passes, no food included, will be made available the day of to join us in the conversations as space is available.
---
---
WEEKEND SCHEDULE:
FRIDAY
6:30 Arrive and mingle, enjoy a cocktail at the no-host bar
7:30 keynote address by Chris Ryan followed by an introduction of the weekend presenters and a mini-panel discussion
9:00 a poly speed dating ice breaker, socializing with new and old friends, light snacks will be served
11:00 end of the evening
SATURDAY
9:00 Registration & Coffee
9:30 to 11:00 Session 1
11:00 to 12:30 Session 2
12:30 to 2:00 Lunch and Panels
2:00 to 4:00 Session 3
4:15 to 5:15 Session: Christopher Ryan and Gabriella Cordova will discuss his work followed by Q&A
6:00 to 7:00 Cocktail Hour
7:00 to 8:30 Dinner Break (Presenter and Patron Dinner optional)
8:30 to 12:30 Party with performances and DJ dancing, snacks, and a no-host bar
SUNDAY
9:00 Coffee and gathering
10:00 to 11:30 Session 1
11:30 to 1:00 Session 2
1:00 to 2:30 Lunch and Panels
2:30 to 4:30 Session 3
4:30 to 5:30 Closing ceremony, games, and prizes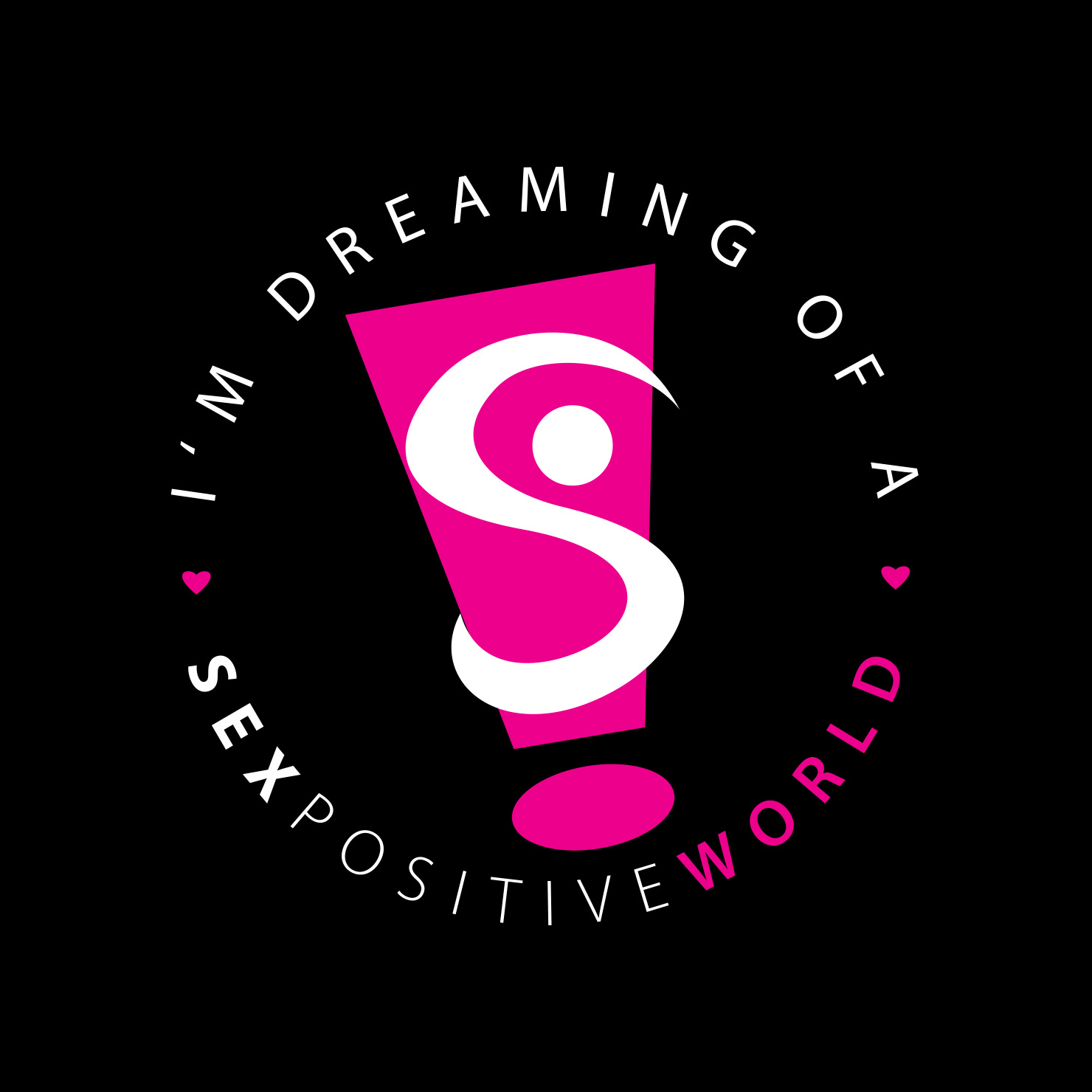 Stickers, Tshirts, and tattoos available to raise money for SPW