Sales Have Ended
Ticket sales have ended
Sales for this event have ended.
Event Information
Performers
Refund Policy
Refunds up to 1 day before event
Sales Have Ended
Ticket sales have ended
Sales for this event have ended.
A New Orleans Cocktail Party at Dawes House featuring a performance by Jon Cleary
About this Event
Out of Space presents a special night of parlor fun at the historic Charles Dawes House in Evanston. The evening will begin with cocktails, magic from AJ Sacco, tarot card readings, and jazz from The Young Old Men featuring Mike Hogg, Don Stiernberg, and Joe Clark. At 8:30pm we'll be treated to a rare solo piano performance by Crescent City songwriting and piano dynamo Jon Cleary on the home's 1893 Steinway piano.  
Proceeds from this event benefit the New Orleans Musicians' Clinic. Tickets are $65 and include access to both the cocktail party and Jon's performance, as well as two drink tickets. Please note seating at this event is extremely limited, and guests are encouraged to mingle and explore this historic mansion and museum.  
7pm: DOORS
7-8:30pm: COCKTAILS + PARLOR MINGLE
8:30pm: JON CLEARY SOLO PERFORMANCE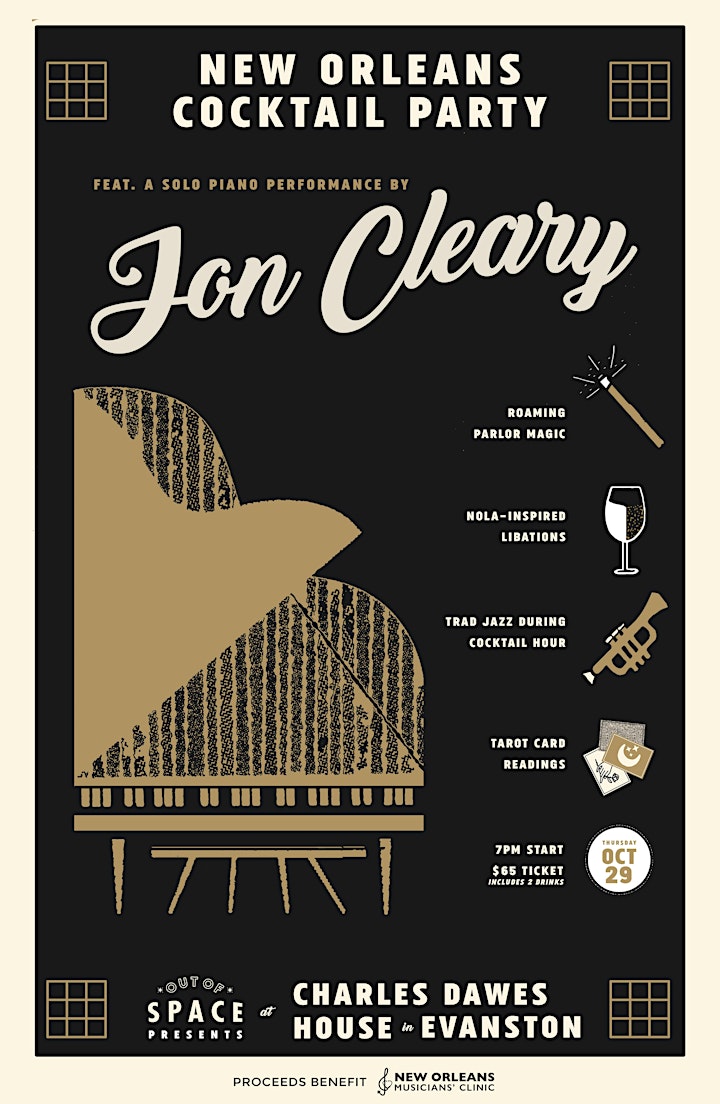 ABOUT JON CLEARY
Following up on his critically acclaimed, Grammy-winning album GoGo Juice, Jon Cleary triumphantly returns with the infectiously ebullient Dyna-Mite (FHQ Records).  Sly, slinky, and deeply soulful, the aptly entitled new release finds this Big Easy funk savant – a virtuosic keyboardist, profoundly expressive vocalist, and quite distinctive songwriter – in peak form on a set of all-original material.  Like GoGo Juice, Dyna-Mite was co-produced by Cleary and the prolific John Porter, whose eclectic, behind-the-board credits include albums by Ryan Adams, Billy Bragg, Elvis Costello, B.B. King, Buddy Guy, R.L. Burnside, Taj Mahal, and the late Hammond B-3 master Jimmy Smith.
Dyna-Mite was recorded in several studios around New Orleans, including Cleary's in-home facility, with accompaniment by a host of the Crescent City's A-list musicians.  These ace co-conspirators include the Lettuce Horns, guitarists Leo Nocentelli (formerly of The Meters) and Shane Theriot, the rhythm sections of drummers Jamison Ross and A.J. Hall, bassists Calvin Turner and Cornell Williams, and the multi-instrumentalist and songwriting partner-in-crime Nigel Hall, among many others.  "There's such a great pool of talent in New Orleans," Cleary comments. "And it's a real pleasure to work with such a wide variety of the local characters.  I've been so lucky to have played with so many great New Orleans rhythm sections over the years.  And I love recording with Nigel; he's an inspiring creative accomplice."
Dyna-Mite flows seamlessly, from straight-up New Orleans grooves à la Professor Longhair –  such as the raucous, streetwise title track –  to shades of classic '70s soul reminiscent of Bobby Womack, as heard on the lush, plaintive "21st Century Gypsy Singing Lover Man," which Cleary co-wrote with Taj Mahal.  "That song is about a musician's life on the road – we wandering minstrels represent the world's second-oldest profession," Clearly wryly notes.  "Skin In The Game" explores a similarly reflective mode, utilizing a deep-pocket 1-6-2-5 chord progression.  "Hit, Git, Quit, Split," by contrast, is a joyous interlude of classic New Orleans wordplay and double-talk, as exemplified by such gems of skewed Crescent City logic as "Take your time, we ain't got all night!"   ("We were having so much fun with that song in the studio," Cleary recalls, "that it went on for about 20 minutes, so we had to trim it a bit to fit here on the finished album.")                  "Big Greasy" incorporates a New Orleans sensibility with the related Afro-Caribbean sounds of Jamaica –  "a hybrid," Cleary explains, "of putting Crescent City funk and reggae through a blender."   Cleary originally wrote "Frenchmen Street Blues" to be played at a friend's funeral, and it was recorded again for use in the popular HBO television drama Treme.  In reprising it here on Dyna-Mite, Cleary utilized an approach to songwriting in which compositions may be worked and reworked for years.  "I have bits and pieces of songs on cassettes, hard drives, and scraps of paper.  I love to keep tinkering with them, sometimes for years, until eventually I feel that they are finished and ready to record."  Dyna-Mite closes out, appropriately, with "All Good Things."
Jon Cleary's love and affinity for New Orleans music goes back to the rural British village of Cranbrook, Kent, where he was raised in a musical family.  Cleary's maternal grandparents performed in London in the 1940s, under the respective stage names Sweet Dolly Daydream and Frank Neville, The Little Fellow With The Educated Feet –  she as a singer, and he as a crooner and tap dancer.  As a teen Cleary grew increasingly interested in funk-infused music and discovered that three such songs that he particularly admired – LaBelle's "Lady Marmalade," Robert Palmer's version of "Sneakin' Sally Through the Alley," and Frankie Miller's rendition of "Brickyard Blues" –  were attributed to Allen Toussaint as either the songwriter, the producer, or both.  Cleary's knowledge of Toussaint's work expanded significantly when his uncle returned home to the U.K., after a two-year sojourn in New Orleans, with a copy of a Toussaint LP and two suitcases full of New Orleans R&B 45s.
In 1981 Cleary flew to New Orleans for an initial pilgrimage and took a cab straight from the airport to the Maple Leaf Bar, a storied venue which then featured such great blues-rooted eclectic pianists as Roosevelt Sykes and James Booker.  Cleary first worked at the Maple Leaf as a painter, but soon graduated to playing piano there – even though his first instrument was the guitar, which he still plays and has recently reintroduced into his live performances.  As word of Cleary's burgeoning talent began to spread around town, he was hired by such New Orleans R&B legends as Snooks Eaglin, Earl "Trick Bag" King, Johnny Adams, and Jessie "Ooh Poo Pah Doo" Hill, while also gaining the respect of the great Crescent City pianists Dr. John and the late Allen Toussaint.  (Years later, in 2012, Cleary recorded a critically acclaimed album of all-Toussaint songs entitled Occapella.)
Today, Cleary's work pays obvious homage to the classic Crescent City keyboard repertoire created by such icons as Jelly Roll Morton, Fats Domino, Professor Longhair, Art Neville, Dr. John, and James Booker – while also using it as a launching pad for a style that incorporates such other diverse influences as '70s soul and R&B, gospel music, funk, Afro-Caribbean and Afro-Cuban rhythms, and much more.
Deciding to stay in New Orleans, Cleary recorded his first album of nine, to date, in 1989.  His ever-elevating profile led to global touring work in the bands of Taj Mahal, John Scofield, Dr. John, and Bonnie Raitt.  Cleary has led his own group, the Absolute Monster Gentlemen, for over two decades now, but he still collaborates frequently with these old friends.  At the 2018 New Orleans Jazz & Heritage Festival, for instance, Cleary performed alongside Raitt in a heartfelt tribute to Fats Domino.
Cleary is eager for his legions of fans to hear Dyna-Mite. "Dig this latest from my Big and Greasy, high-class symphony swamp orchestra," he says with great exuberance.  (Admirers of Cleary's flair for verbiage are highly encouraged to read his lengthy and hilarious Facebook posts, which suggest a magical merger of Jack Kerouac and P.G. Wodehouse.)  "A killer combination," Cleary continues, "of horn howlers and snare snappers, bass bangers and guitar grinders.  21st-century gypsies, pickin' up the gettin' down from the old cats in the saloons, studios, and street parades of New Orleans.
"This particular party," Cleary concludes, "has been a movable feast, recorded in between the gigs and tours that pay the bills and keep us out of the wrong sort of mischief (some of the time, at least.)  Thank you, fans and music lovers, for being patient while we took the time to get it right.  This will keep the fire burning 'til we next bring our funky Dyna-Mite to your town.  Turn it up LOUD, and press play to detonate!"
FAQ
Where is this event located? Although presented by Space and Out of Space, this event takes place inside the historic Dawes House, located at 225 Greenwood Street in Evanston.
How do I buy tickets? You can purchase tickets online at evanstonspace.com, or in-person at the SPACE box office on show nights from 5-9pm. Note: Please do not contact Dawes House with questions about this event. All ticketing is handled by SPACE.
Is there parking? Street parking is readily available. Please pay attention to street signs and any residential parking restrictions.
What does my ticket include? Your $65 ticket includes admission to the cocktail party and Jon Cleary's performance, as well as two complimentary drinks. Offerings include white wine, sazerac, beer and a selection of non-alcoholic beverages. Outside food and drinks are not permitted.
What time do doors open? What time is the performance? Doors open at 7pm. From 7-8:30pm guests are encouraged to mix, mingle and explore the historic home of former Vice President Charles Dawes. Enjoy cocktails, magic, tarot card readings and music from The Young Old Men. Jon Cleary will continue the fun with a solo piano performance at 8:30pm.
Is there seating for this event? Because of the roaming structure of this event, seating is very limited and only available on a first-come, first-served basis.
Performers
Date and Time
Location
Refund Policy
Refunds up to 1 day before event