Actions and Detail Panel
[Cancelled] Navigating Impostor Syndrome
Thu, December 8, 2016, 6:00 PM – 7:30 PM EST
Description
Do you secretly worry that others will discover you're not as intelligent or competent as they seem to think you are?
Do you feel like everyone around you knows way more than you?
Do you attribute your accomplishments to luck or being a fluke?
Does it feel like the people around you have it all together while you have no idea what's going on?
Did you answer yes to any of the above questions?
Well, you're not alone, my friend. Impostor Syndrome is something that many of us face but don't necessarily know how to navigate through. This presentation and discussion will focus on understanding Impostor Syndrome, who experiences it and how and how we can combat it.
Jen Bloomer will be leading this session. She is an iOS developer at Detroit Labs, where she graduated from their first Apprenticeship program. She is also an instructor and member of the Resident Cast at Go Comedy! Improve Theater.
"It's easy to feel like I don't know what I am doing, and I might not ever know what I'm doing. It's like they are all futuristic high speed trains and I am the first train ever." - Jen, on learning how to be a developer
Agenda
6pm - 6:10pm Settle in, grab a snack and a seat
6:10pm - 6:15pm Welcome
6:15pm - 6:45pm Presentation
6:45pm - 7:15pm Q&A and discussion
7:15pm - 7:30pm Network and mingle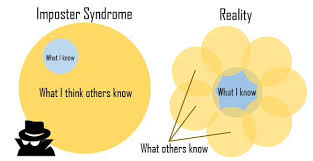 ---

In the Holiday Spirit, help us support The Children's Center in Detroit!
The Children's Center's Holiday Shop allows parents to shop free of charge, for their children from a wide array of new, donated items displayed in a festive holiday atmosphere.The gifts are then wrapped to take home and put under the tree!
We're accepting donations of new, unwrapped toys, Meijer or Walmart Gift Cards, $25 Kroger Cards, New-in-package Underwear and Socks and Hygiene Products. Simply stop by our downtown Detroit location (1570 Woodward Ave.) to help, or bring items along with you to the event!