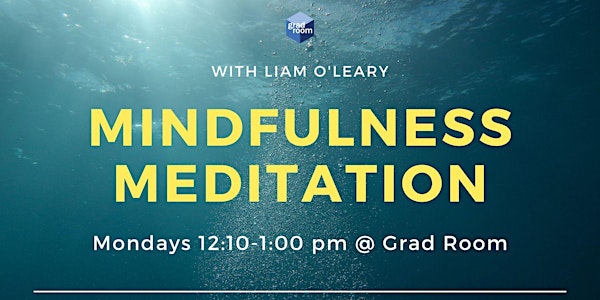 Multiple dates
Cancelled Mindfulness Meditation with Liam
Date and time
May 14, 2018 · 12:10pm - March 30, 2020 · 1pm EDT
Location
Grad Room 66 Harbord Street Toronto, ON M5S 1G2 Canada
Description
Mindfulness Mediation with Liam
Drop-in every Monday at noon in the Grad Room for mindfulness meditation. The session will begin promptly at 12:10 pm with a 20 minute silent mediation practice. Following the silent mediation we will discuss our mindfulness practice as a group for approximately 10 minutes. This is an opportunity to hear from graduates that may be doing research in this area. Following the disucssion we will mediate for a further 20 minutes.
Please come before 12:10 pm if you wish to recieve further instruction. All are welcome to attend.
About mindfulness meditation
Mindfulness meditation is about being aware in the present moment. We spend a lot of time focusing on what happened in the past and worrying about the future, and this distracts us from what we want to do in the moment. It also creates a lot of stress! But with mindfulness we can learn to slow down and appreciate the present.
In practice, mindfulness is about maintaining a moment-by-moment awareness of our thoughts, feelings, bodily sensations, and surrounding environment.
Mindfulness also involves acceptance, meaning that we pay attention to our thoughts and feelings without judging them—without believing, for instance, that there's a "right" or "wrong" way to think or feel in a given moment. When we practice mindfulness, our thoughts tune into what we're sensing in the present moment rather than rehashing the past or imagining the future.
No experience in necessary.
This series is part of Mindful Moments at UofT. Visit https://www.studentlife.utoronto.ca/hwc/mindful-moments to learn about other mindfulness sessions on the St. George Campus.
About the organizer
Graduate Programming Coordinator
School of Graduate Studies
Grad Room
66 Harbord Street
University of Toronto M5S 1A1