CANCELLED: Manager's Workshop: Apply the 10 Keys of Employee Engagement for...
Description
CANCELLED
Apply the 10 Keys of Employee Engagement
A Half Day Employee Engagement Workshop for Managers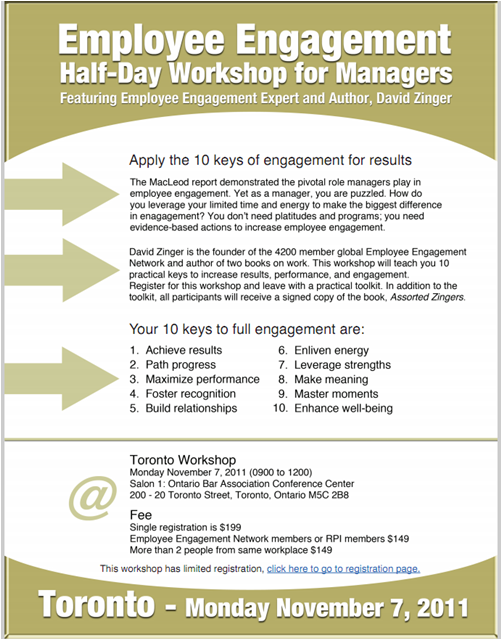 Click Here for a copy of the One Page PDF Brochure
The MacLeod report and other studies demonstrate the pivotal role managers play in employee engagement. Yet as a manager, you are puzzled. How do you leverage your limited time and energy to make the biggest difference in results and relationships? You don't need platitudes and programs; you need evidence based practical day-to-day actions that increase employee engagement.
David Zinger is the founder of the 4200 member global Employee Engagement Network and author of two books on work. He offers you 10 practical and significant keys to increase engagement, performance, and results. Register for this informative, engaging, and research-based half-day workshop and leave with a practical toolkit to achieve results, build relationships, and lower stress through behavioral engagement.
Your 10 keys for employee engagement are:
1. Achieve results
2. Path progress
3. Maximize performance
4. Foster recognition
5. Build relationships
6. Enliven energy
7. Leverage strengths
8. Make meaning
9. Master moments
10. Enhance well-being
I look forward to an engaging morning with you in a workshop that will make a big difference through focused effort and engagement with small steps!