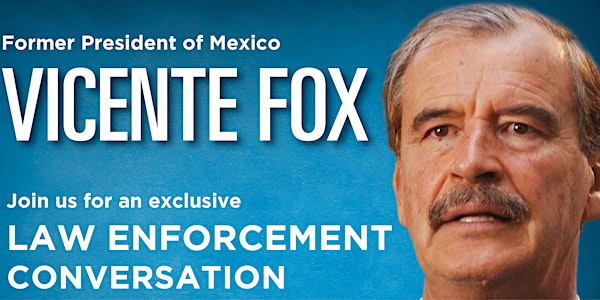 CANCELLED - Law Enforcement Brunch with Former President Vicente Fox of Mexico
When and where
Location
LAPD Academy Lounge - Elysian Park 1880 Academy Drive Los Angeles, CA 90012
Description
Join us for an exclusive law enforcement conversation with former President Vicente Fox of Mexico, to discuss Immigration, the Wall, the War on Drugs and the Future of U.S.–Mexican Relations
To the American public, Vicente Fox may be Mexico's most well-known, modern politician. Prior to becoming president, he received a top management diploma from Harvard Business School and went on to become president of Coca-Cola for Mexico and Latin America. He has most recently made national headlines by telling President Trump that Mexico "will not pay for that [expletive] wall," and continues to engage President Trump on social media.
Fox was the first candidate from an opposition party to be elected president. Currently, he is actively involved in encouraging leadership and creating opportunities for less fortunate people through his organization Centro Fox. What happens behind the scenes with law enforcement cooperation between the U.S. and Mexico? What is the real story behid the drug violence South of the boarder? Here's a rare chance to get a unique perspective from one of Mexico's most prominent and outspoken thought leaders.
This event is offered exclusively for Law Enforcement officers and staff in Southern California, and is paid for by the Stephen & Camilla Forte Foundation, a 501(c)(3) charitable organization "Supporting law enforcement officers and their families in Southern California".
Free to Law Enforcement Officers and Staff - Proof of affiliation required.