About this Event
FEMI KUTI & THE POSITIVE FORCE at The Cedar on June 12th has been cancelled. Tickets purchased online will be refunded automatically. For tickets purchased in person at The Cedar or at our ticket outlets, please mail tickets to: The Cedar Cultural Center, 416 Cedar Avenue South, Minneapolis, MN 55454, attention: Box Office. Please include your return address along with the tickets.
If you're able, here are some ways you can support the artists:
Purchase merchandise from their website
Buy their music instead of streaming it online
Donate directly to them
We're also grateful to the people who've asked about donating the value of their tickets back to The Cedar as a tax-deductible donation. You can do so by visiting: https://www.thecedar.org/donate
For The Cedar's statement on COVID-19: https://www.thecedar.org/a-statement-on-upcoming-shows-at-the-cedar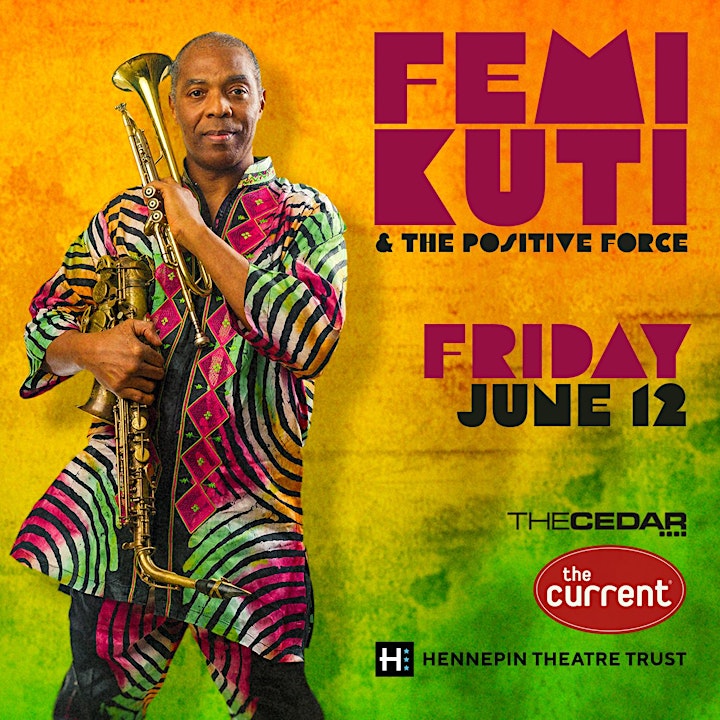 About Femi Kuti & The Positive Force
2019 has been extremely intense for Femi Kuti, playing on the world's most exciting and prestigious stages and festivals, while being involved in many recording projects and being deeply engaged in an activism that aims to promise more justice and a better planet for future generations.
Traveling the world with his old rusted saxophone, we could watch Femi perform live from Cairo's stadium in front of millions of viewers singing the official song of the African Cup of Nations during the opening ceremony, we could hear him in Johannesburg, programmed alongside Jay-Z, Beyoncé and Ed Sheeran at the Global Citizen Festival "Mandela 100" or see his name next to other heavyweights from the new Nigerian scene such as Wizkid or Davido.
During his tours, Femi has also sold out famous venues such as London's Royal Festival Hall where his hypnotic, high-energy show continues to push Afrobeat to new heights. One exciting development is that his band The Positive Force has been joined by his talented multi- instrumentalist son Made Kuti, to play bass and perform impressive saxophone solos alongside his dad. It seems that a third generation of Kuti's is en route to a promising destiny!
In spite of all this live activity Femi has also found time to work with the electro music producer Robert Hood, the French Hip Hop band IAM and had the immense pride and personal satisfaction of collaborating with Coldplay on the song 'Arabesque", featured on their album Everyday Life.
Meanwhile, Femi has locked himself in the studio to record a new original album that he will share with his elder son Made Kuti. A first EP and video will see the light of day in the Spring of 2020 and the full the album will be released in falls on Partisan Records. It looks like mister Femi Anikulapo Kuti is still not ready to rest...
Femi Kuti performs "Evil People" courtesy of WXPN's YouTube channel.