Description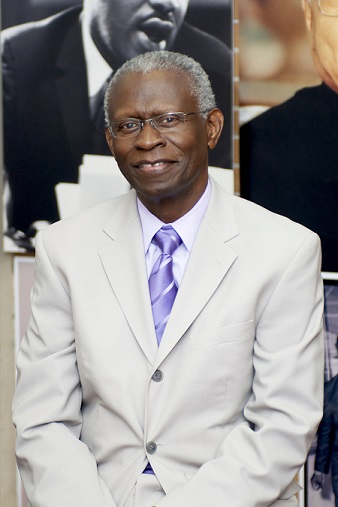 ABOUT LAWRENCE EDWARD CARTER SR.
In 1958 Martin Luther King Jr. privately recruited Lawrence Edward Carter as a 10th grader to come to Morehouse College. Twenty-one years later, Lawrence Carter became the first Dean of the Martin Luther King Jr. International Chapel in 1979. Today he is a tenured Professor of Religion and College Archivist and Curator at Morehouse College. For fifty-seven years, Carter has studied and worked in fourteen American universities, colleges, and professional schools, spoken at over one hundred different colleges, universities, and seminaries, and received more than one thousand speaking engagements from eighteen Christian denominations, including Jewish, Islamic, Hindu, and Buddhist communions, and traveled to thirty-eight foreign countries. He has made more than a hundred radio and television appearances, including continent wide in Africa, Australia, Canada, China, India, Japan, Malaysia, New Zealand, Oceania, Singapore, South Africa and the United Kingdom.
Carter is married to Dr. Marva Griffin Carter, a Ph.D. from the University of Illinois, with Masters Degrees from Boston University and New England Conservatory. Her Bachelor's degree is from the Boston Conservatory. Dr. Carter is currently a tenured Associate Professor of Music History, Popular Music, and World Music at Georgia State University where she also served both as Assistant Director of the School of Music and Director of Graduate Studies in the School of Music. The Carters are the parents of one son, Lawrence Edward Carter, Jr. Their son is a sixth-generation Georgian and a graduate of Morehouse College in Economics with a minor in International Affairs. He has also studied at the London School of Economics and received his M.B.A. degree in International Business from Strayer University in May of 2014, with honors.
Organizer of CANCELLED: Ethical Principles of Dr. MLK Jr & Immigrant Communities in US
The Atlantic Institute is an independent, non-profit organization whose goal is to facilitate dialogue and bridge cultures from both sides of the Atlantic.  In order to reach a more understanding and accepting coexistence of cultures, it is necessary to embrace diversity and build tolerance and awareness for differing beliefs, traditions, and opinions.  Through academic and educational programs dedicated to building cross-cultural and interfaith dialogue, the Atlantic Institute will help develop and maintain a more inclusive society in greater Southeast.
As an academic and educational organization, we seek to provide opportunities for growth and expansion of understanding through several educational programs.  Our educational programs include leadership forums for university students, distinguished speaker series, sponsored international trips as a way to foster direct cross-cultural communication, as well as our annual Art & Essay Contest which features works of art and composition from Middle School and High School students across the Southeastern United States.
As a basis for its mission, the Atlantic Institute is influenced by the teachings and wisdom of many scholars and figures such as the poet Rumi, Martin Luther King, Jr. and Fethullah Gulen, who emphasizes the importance of dialogue and understanding in an effort to create a world in which tolerance and acceptance of differing cultures is the norm.