CANCELLED DUE TO ROAD CLOSURE: Hollis Peach returns to the HML!
Actions and Detail Panel
CANCELLED DUE TO ROAD CLOSURE: Hollis Peach returns to the HML!
Sat, March 4, 2017, 7:00 PM – 10:00 PM PST
Description
DUE TO THE CURRENT ROAD CLOSURE THIS EVENT, ALAS, IS CANCELLED.

---
Concerts at the Henry Miller Library are generally cosmic events infused with serendipity and wonder. This is no secret. But check this out.
At the last Hollis Peach show — a riveting, spellbinding show, by the way; check out photos from it here — Dan name-dropped Egypt Star Bakery in Allentown, Pennsylvania. Mike was in the audience and his ears perked up. He knows Egypt Star Bakery! He's been to it! (Albeit the one in Whitehall; there are three of them.*)
After the band finished the song, Mike interrupted them, said, "Hey...um... I know Egypt Star Bakery!" and thus began a fun and funny tangential conversation about the bakery and the inspiration behind the song. (Indeed, Dan and Jacqui are from Eastern Pennsylvania, not far from Allentown, the once-bustling steel city made infamous — or is it infamous? Discuss! — by Billy Joel.**)
It was the kind of spontaneous and improvisational — not unlike jazz? Discuss!! — conversation you can only get at cozy, indoor shows at the Henry Miller Library, where mysticism and non-three dimensional vibes seep through the rickety floorboards and careen off the walls, where an evocative prog-folk duo now based in Oregon name-drops an obscure Rust Belt bakery from a long-ago drizzly Easter morning of your youth.
So you should come to the show.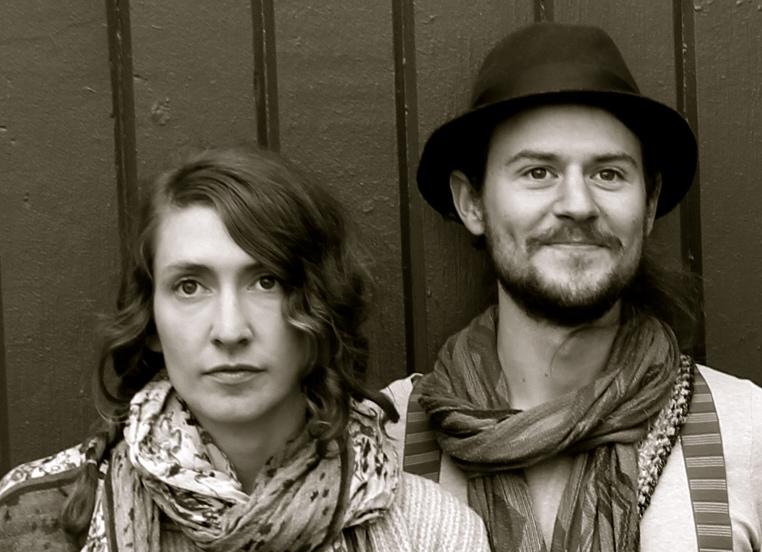 HOLLIS PEACH
Drawing from diverse influences ranging from Simon & Garfunkel, Joanna Newsom, Pete Seeger, and Radiohead,Hollis Peach strives to create authentic innovative music. With a deep focus on personal story, Dan Sherrill (songwriter and guitarist) draws inspiration from his experience as an Early Childhood and Special-Needs teacher, intimate relationships, and living in a "tiny home".
His singing partner Jacqui Aubert rounds out the musical soundscape with her soulful voice. This, paired with distinct arrangments and lyrics, showcases their skillful treatment of harmony, and a grasp for the overt simple beauty of two voices singing together. hollispeach.com
Their previous show at the Library, back in 2016, totally ruled, btw.
Doors at 7 pm. Show at 7:30. Beer and wine will be available for sale. Please carpool and park sensibly! The show will be indoors - very limited seating!
Questions? Call us! 831-667-2574. Thanks and see you soon!
* If you're lucky maybe we'll even Fedex over a freeze-dried kiffle!!!

** Speaking of tangents, how insane are Billy Joel's melodies? They leap and bounce up and down the clefs like a field cricket. A criminally underrated component of his oeuvre, IMO.