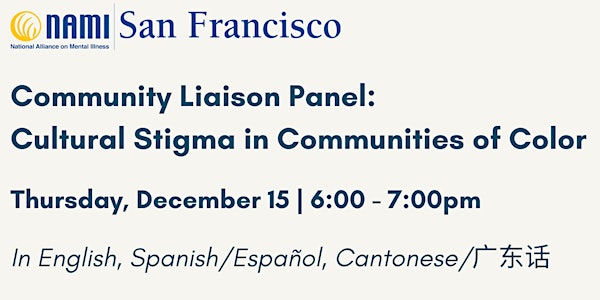 CANCELLED: Community Liaison Panel: Cultural Stigma in Communities of Color
Join the NAMI SF Community Liaisons for a conversation on cultural stigma, mental health and BIPOC communities, and resources and supports.
About this event
THIS EVENT HAS BEEN CANCELLED AND WILL BE RESCHEDULED FOR A FUTURE DATE. A member of the NAMI team is ill. Please stay tuned for more information.
**Spanish/Español & Cantonese/广东话: see below
The Community Liaison Panel is an opportunity to learn how cultural stigma manifests in and impacts BIPOC communities, to connect with NAMI SF staff, and to engage in a conversation on local resources and supports for people of color.
The panel is designed to be casual and conversational - part "Open House" and part educational evening - and in an effort to make this event as accessible as possible Angela Villamizar and Kelly Ma will provide translation options in Spanish and Cantonese. We invite you to attend!
As an organization we are so grateful to have three wonderful community liaisons on staff.
Sharon Thompson represents the Black / African American community. Sharon facilitates the BIPOC support groups, leads Peer to Peer educational classes, and curates the Black / African American Mental Health 101 presentation.
Angela Villamizar represents the Latinx/Spanish-Language community. Angela leads Peer to Peer classes in Spanish, curates and delivers the Latinx Mental Health 101 presentation in Spanish, and develops programs for family members and loved ones. Angela is fluent in English and Spanish.
Kelly Ma represents the Chinese/Cantonese-Language community. Kelly leads Family-to-Family classes in Cantonese, delivers a quarterly public presentation on a mental health topic (recently: the 988 support line), and supports the family and loved one support group held in Cantonese. Kelly is fluent in English and Cantonese.
Frequently Asked Questions
Is this event virtual?
Yes, via Zoom.
So there will be Spanish and Cantonese translations?
Yes! You can listen in English, Spanish, or Cantonese. But, please note! You do need to join the Zoom from a computer to listen in Spanish or Cantonese.
Is this event free?
Yes, all NAMI SF programs are free.
Who should I contact if I have a question?
Email Andrew Tuttle, program director: andrew@namisf.org. You can also check out the staff page on our site and email Sharon, Angela, or Kelly directly. NAMI Staff Page.
What does cultural stigma mean?
Stigma means judgmental or negative views, in this case of mental health and mental illness. Cultural stigma is how these negative views manifest, have power, and impact perceptions of treatment, care, and social support in diverse communities.
We look forward to connecting with you on December 15!
Learn more about our programs and how you can get involved. Register for upcoming support groups and classes.
NAMI San Francisco provides free programs and training opportunities for members of diverse communities. Visit our website to learn more. Support these efforts by donating today!
- - -
Panel de Enlaces Comunitarios: Estigma Cultural en Comunidades Diversas
Únese con los enlaces comunitarios de NAMI SF para una conversación sobre el estigma cultural, salud mental y comunidades diversas, y recursos y apoyos.
El Community Liaision Panel es una oportunidad para aprender sobre el estigma cultural y cómo se manifiesta en y impacta a comunidades diversas, conectar con empleados de NAMI SF, y conversar sobre recursos locales y apoyos.
El panel está diseñado para ser casual y de conversación - parte "Jornada de Puertas Abiertas" y parte evento educacional - y para hacer este evento lo más accesible posible Angela Villamizar y Kelly Ma van a ofrecer opciones de trasladar en español y cantonés. ¡Le invitamos a asistir!
Como organización estamos muy agradecidos por tener tres enlaces comunitarios geniales.
Sharon Thompson representa la comunidad Afro-Americana. Sharon guía los grupos de apoyo para individuales BIPOC, ofrece clases educativas de Persona a Persona, y crea la presentación de Salud Mental 101 para la comunidad Afro-Americana.
Angela Villamizar representa la comunidad Latinx/Hispano-hablante. Angela ofrece clases de Persona a Persona en español, crea y presenta la presentación de Salud Mental 101 en español, y desarrolla programas para familiares y seres queridos. Angela habla inglés y español con fluidez.
Kelly Ma representa la comunidad China que habla cantonés. Kelly lidera clases de Familia a Familia en cantonés, ofrece presentaciones públicas cada tres meses sobre un tema relacionado con la salud mental (recientemente, la línea de apoyo 988), y apoya al grupo de familiares y seres queridos en cantonés. Kelly habla inglés y cantonés con fluidez.
Preguntas Frecuentes
¿Es virtual?
Si, será por Zoom.
¿Habrán traducciones en español y cantonés?
¡Si! Puede escuchar en inglés, español, o cantonés. Pero, tiene que unirse al Zoom por una computadora para escuchar en español o cantonés.
¿Es gratís?
Si, todos los programas de NAMI SF son gratis.
¿A quién le debo contactar si tengo una pregunta?
Manda un correo a Andrew Tuttle, director de programas: andrew@namisf.org. También puede revisar la página de personal en nuestro sitio web y mandarle un correo a Sharon, Angela, o Kelly directamente. Página de Personal de NAMI SF.
¿Qué significa "estigma cultural"?
"Estigma" se refiere a perspectivas negativas o críticas, en este caso sobre salud mental y enfermedades mentales. "Estigma cultural" es cómo estas perspectivas negativas se manifiestan, tienen poder, y impactan percepciones de tratamiento, cuidado, y apoyo social en comunidades diversas.
¡Estamos emocionados para conversar con usted el 15 de diciembre!
Aprende más sobre nuestros programas y cómo puede participar. Registra para grupos de apoyo y clases.
NAMI San Francisco ofrece programas gratuitos y oportunidades de entrenamiento para miembros de comunidades diversas. Visita nuestro sitio web para aprender más. ¡Apoya nuestros esfuerzos con una donación!
- - -
社區聯絡小組:有色人種社區的文化污名
加入 NAMI SF 社區聯絡員,就文化污名、心理健康和 有色人種社區以及資源和支持進行對話。
社區聯絡小組是一個了解文化污名如何在有色人種社區中體現和影響的機會,可以與 NAMI SF 工作人員聯繫,並就當地資源和對有色人種的支持進行對話。
座談會的設計是隨意和對話形式的——一部分是"開放日",一部分是教育之夜——為了讓這個活動盡可能容易理解,Angela Villamizar 和 Kelly Ma 將提供西班牙語和廣東話的翻譯選項。我們邀請您參加!
作為一個組織,我們非常感謝員工中有三位出色的社區聯絡員。
Sharon Thompson 代表黑人/非裔美國人社區。 Sharon 為有色人種支持小組提供便利,領導患者教育課程,並策劃黑人/非裔美國人心理健康 101 演講。
Angela Villamizar 代表拉丁裔/西班牙語社區。Angela 領導西班牙語的同伴課程,策劃和提供西班牙語的 Latinx Mental Health 101 演示,並為家庭成員和親人開發課程。 Angela 精通英語和西班牙語。
Kelly Ma 代表中文/粵語社區。 Kelly用粵語領導家連家心理健康課程,每季度就心理健康主題進行公開演講(最近:988 支持熱線),並支持以粵語舉辦的家庭和親人支持小組。 Kelly精通英語和粵語。
常見問題
這個活動是虛擬的嗎?
是的,通過 Zoom。
那麼會有西班牙語和粵語翻譯嗎?
是的!您可以用英語、西班牙語或粵語收聽。但是,請注意!你需要在電腦上用Zoom才能聽西班牙語或廣東話。
這個活動免費嗎?
是的,所有 NAMI SF 課程都是免費的。
如果我有問題應該聯繫誰?
電子郵件 Andrew Tuttle,項目主管:andrew@namisf.org。您還可以查看我們網站上的員工頁面,並直接向 Sharon、Angela 或 Kelly 發送電子郵件。 NAMI 員工頁面。
文化污名是什麼意思?
Stigma 意味著判斷或消極觀點,在這種情況下是精神健康和精神疾病。文化污名是這些負面觀點如何在不同社區中表現出來、產生影響力並影響對治療、護理和社會支持的看法。
我們期待在 12 月 15 日與您聯繫!
詳細了解我們的計劃以及如何參與。註冊即將到來的支持小組和課程。
NAMI San Francisco 為不同社區的成員提供免費項目和培訓機會。訪問我們的網站以了解更多信息。今天通過捐款支持這些努力!