Actions and Detail Panel
CANCELLED: Code School Career Fair by BootcampXchange
Mon, January 30, 2017, 6:00 PM – 8:00 PM CST
Description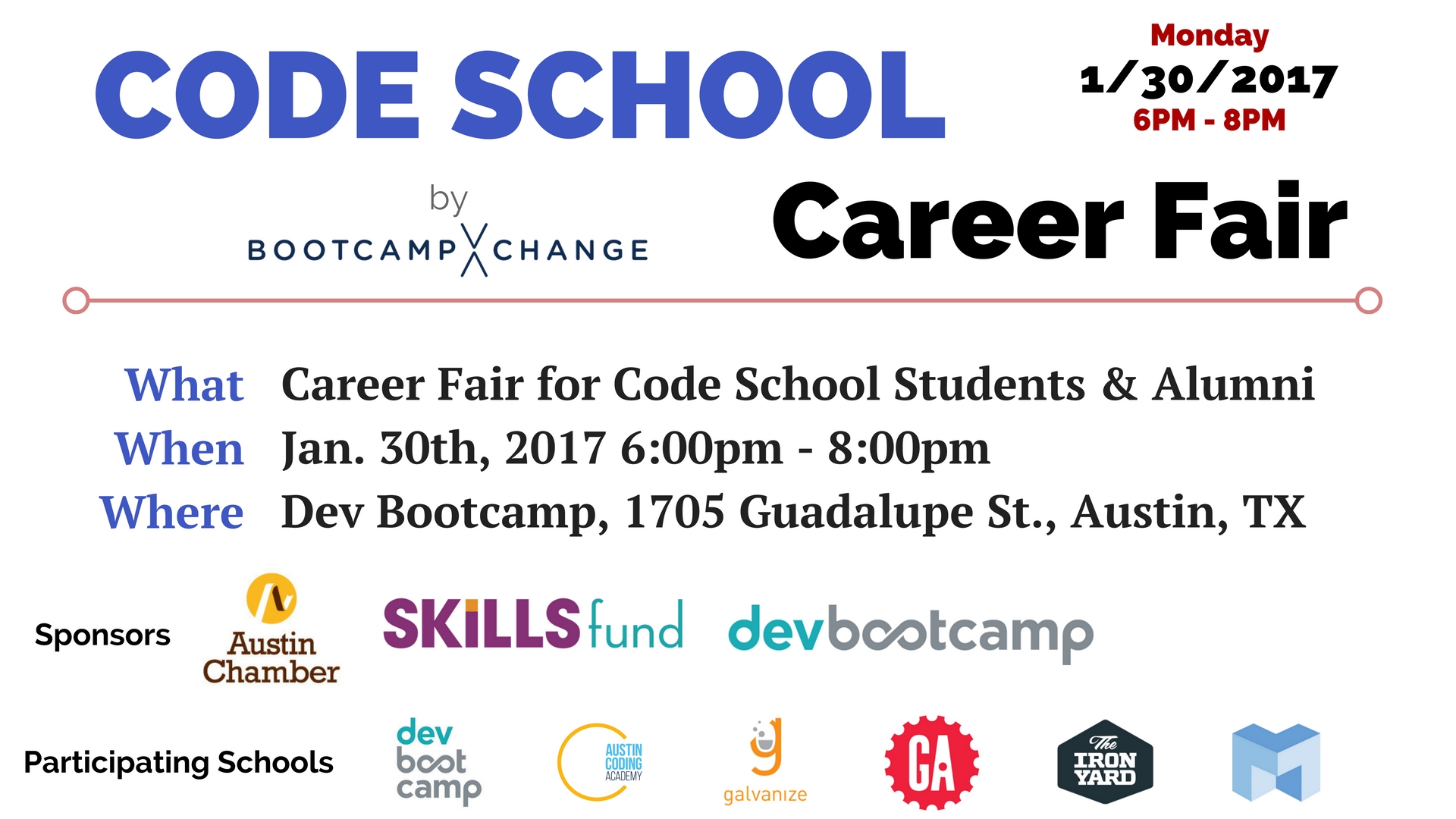 ---
**Event had been cancelled**
Announcing Austin's first ever Code School Career Fair by BootcampXchange! A Career Fair for all Code School Students & Alumni.
If you have attended a coding school or coding bootcamp and are looking for a career in Austin, you can't afford to miss this event. The Code School Career Fair is open to all current students and graduates from any coding school nationwide. Whether you attended an in-person program, online program, or a full-time or part-time program, this event is for you.
What should you expect?
For job seekers, we are expecting anywhere from 25 to 30 companies who are actively hiring for the skill sets below:
Mobile Development (Android, iOS, Non-native)

Front-end Development

Back-end Development

Full-stack Development

Data Science

User Experience
For employers and recruiters, we are expecting anywhere up to 200 job seekers who are passionate about technology and skilled in the specific areas above. In Austin, we have partnered with Dev Bootcamp, Austin Coding Academy, Galvanize, General Assembly, The Iron Yard, and MakerSquare to ensure we have a great turn out of high quality talent.
How does the career fair work?
The Code School Career Fair operates like your typical career fair with the exception that you know exactly what to expect. Employers who attend should actively be hiring for junior and mid-level developers at a minimum, and all Job Seekers who attend should be currently enrolled or graduated from an in-person or online coding bootcamp and actively looking to break into the tech scene in and around the Austin area.
What does is cost?
For Job Seekers, there is no cost!
For Employers, the various table and sponsorship options are below. Depending on the demand from employers, we may have 2 companies per table.
Employer Table: $75 (reduced!)
Event Sponsor: $750 (benefits listed below)
Event Sponsors limited to 5 companies
Company promoted on all marketing materials
1 table per company guaranteed
Prime location during event
What are the logistics?
The Code School Career Fair will take place at Dev Bootcamp's new location on Monday, January 30th, 2017 from 6:00PM - 8:00PM. Companies are encouraged to arrive no later than 1 hour prior to the event.
What: A Career Fair for Code School Students & Alumni
When: January 30th, 2017 from 6:00pm - 8:00pm
Where: Dev Bootcamp, 1705 Guadalupe Street, Austin, TX 78701
Who: Students & Alumni from any coding school nationwide.
Please contact Jake for any questions. jake@bootcampxchange.com
---
Event Sponsors:
BootcampXchange
BootcampXchange is the world's first and only exclusive marketplace where code schoolers and employers can connect...for free! The goal for BootcampXchange is to serve as a global marketplace exclusively for code school students increasing their opportunity to connect with employers while also serving the industry's overall goal of successful job placement.
Skills Fund
Skills Fund's mission is clear: they transform student lives and careers by accelerating the growth of and access to high-quality skills education. With a team of leaders in student lending, higher education, and consumer protection, Skills Fund strives daily to create the best financing tools for the best bootcamps and their students. They see the impact bootcamps are making in the learning community, and are confident both your school and your students will benefit greatly from their approach.
Dev Bootcamp
Dev Bootcamp is the first short-term, immersive bootcamp that transforms beginners into full-stack web developers in 19 weeks (9 weeks remote part-time + 9 weeks on-site full time + 1 week career prep).
Austin Chamber
The Austin Chamber is a private, non-profit, membership-driven organization comprised of over 3,000 business enterprises, civic organizations, educational institutions and individuals tackling the biggest issues facing business, so companies can focus on doing business.