Description
Brush Lettering for Beginners with Maureen Vickery – Saturday, April 4, 10 a.m. - 12 p.m.
Join us for a fun, relaxing art experience as we explore the foundational skills of brush lettering.
You'll learn how to hold your brush marker to achieve the best results, then work step-by-step through a script alphabet that's perfect for any brush lettering project.
Supplies, detailed handouts, coffee, and light snacks will be included.
Where: Bering's at 6102 Westheimer
When: Saturday, April 4, 10 a.m. – 12 p.m.
Cost: $85 per person or $75 each when purchasing 2 or more tickets

Ticket price includes:
2 brush pens

Marker paper

Place card with your name lettered by Maureen

Detailed handouts, guideline sheets, & alphabet sheets and additional resources for further study

One-on-one feedback
You'll leave class with the confidence to try out new brush pens and lettering styles to continue on your hand lettering journey!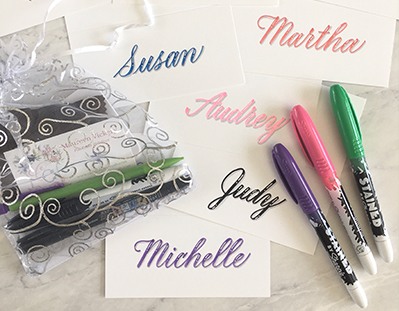 Maureen Vickery is a professional calligrapher with PenDance Studio and the publisher of Calligraphy Crush Magazine. Maureen is a member of the Houston Calligraphy Guild and IAMPETH. You can follow her on Instagram @pendancestudio and @calligraphycrushmagazine.
Please note that we regret that the location of this class is not wheelchair accessible. ...And we do have a 14 day refund policy.