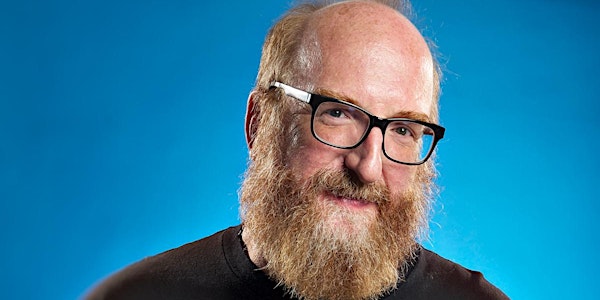 CANCELLED: Brian Posehn
Premier Concerts and Manic Presents:
Location
Space Ballroom
295 Treadwell Street
Hamden, CT 06514
About this event
COVID-19 Policy
COVID-19 Vaccination (14 days past second shot) OR proof of negative COVID-19 PCR test (received within the past 72 hours) required for entry. If vaccinated, please bring your vaccination card or clearly legible photo of your vaccination card on your phone and a valid photo ID. If unvaccinated please bring printed or digital proof of your recent negative PCR test. Masks are required for all ticket holders and staff despite vaccination status. You may pull your mask down when eating or drinking only. These policies will remain in place until further notice.
To present proof of vaccination and/or negative PCR test results on your phone, we've partnered with Bindle, a digital health platform that is secure, easy to use and completely anonymous; your personal health information is never shared and your biometrics are not required. Visit the App Store or Google Play Store and search for "My Bindle." Set-up is free and simple. If you are unable to provide digital proof, physical proof is also accepted.
BRIAN POSEHN
Brian Posehn has been busy for a while. As a writer/actor/stand-up comic, he doesn't have a ton of down time. He's currently co-creating and starring in an upcoming cartoon for Nickelodeon. Brian most recently was an NSA intern on TruTV's Top Secret Videos. You can also catch Brian on the popular Disney Plus show The Mandalorian, the acclaimed Netflix show Lady Dynamite, FX's You're The Worst and in his recurring roles on The Big Bang Theory and New Girl. He was one of the stars of Comedy Central's popular show, The Sarah Silverman Program. He has also appeared on such seminal sitcoms as Seinfeld, NewsRadio, Everybody Loves Raymond, Friends, The Neighborhood and a recurring role on Just Shoot Me.
In the sketch comedy world he's known as one of the writers and performers on HBO's acclaimed Mr. Show, in 2015 he co-produced Odenkirk and Cross's return to sketch with the Netflix hit, With Bob and David.
He was featured in the films, Devil's Rejects and The Five Year Engagement. In 2015 he had his first starring role in the dark, indie comedy, Uncle Nick.
In stand-up comedy he's known as one of the original members of the Comedians of Comedy. He's recorded two half hour specials for Comedy Central, four comedy albums and three hour long specials, The Fartist, Criminally Posehn and 25 X 2.
In Voice-Acting he's done everything from Scooby Doo to a recent role on The Simpsons. He starred on the animated shows, Mission Hill and 3 South and has turned up in Adventure Time, American Dad, Bob's Burgers and Steven Universe, to name a few. His voice was featured in the 2017 Dreamworks Animated comedy, Captain Underpants.
In the last several years he's also been able to produce and host a popular D&D comedy podcast, Nerd Poker and co-write 45 issues of the best-selling Marvel comic book series Deadpool. In 2018 he released his first book, Forever Nerdy. In 2019, he completed a comedy metal album Grandpa Metal, featuring metal legends from Anthrax, Dethklok, Slayer and Soundgarden.
Grandpa Metal was released to rave reviews in the metal world in February of 2020. In May, he was featured on Celebrity Worst Cooks on Food Network. He currently has a weekly two hour show spinning his favorite meta songs on GimmeMetal.com. In 2021, he plans to compete on American Ninja Warrior, Top Chef and So You Think You Can Dance. After he breaks TMZ and the Internet, when footage of him beating up a narwhal surfaces, he plans to quit showbiz.
Links: Official Website | Facebook | Twitter | Instagram | YouTube