CANCELLED: A+C 17: Perspectivas 2017 Lecture: Tatiana Bilbao
Description
THIS EVENT HAS BEEN CANCELLED DUE TO THE EARTHQUAKE IN MEXICO; REFUNDS WILL BE ISSUED.
Join LiA (Latinos in Architecture) for an evening with award-winning Mexican Architect Tatiana Bilbao. Through a multicultural and multidisciplinary office, the work of Bilbao tries to understand the place that surrounds us in order to translate its rigid codes into architecture. It tries to regenerate spaces in order to humanize them as a reaction to global capitalism, opening up niches for cultural and economic development.

In 2004, she founded Tatiana Bilbao Estudio, working in projects in China, Europe and Mexico. The first project built by her studio was the exhibition pavilion in Jinhua Architecture Park, led and coordinated by Chinese artist Ai Weiwei who selected a group of young architects from around the world to design and develop a large park organized by a network of pavilions and located in the shore of the Yiwu River, close to Shanghai. Bilbao designed an exhibition pavilion that was completed in 2007.
---





2017 Architecture and the City Festival Poster
Add to your cart when checking out and receive a $5 refund on your ticket purchase!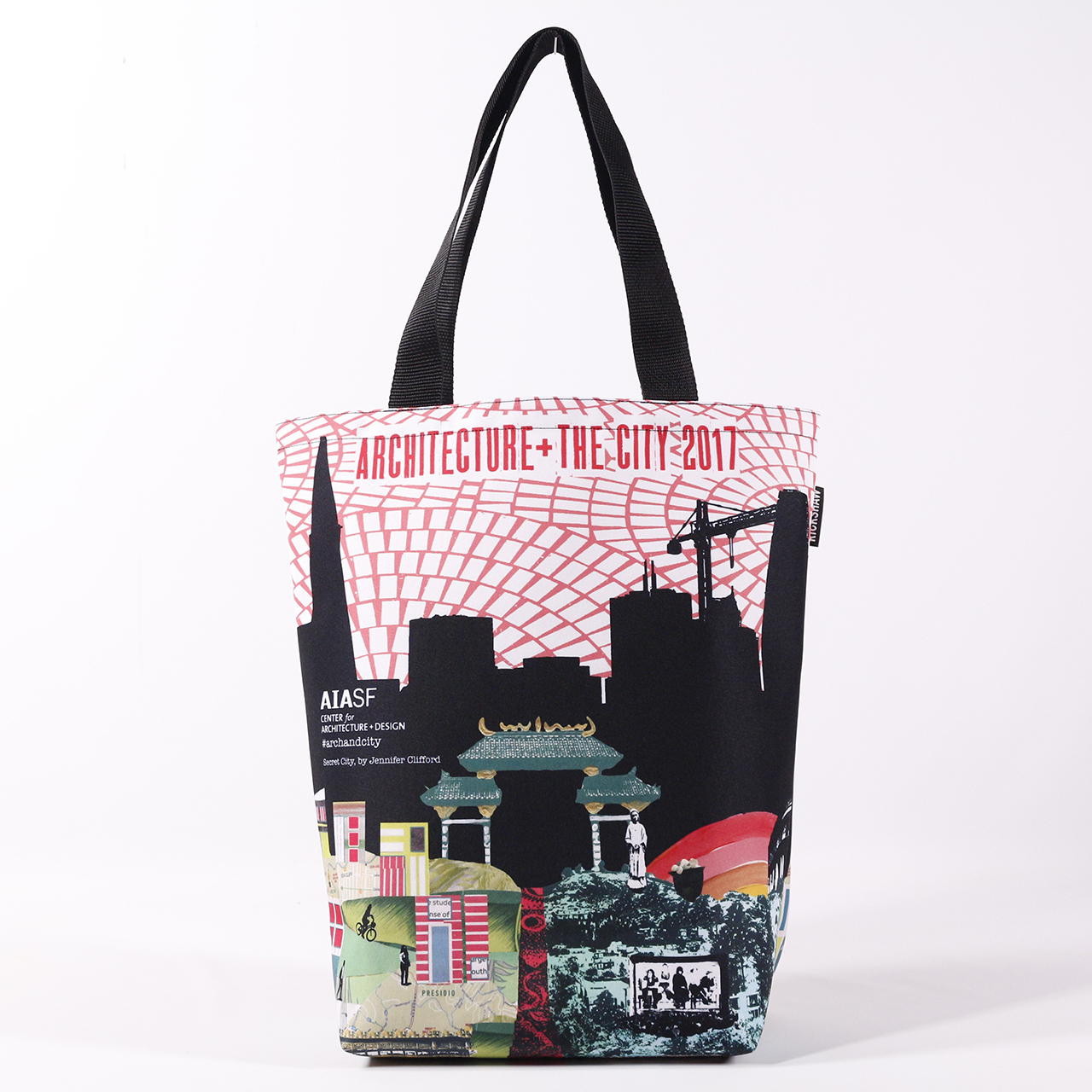 2017 Architecture and the City Festival Tote Bag
Add to your cart when checking out and receive a $5 refund on your ticket purchase!
AIA San Francisco and the Center for Architecture + Design commissioned celebrated local artist Jennifer Clifford to create artwork embodying the Festival's theme and spirit of imagination and discovery across the design industries.
About the Artist
Jennifer Clifford was an interior designer for 10 years before deciding to pursue a full time art career. She has always been drawn to texture, the juxtaposition of pattern and bold color. In college, she developed a passion for collage art. Today, her work is a reflection of that passion, melded with the vibrant textiles and wallpapers she loved and used while practicing interior design. You can find Jenny and her work at art fairs and events around the Bay Area and her wholesale line of art prints are sold in stores throughout San Francisco including Terminals 2 and 3 at the San Francisco International Airport. In collaboration with Rickshaw Bagworks, Jennifer has a complete collection of her art featured on their locally-made tote bags that can be found online (www.jenniferclifford.net) and in various shops throughout the city.
Artist's Statement
The general concept behind the image created for the 14th Architecture + the City festival poster, is an attempt to reveal the many hidden layers of San Francisco. San Francisco is filled with many people and walks of life who each have their own perspective of the city, while other parts of the city remain unseen from the casual observer - the secret city. The upward movement of the image created follows a path, "the secret stairs", which serves as the gateway to connect the hidden details of San Francisco (found in the festival program), to the present urban community, to empower a more conscious and sustainable future.
Date and Time
Location
California College of the Arts
Timken Lecture Hall at California College of the Arts, 1111 Eighth Street