CANCELLED: 5th Annual Latin American Film Festival: The Great Mystical Circ...
Description
The 5th Annual Latin American Film Festival is taking place at California State University Northridge from November 16 through 18, 2018. Sponsored by the College of Social and Behavioral Sciences and UNAM Los Angeles, this three day event features award-winning Latin American films that have been selected to represent their countries at the 2019 Academy Awards.
For a complete list of films, please visit the 2018 Latin American Film Festival webpage.

Note: Films are in Spanish with English subtitles. All films will be shown in the Elaine and Alan Armer Screening Room, located on the first floor of Manzanita Hall, Room 100.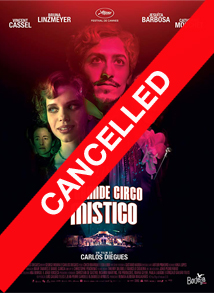 Due to unforeseen circumstances, this showing is cancelled. In its place, there will be a second showing of the film YO NO ME LLAMO RUBÉN BLADES (Rubén Blades is Not My Name). If you have reserved tickets for O GRANDE CIRCO MYSTICO there is no need to RSVP again, your tickets will be honored for YO NO ME LLAMO RUBÉN BLADES .
---
Communication services (sign language interpreters, note takers, real-time captionists, or assistive listening devices) are available for this event. Requests for services must be submitted at least five (5) working days in advance. For more information or to request these services, please call 818.677.4035 or email csbsevents@csun.edu.
This event is free of charge.
The Armer Theater is located inside Manzanita Hall. The closest parking to the Armer Theater is in lots B1, B2, or B3.
Daily Parking Permits are $8. They may be purchased from a parking permit dispenser (available in each student/visitor parking lot) or from an attendant in one of the Information Booths. Both the parking permit dispensers and Information Booths accept cash, Visa and MasterCard. See the Campus Map for directions.
Organizer of CANCELLED: 5th Annual Latin American Film Festival: The Great Mystical Circus
College of Social and Behavioral Sciences
With the highest number of student enrollments across CSU Northridge, the College of Social and Behavioral Sciences is comprised of ten distinct departments including: Africana Studies, Anthropology, Criminology and Justice Studies, Geography and Environmental Studies, History, Political Science, Psychology, Social Work, Sociology, and Urban Studies and Planning. In addition, the College is also home to a number of well-recognized special programs, centers and institutes.
UNAM Los Angeles
The Universidad Nacional Autónoma de México is one of the most recognized universities in Latin America, and one of the largest and most artistically detailed. Its main campus in Mexico City is a World Heritage site that was designed by some of Mexico's best-known architects of the 20th century. Murals at the main campus were painted by acclaimed artists, including Diego Rivera and David Alfaro Siqueiros.

UNAM is internationally recognized for its publications and journals on a variety of topics, including mathematics, physics, history and Latin American studies. It is also the only university in Mexico with Nobel laureates among its alumni, including Alfonso García Robles for peace, Octavio Paz for literature and Mario Molina for chemistry.