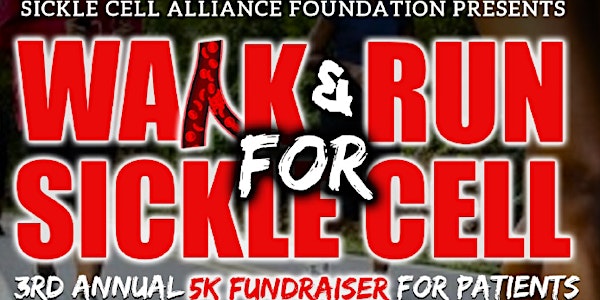 CANCELLED: 3rd Annual 5K Walk For Sickle Cell (Cincinnati, OH) Presented by...
Location
Central Park (Forest Park, OH)
1201 West Kemper Road
Cincinnati, Ohio 45240
Description
***ALERT *** ALERT *** ALERT *** ALERT *** ALERT *** ALERT ***
The Sickle Cell Alliance Foundation CANCELLED THE 3Rd Annual 5K Walk/Run for Sickle Cell scheduled for Sunday, September 9, 2018 DUE TO FORECASTED INCLEMENT WEATHER PREDICTED TO ARRIVE FROM HURRICANE GORDON.
Even with inclement weather conditions, just like our sickle cell warriors, we WILL NOT give up; and we WILL still celebrate and bring awareness to sickle cell! Therefore, in honor of National Sickle Cell Awareness month, the Sickle Cell Alliance Foundation team has scheduled a new date to have a smaller-scale indoor recognition event that will be held on Tuesday, September 25 from 5pm-8pm at eXclusive Services, 11134 Luschek Drive, Cincinnati, Ohio 45241. We will email a flyer with details next week so please keep a look out for it and join our mailing list if you are not on it; visit our website to sign up for our mailing list. Pre-registered walkers will receive an email.
We apologize for this inconvenience but safety is our first priority. Thank you for your support and we look forward to next year's walk!
---
3RD ANNUAL 5K WALK FOR SICKLE CELL
presented by the
SICKLE CELL ALLIANCE FOUNDATION
Help us celebrate National Sickle Cell Awareness month!
Walk with us to help raise awareness for sickle cell anemia. This often overlooked, underfunded and misunderstood disease is a chronic illness that attacks the red blood cells, causing excruciating pain while slowly deteriorating internal organs. Proceeds raised will help to develop and support transitional programs to help improve quality of life for sickle cell patients in Cincinnati, Ohio.
Changing life expectancy for sickle cell patients.
#SCAFCincyWalk2018
*****
*** THIS EVENT WILL HAPPEN RAIN OR SHINE ***
SUNDAY, SEPTEMBER 9, 2018
8:00am - Registration Begins
9:00am - Opening Ceremony & Walk Begins
12:00pm - Awards Presented, Walk Ends & Forest Park Community Day Begins (details below)
While the walk is in progress, enjoy, shopping, fun food, a kids play area with games for the youth, music and more!
***ENJOY MUSIC BY DJ NONSTOP***
LOCATION
Central Park, 1201 West Kemper Road, Cincinnati, OH 45240
REGISTRATION DETAILS
$25 per adult online | $30 day of event
$20 per person for groups of 10+ (must pre-register online)
$8 per person for youth groups of 10+ (must pre-register online)
$10 for youth (ages 6 to 17) | $15 day of event
$5 for toddler (ages 5 and under) | $10 day of event
For faster check-in and to save money, register online! Event-day registration will be available for an increased registration fee. DON'T DELAY, BE SURE TO REGISTER EARLY AND SAVE!.
Register by 8/24/18 8/4/18 to receive a commemorative t-shirt with your registration!

SICKLE CELL TRAIT TESTING WILL BE AVAILABLE
(Bring your I.D., insurance card and social security card to participate in the testing)
Stay after the walk and let's keep the festivities going! Enjoy the City of Forest Park Community Day - the Official Walk for Sickle Cell After-Party! Enjoy food, games and prizes, fire and police department displays, music, raffles and more!

SPONSORSHIP PACKAGES & VENDOR DETAILS
Click here for details and to submit your online form.
DONATIONS
CLICK HERE to donate. DONATIONS ARE GLADLY ACCEPTED.
VOLUNTEER OPPORTUNITIES
Click here to sign up to volunteer on event day. If you need service hours or simply want to give back, this is the perfect opportunity! And, if you are a student, we will provide you with a service hour letter.
QUESTIONS
Contact us @ SCAFCincinnati@gmail.com or 513.813.7223
EVENT SPONSORS
Young Chefs Academy of Gahanna - Strong Sponsor
Winton Woods PTA - Faith Sponsor
~More will be announced~
EXCLUSIVE SPONSORS
City of Forest Park - Venue Host
Cube Adjon - T-Shirt Printing
DJ NonStop - DJ & Music
eXclusive Services - Medical (Sickle Cell Trait Screening & Primary Care)
Mahogany Media LLC - Media (Videography)
Moore Planning & Consulting LLC - Event Planning & Management

Mrs. Gifted - Balloon Arch
Park Place Restaurant - Banner & T-Shirts

Party Sitters, LLC - Kids Zone
Speakerazzi - Social Media & Design
Sweet Petit Desserts - Dessert
~More will be announced~
STILL SEEKING SPONSORS FOR: beverage, food, gift cards, medical, merchandise, wellness, restaurant and supplies
GENERAL SPONSORS
Cincinnati for H.O.P.E. Coalition
Lance's Auto Center
~More will be announced~
ON-SITE SERVICES & VENDOR
Caracole - HIV Testing
eXclusive Services - Sickle Cell Trait Screening
Party Sitters, LLC - Kids Activities
~More will be announced~
RAFFLE & GIVEAWAY SPONSORS
~More will be announced~
*****
Sickle Cell Alliance Foundation (SCAF) is a 501(c)(3) organization. SCAF is a passionate nonprofit, community-based organization that is committed to bridging the gap for families and patients—children, teen and adults—living with the life-threatening sickle cell disease. By developing relationships with families, we will be "their voice" as we advocate, partner and develop relationships with hospitals, schools, companies and public officials to heighten awareness, implement long-term comprehensive programs and increase funding to ultimately find a sickle cell cure.
****************************
Follow us on Facebook and Instagram to learn about our upcoming events and programs.
FAQs
TEAM REGISTRATION QUESTIONS
If I am creating a team, do I have to register and pay for all of my team members at the same time?
No, for convenience, each team member can register and pay on their own. When they register, have them click the "Join a Team" button so they are added to your team. You must give them your Team name and password (if applicable) to join your team. NOTE: To get the group discount, you must have 10 or more team members pre-registered before the day of the walk. If your group has less than 10 members, you will be asked to pay the difference when you check in on event day.
If I create a team, can I pay for all of my team members on the day of the walk to get the discount?
No, all groups must be pre-registered BEFORE the day of the walk to get the discount. If your team wants a commemorative t-shirt, your team must be registered by 8/4/18. All groups registered after 8/4/18 will not receive a t-shirt. The cut-off is necessary to allow time to order and print t-shirts. Groups registering the day of the walk will pay the event day registration fee, which is slightly higher than the pre-registration fee. Plan early and save!
What do I do if I want to pay for all of team members at once but am not able to pay online?
Although paying online is the easiest way given this large-scale event, contact us at SCAFCincinnati@gmail.com with your request and special arrangements can be made for you and your team.
If I am a team captain, where do I go to pick up my Team's registration information on the day of the walk?
Registration information will be given to the Team Captains. The Team Captain will have all the information for each of their team members to hand out on event day. Instructions will be emailed to each Team Captain prior to the walk with directions on when/where to pick up their team's information.
OTHER QUESTIONS
Will the walk happen rain or shine?
Yes, we will walk for our sickle cell warriors in the rain or shine. Please check the forecast and be prepared to "walk it out" for sickle cell.
What are my transportation/parking options for getting to and from the event?
Parking will be available at the following locations: Winton Woods High School (near the Athletic building); 1231 West Kemper Road; Municipal Building, 1201 West Kemper Road, and the Forest Park Senior Center, 11555 Winton Road.
How can I contact the organizer with any questions?
Email SCAFCincinnati@gmail.com or contact us at 513.813.7223.
Do I have to bring my printed ticket to the event?
It is great if you do, but we will have your name at check in if you pre-registered. If you are part of a team, your information will be included under your Team's Name and your information will be given to your Team Captain, so please find your team captain on the day of the walk. He/she will have your information.
Can I update my registration information?
Yes, if you registered as part of a team. Log in with your team name and password, if applicable, provided by your Team Captain.