Multiple Dates
CANCELED until further notice Vernal Pool and Wildflower Hike
Description
The 7-mile Rancho Seco Howard Ranch Trail is a hiker's paradise! There is a shorter 4 mile option as well. The trail begins by winding around the north end of Rancho Seco Lake along willow scrub and riparian marsh habitat. As the trail leaves the waters edge, it travels up onto a flat terrace supporting a mosaic of vernal pools and grassland habitat. This terrace also offers dramatic views of extensive blue oak woodlands in the foothills and the far-off peaks of the Sierra Nevada mountain range.
When filled with water, vernal pools are crucial to the short life cycle of federally listed threatened and endangered species, such as the California Tiger Salamander, fairy shrimp, tadpole shrimp, and Western spadefoot toad. In the spring, masses of flowering plants carpet the basins of these pools creating a sight not to be missed.

The trailhead is located at the North Dam parking lot in Rancho Seco Recreational Area off Highway 104/Twin Cities Road. Once in the Recreation Area, turn Left before the dam and drive down the gravel road to the Lake/Trailhead.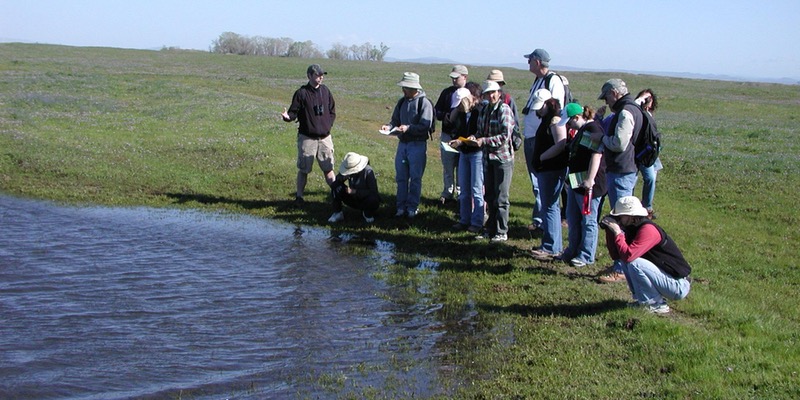 Walks generally take 3 1/2 - 4 hours which includes a stop for a snack/lunch.
We advise you to bring water, a snack, sunscreen and a hat. You are free to turn around at anytime, if you would like to walk a shorter distance.

Rancho Seco Recreation Area is open daily from 7am-6pm and there is a $12 charge per vehicle.
Tours depart from the trailhead at 9:00 a.m., please plan on showing up at 8:30 a.m.