Description
This exclusive party will be held at Vinotel Event Center 25,000 SqFt of party space with 3 tiers of entry. Complete with pop up location transformed into a James Bond-theme and VIP experiences.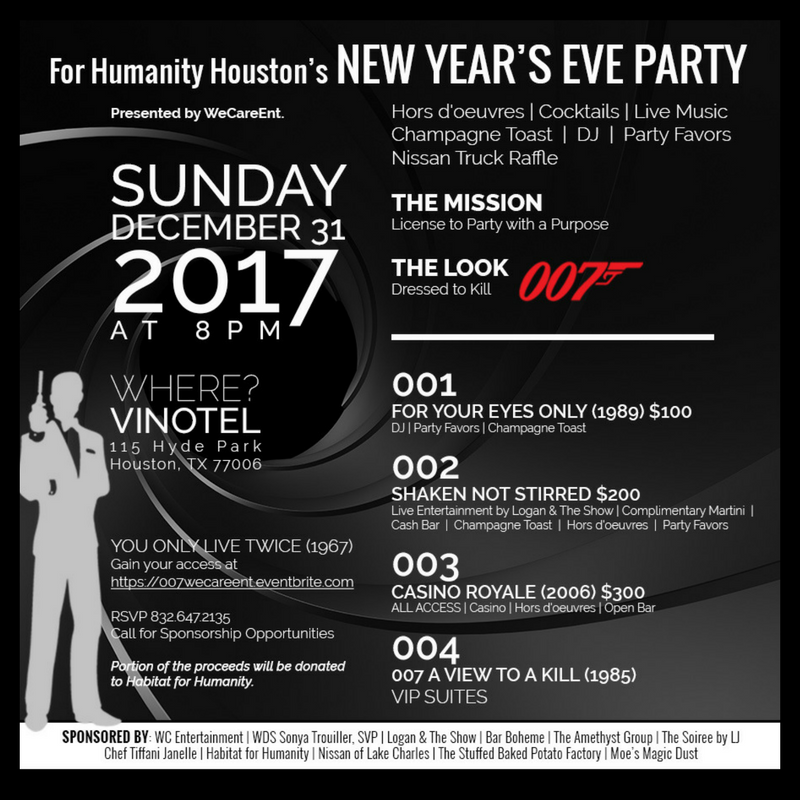 100% of Raffle ticket sales and portion of ticket sale proceeds will be donated to Houston Habitat for Humanity for Harvey Disaster relief.
****Raffle PRIZE includes NISSAN TRUCK***Raffel ticket link coming soon!
-Price Increase on DECEMBER 16th-
001 Level - "For Your Eyes Only" (1989) $100
DJ, Party favors, champagne toast
002 Level- "Shaken, not stirred" (1956) $200
Live entertainment by Logan & The Show, Complementary Martini, H'orderves, Cash Car, Champagne Toste toast, Party Favors
003 Level - "Casino Royale " (2006) $300
ALL ACCESS, Casino, Complimentary Gourmet H'orderves, Open Bar
007 A VIEW TO KILL (1985) VIP SUITES
RSVP 832-647-2135
Valet Services are Available. All attendees MUST have ID
Logan & The Show* Bar Boehme* We Care Ent.*WDS Sonya Trouiller, SrVP*The Amethyst Group
Soiree by LJ*Chef Tiffani Janelle*Habitat for Humanity*Nissan of Lake Charles