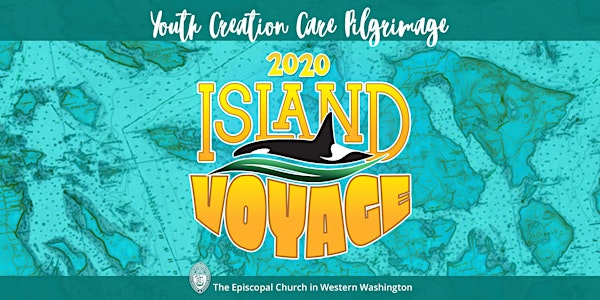 CANCELED: Creation Care Pilgrimage for Youth [Postponed to August 1 - 7, 2021]
When and where
Location
Starts at the Bishop's Office 1551 10th Avenue East Seattle, WA 98102
Refund Policy
Contact the organizer to request a refund.
Description
[Please note: While we are actively planning for this event, we realize that a continued quarantine and shelter-in-place order may require its cancellation. As a result, we are not asking for a registration fee at this time. Instead we invite you to "register your interest" by filling out the Eventbrite registration form to save your teen's place. As soon as we can make a determination on whether to go ahead or cancel, we will contact you.]
Let's take in the beauty of God's creation as we explore the San Juan Islands on our annual Youth Creation Care Pilgrimage! This year's island voyage is the perfect blend of outdoor exploration, care for the environment, connection with others, and spiritual growth.
Teen pilgrims will travel across the San Juan Islands, stopping at Episcopal churches along the way, and learning from people who are working every day to reverse the effects of climate change.
Itinerary:
We will start in Seattle with a blessing and lunch at Saint Mark's Cathedral and then set-off in vans for this island-hopping adventure.

First stop: San Juan Island for a scavenger hunt in town, a trip to the Whale Museum, and a bonfire on the beach. We'll spend the night at St. David's Episcopal Church in Friday Harbor.

Next: Lopez Island for bicycling with a stop at a sustainable working farm and a hike to Iceberg Point. We'll spend the night at Grace Episcopal Church in the quaint island town.

Then: Orcas Island for kayaking, swimming, and hiking Mt. Constitution. We'll spend the night at Emmanuel Episcopal Church and wait for low tide where a land bridge appears, connecting the waterfront church to a nearby island and nature refuge.
Other highlights: You can also look forward to: a specially arranged boating trip to one of the more remote islands in the San Juans (not on the ferry route), with a hike to an old-growth forest; beach & river restoration projects; arts and crafts; guest speakers; and small-group bonding time. Each night our teens will take turns leading an evening service, created in collaboration with our music and liturgy leadership team.
The pilgrimage will wind down on Fidalgo & Whidbey Islands, thanks to our hosts there: Christ Episcopal Church, Anacortes; St. Stephen's Episcopal Church, Oak Harbor; and St. Augustine's in-the-Woods, Freeland. On our last night together, the pilgrimage will culminate with a memorable Eucharist service at sunset on the beach.
The pilgrimage is open to all high school students who in June 2020 will have completed grades 9, 10, 11 or 12. Participation is limited and (if necessary) decisions will be made based on seniority with a priority for first-time pilgrims.
Interested in seeing what last year's Youth Creation Care Pilgrimage was like? Go to: www.ecww.org/youth/summer to watch the video and read the blog complete with posts from the teens who participated.
Important dates:
Now: Register your interest and hold your place (no payment needed). Fill out the Eventbrite registration form and let us know that you plan to join us! As soon as we're sure that restrictions around COVID-19 have lifted and that the pilgrimage is a go, we will e-mail you about confirming your spot with payment.

July 15 - Payment ($480) & forms due

August 2 - Pilgrimage begins at the Bishop's Office, 10:00 a.m. We'll check-in, make sure all forms are in place and that luggage is loaded onto the vans. Next we'll walk over to Saint Mark's Cathedral for the 11:00 a.m. service and blessing of the pilgrims. All family members welcome!

August 8 - Pilgrimage ends and we will return to the Bishop's Office. Teens that live en route can be returned to their home church.
Cost: Total cost is $480 per participant, due on July 15. These fees cover all transportation and ferry tolls; all meals and lodging; entry fees to parks and sites; all activities including kayaking, cycling and boating.
Scholarships: Scholarships are available in partnership with local churches and families. No one will be turned away for inability to pay. Please e-mail Valerie at vreinke@ecww.org, for more information.
Cancellation policy: If shelter-in-place restrictions around COVID-19 are still in effect during the scheduled dates, 100% refunds will be made. If restrictions are lifted, and a cancellation is requested, refunds will be made on a case by case basis.
Questions/Clarification: Please e-mail Valerie Reinke, Canon Missioner for Faith Formation 35 & Under: vreinke@ecww.org