Mashing up Irish influences with rock and punk folk, Boiled in Lead get people dancing to whatever groove they cook up.
About this event
BOILED IN LEAD WITH STELLAROMA, TODD MENTON, AND KINDA FONDA WANDA at The Cedar on March 20 has been canceled. Tickets purchased online will be refunded automatically. For tickets purchased in person at The Cedar or at our ticket outlets, please mail tickets to: The Cedar Cultural Center, 416 Cedar Avenue South, Minneapolis, MN 55454, attention: Box Office. Please include your return address along with the tickets.
If you're able, here are some ways you can support the artists:
Purchase merchandise from their website
Buy their music instead of streaming it online
Donate directly to them
The Cedar's statement on COVID-19: https://www.thecedar.org/a-statement-on-upcoming-shows-at-the-cedar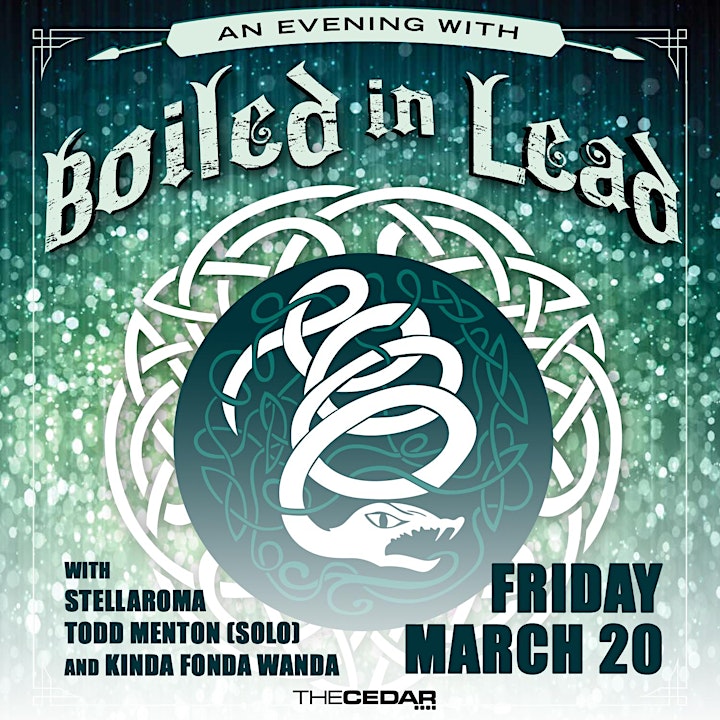 About the Show
One of the longest-running rock bands in the Twin Cities, Boiled in Lead, return for their anniversary performance at The Cedar!
Founded in 1983, BiL are Todd Menton (vocals, guitar), Drew Miller (bass), David Stenshoel (fiddle), and Michael Bissonnette (drums, percussion). With both an extensive catalog and fresh material bubbling under the surface, BiL take chances with the music, constantly looking for new ways to play music from Ireland and elsewhere. Rock'n'reel... Punk-folk... Country music from many countries... BiL play fiddle, guitars, bass & drums with loads of power and emotion. Always reaching for new tunes (and new ways to play old tunes) tonight's music is guaranteed to twist and turn from quiet to loud, folky to noisy, droning to danceable.
For 2020, this annual tradition will start with brief cameo sets from projects featuring individual band members.
Boiled in Lead performing courtesy of stonecirclemusic's YouTube channel.
About Stellaroma
Greg Herriges (guitar and bouzouki) is joined by violinist David Stenshoel and percussionist Michael Bissonnette, combining ancient and future, East and West, into a stirring mix of "progressive world music" with futuristic flavors. Herriges plays (and sings into) his guitar and Greek bouzouki with a unique approach honed by his studies of Asian and other international styles.
StellaRoma performing courtesy of Greg Herriges YouTube channel.
About Todd Menton
Todd has always maintained a distinct solo career from BiL, including 4 solo CDs, combining original and traditional Irish tunes and songs, rendered in a unique, edgy style, primarily on vocals, guitar, bodhrán and mandolin. He's also an instructor at the Center For Irish Music.
Todd Menton performing three Irish jigs courtesy of Dave Romm's YouTube channel.
About Kinda Fonda Wanda
High-octane, Rock 'n' Roll Honky-Tonk inspired by the queen of rockabilly, Wanda Jackson! "Take some seasoned music vets, inject the rockabilly spirit and classic country influence of a young Wanda Jackson and toss with the extroverted energy of vocalist Amanda White: the result? Magnificent Fun!" — Steve McClellan (founder of First Avenue) BiL's Drew Miller is on bass, with Al Subola of the Bad Companions and Renée Bracchi of The Blue Up?
Kinda Fonda Wanda performing "Hot Dog! That Made Him Mad" courtesy of Omnium Records' YouTube channel.
Organizer of CANCELED: BOILED IN LEAD w. StellaRoma, Todd Menton, and Kinda Fonda Wanda