About this Event
About the Book: Six-time New York Times bestselling author and former Secretary of State Madeleine Albright—one of the world's most admired and tireless public servants—reflects on the final stages of one's career, and working productively into your later decades in this revealing, funny, and inspiring memoir.
In 2001, when Madeleine Albright was leaving office as America's first female secretary of state, interviewers asked her how she wished to be remembered. "I don't want to be remembered," she answered. "I am still here and have much more I intend to do. As difficult as it might seem, I want every stage of my life to be more exciting than the last."
In that time of transition, the former Secretary considered the possibilities: she could write, teach, travel, give speeches, start a business, fight for democracy, help to empower women, campaign for favored political candidates, spend more time with her grandchildren. Instead of choosing one or two, she decided to do it all. For nearly twenty years, Albright has been in constant motion, navigating half a dozen professions, clashing with presidents and prime ministers, learning every day. Since leaving the State Department, she has blazed her own trail—and given voice to millions who yearn for respect, regardless of gender, background, or age.
Hell and Other Destinations reveals this remarkable figure at her bluntest, funniest, most intimate, and most serious. It is the tale of our times anchored in lessons for all time, narrated by an extraordinary woman with a matchless zest for life.
About the Author: Ms. Albright, a six-time New York Times Best Selling Author, is an American politician and diplomat. She is the first female United States Secretary of State, having served from 1997 to 2001 under President Bill Clinton. At that time, Ms. Albright was the highest-ranking woman in the history of our government.
About the Presentation: At each program, authors speak for about thirty to forty-five minutes, followed by a short question and answer session. After the program the author may be available for a book signing.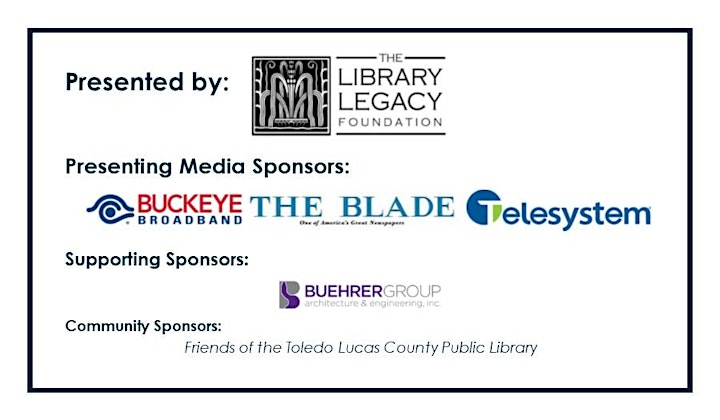 FAQs:
Can tickets be purchased by phone? No, tickets can be purchased online through Eventbrite, or through any Toledo Lucas County Public Library location.
What are my parking options at the event? The facility has free parking.
What time do the doors open? General admission seating starts at 6:30 p.m.
Are there assigned seats? No. Seating is general admission, but the purchase of a ticket does guarantee you a seat.
Is handicapped seating available? Handicapped seating is available. For special seating arrangements, please call 419.259.5196 at least one week prior to the event.
Will an American Sign Language Interpreter be provided for the event? We are happy to provide an ASL Interpreter for the event - if you require this service please contact us at 419.529.5196 at least 10 days before the event so arrangements can be made.
What can/can't I bring to the event? Please do not bring outside food / beverages. There is no video recording or flash photography allowed.
Will the author hold a book signing after the talk? The featured author is typically available to sign copies of their works. Restrictions for signing are subject to the authors, their management, or event circumstances.
Where can I contact the organizer with any questions? Call the Library at 419.259.5200.
Do I have to bring my printed ticket to the event? Yes, tickets will be scanned at the door. If you choose to utilize your mobile device, tickets can be scanned via your Eventbrite email receipt. Note: Screen shots/captures of the ticket receipt cannot be scanned. Please have your device with ticket receipt open and available for scanning at entry.
Can I get my book if I don't attend the event? Books may only be obtained at the event. If you are unable to attend, you may have someone else pick it up at the event, but they must have your ticket in hard copy or on their device.
What is the refund policy? Tickets will be refunded only if the event is cancelled.