About this Event
About the Book: On a chilly spring morning in Brooklyn, nineteen-year-old Linda Sarsour stared at her reflection, dressed in a hijab for the first time. She saw in the mirror the woman she was growing to be—a young Muslim American woman unapologetic in her faith and her activism, who would discover her innate sense of justice in the aftermath of 9/11. Now heralded for her award-winning leadership of the Women's March on Washington, in WE ARE NOT HERE TO BE BYSTANDERS Linda Sarsour offers a poignant story of community and family.
From the Brooklyn bodega her father owned, where Linda learned the real meaning of intersectionality, to protests in the streets of Washington, DC, Linda's experience as a daughter of Palestinian immigrants is a moving portrayal of what it means to find one's voice and use it for the good of others. We follow Linda as she learns the tenets of successful community organizing, and through decades of fighting for racial, economic, gender, and social justice as she becomes one of the most recognized activists in the nation. We also see her honoring her grandmother's dying wish, protecting her children, building resilient friendships, and mentoring others even as she loses her first mentor in a tragic accident. Throughout, she inspires readers to take action as she reaffirms that we are not here to be bystanders.
In his foreword to the book, Harry Belafonte writes of Linda, "While we may not have made it to the Promised Land, my peers and I, my brothers and sisters in liberation can rest easy that the future is in the hands of leaders like Linda Sarsour. I have often said to Linda that she embodies the principle and purpose of another great Muslim leader, brother Malcolm X."
This is her story.
Reviews: "Linda Sarsour's memoir, WE ARE NOT HERE TO BE BYSTANDERS, challenges every stereotype about Muslim women, uncovers dangerous bias against Muslim Americans, and teaches readers how to organize for justice and kindness in our own lives. This is a rare book that leaps off the page and into our hearts."— Gloria Steinem
About the Author: Linda Sarsour is an award-winning civil rights activist, community organizer, and mother of three. A Palestinian Muslim American born and raised in Brooklyn, New York, she is the former executive director of the Arab American Association of New York and the cofounder of the first Muslim online organizing platform, MPower Change. She is also a founding member of Justice League NYC, a leading force of activists, artists, youth, and formerly incarcerated individuals committed to criminal justice reform through direct action and policy advocacy.
Sarsour served as national cochair of the largest single day protest in US history, the Women's March on Washington. Named among 500 of the most influential Muslims in the world, she was also cited as one of Fortune's 50 Greatest Leaders, and featured as one of Time magazine's 100 most influential people in the world in 2017. She has won numerous awards for her activism, including a Champion of Change award from the Obama Administration. She is a frequent media commentator on issues that affect Muslim communities, Middle East affairs, and criminal justice reform. She is most recognized for her transformative intersectional organizing work and movement building.
About the Moderator: Imam Ahmad Deeb has been serving communities from a very young age. He grew up in Orlando, FL to a family of scholars. His father was an Imam and scholar for 35 years and his mother was an educator.
Ahmad Deeb inherited a deep love for study and service. Initially deciding to enter medicine, and after receiving his degree in Psychology at the age of 19, he took a year off to serve as a youth coordinator in Michigan. His interest changed and instead of medicine, he decided to devote his life to Islamic learning and community building.
He serves as the Outreach Ambassador for Bayan Claremont, the first graduate school for Islamic Studies and Chaplaincy in the country. His greatest passion lies in cultivating love and community through education, service, and mindful devotion.
About the Presentation: At each program, authors speak for about thirty to forty-five minutes, followed by a short question and answer session. After the program, books will be available for sale and the author may be available for a book signing.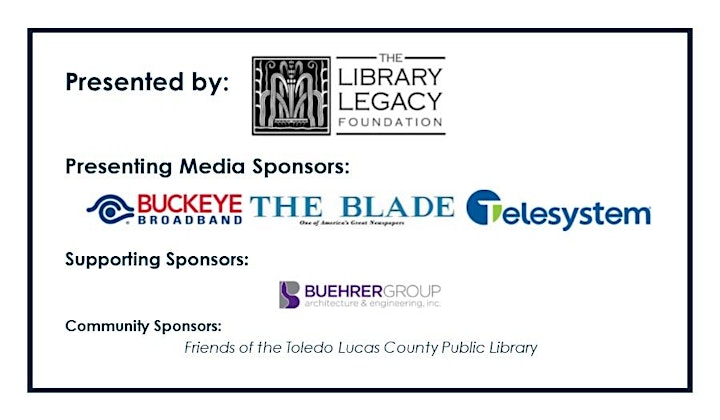 FAQs:
Can tickets be purchased by phone? No, tickets can be purchased online through Eventbrite, or through any Toledo Lucas County Public Library location.
What are my parking options at the event? The facility has free parking.
What time do the doors open? General admission seating starts at 6:30 p.m.
Are there assigned seats? No. Seating is general admission, but the purchase of a ticket does guarantee you a seat.
Is handicapped seating available? Handicapped seating is available. For special seating arrangements, please call 419.259.5196 at least one week prior to the event.
Will an American Sign Language Interpreter be provided for the event? We are happy to provide an ASL Interpreter for the event - if you require this service please contact us at 419.529.5196 at least 10 days before the event so arrangements can be made.
What can/can't I bring to the event? Please do not bring outside food / beverages. There is no video recording or flash photography allowed.
Will the author hold a book signing after the talk? The featured author is typically available to sign copies of their works. Restrictions for signing are subject to the authors, their management, or event circumstances.
Where can I contact the organizer with any questions? Call the Library at 419.259.5200.
Do I have to bring my printed ticket to the event? Yes, tickets will be scanned at the door. If you choose to utilize your mobile device, tickets can be scanned via your Eventbrite email receipt. Note: Screen shots/captures of the ticket receipt cannot be scanned. Please have your device with ticket receipt open and available for scanning at entry.
Can I get my book if I don't attend the event? Books may only be obtained at the event. If you are unable to attend, you may have someone else pick it up at the event, but they must have your ticket in hard copy or on their device.
What is the refund policy? Tickets will be refunded only if the event is cancelled.