Toledo Lucas County Public Library is happy to welcome Kenn Kaufman!
About this Event
About the Book: A Season on the Wind: Inside the World of Spring Migration
Every spring, billions of birds sweep north, driven by instinct to return to their breeding grounds. This vast parade often goes unnoticed—except in a few places where these small travelers concentrate in big numbers. One such place is along the Lake Erie shoreline just east of Toledo, Ohio. There the peak of spring migration is so spectacular that it attracts bird watchers from around the globe, culminating in one of the biggest bird festivals anywhere. In this program based on his new book, Ohio naturalist and author Kenn Kaufman will describe the science and magic of spring bird migration through this region.
About the Author: Kenn Kaufman burst onto the national birding scene as a teenager in the 1970s, hitch-hiking all over North America in pursuit of birds, an adventure later chronicled in his cult-classic book Kingbird Highway. After several years as a professional tour leader, taking birding groups to all seven continents, he transitioned to a career as a writer, editor, and illustrator. Most of his energy currently goes into book projects and into painting bird portraits. He has written a dozen books, including his own field guide series, Kaufman Field Guides, published by Houghton Mifflin Harcourt of Boston. The series now includes volumes on North American birds, butterflies, mammals, insects, advanced birding, the nature of New England, and the nature of the Midwest. His other books include Lives of North American Birds and Flights Against the Sunset. The latest is A Season on the Wind: Inside the World of Spring Migration, published in April 2019. Kenn is a field editor for Audubon magazine, a fellow of the American Ornithological Society, and the only person to have received the American Birding Association's lifetime achievement award twice.
Kenn lives in Oak Harbor, Ohio, with his wife, Kimberly Kaufman, who is currently the director of the Black Swamp Bird Observatory.
About the Presentation: At each program, authors speak for about forty-five minutes, followed by a short question and answer session. After the program, books will be available for sale and the author may be available for a book signing.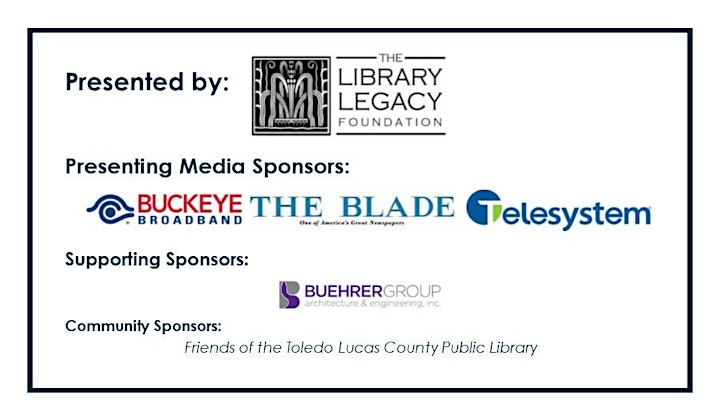 FAQ's
Can I register for tickets by phone? No, you can register for tickets online through Eventbrite, or through any Toledo Lucas County Public Library location. Tickets are for planning purposes only and a ticket does not guarantee you a seat. Seating will be on a first-come, first-served basis.
What are my parking options at the event? The facility has free parking.
What time do the doors open? General admission seating starts at 6:30 p.m.
Are there assigned seats? No. Seating is general admission, first come, first serve.
Is handicapped seating available? Handicapped seating is available. For special seating arrangements, please call 419.259.5196 at least one week prior to the event.
Will an American Sign Language Interpreter be provided for the event? We are happy to provide an ASL Interpreter for the event - if you require this service please contact us at 419.259.5196 by 3.2.20 so arrangements can be made.
What can/can't I bring to the event? Please do not bring outside food / beverages. There is no video recording or flash photography allowed.
Will the author hold a book signing after the talk? The featured author is typically available to sign copies of their works. Restrictions for signing are subject to the authors, their management, or event circumstances.
Where can I contact the organizer with any questions? Call the Library at 419.259.5200.
Do I have to bring my printed ticket to the event? No, as this is a free event. Registration is requested though, as it helps us plan.