About this Event
About the Book: The shocking new science of how hormones are wreaking havoc on the body, and the delicious solution that improves health, reduces pain, and even helps to shed weight.
Hidden in everyday foods are the causes of a surprising range of health problems: infertility, menstrual cramps, weight gain, hair loss, breast and prostate cancer, hot flashes, and much more. All of these conditions have one thing in common: they are fueled by hormones that are hiding in foods or are influenced by the foods we eat.
Your Body in Balance provides step-by-step guidance for understanding what's at the root of your suffering-and what you can do to feel better fast. Few people realize that a simple food prescription can help you tackle all these and more by gently restoring your hormone balance, with benefits rivaling medications. Neal Barnard, MD, a leading authority on nutrition and health, offers insight into how dietary changes can alleviate years of stress, pain, and illness. What's more, he also provides delicious and easy-to-make hormone-balancing recipes.
Your Body in Balance gives new hope for people struggling with health issues. Thousands of people have already reclaimed their lives and their health through the strategic dietary changes described in this book. Whether you're looking to treat a specific ailment or are in search of better overall health, Dr. Neal Barnard provides an easy pathway toward pain relief, weight control, and a lifetime of good health.
About the Author: Dr. Barnard is president of the Physicians Committee for Responsible Medicine, a faculty member of the George Washington University School of Medicine, and a Fellow of the American College of Cardiology. In 2016, he founded Barnard Medical Center in Washington, D.C., to create a new model that integrates nutrition into conventional medical care. His federally funded diabetes research revolutionized the nutritional approaches to type 2 diabetes, and he now aims to empower readers with life-changing information on hormones and health. He has written 19 books on nutrition and health.
About the Presentation: At each program, authors speak for about forty-five minutes, followed by a short question and answer session. After the program, books will be available for sale and the author may be available for a book signing.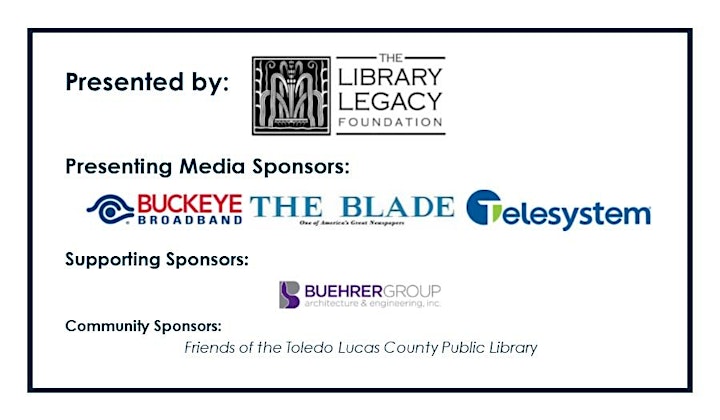 FAQ's
Can I register for tickets by phone? No, you can register for tickets online through Eventbrite, or through any Toledo Lucas County Public Library location. Tickets are for planning purposes only and a ticket does not guarantee you a seat. Seating will be on a first-come, first-served basis.
What are my parking options at the event? The facility has free parking.
What time do the doors open? General admission seating starts at 6:30 p.m.
Are there assigned seats? No. Seating is general admission, first come, first serve.
Is handicapped seating available? Handicapped seating is available. For special seating arrangements, please call 419.259.5196 at least one week prior to the event.
Will an American Sign Language Interpreter be provided for the event? We are happy to provide an ASL Interpreter for the event - if you require this service please contact us at 419.259.5196 by 3.2.20 so arrangements can be made.
What can/can't I bring to the event? Please do not bring outside food / beverages. There is no video recording or flash photography allowed.
Will the author hold a book signing after the talk? The featured author is typically available to sign copies of their works. Restrictions for signing are subject to the authors, their management, or event circumstances.
Where can I contact the organizer with any questions? Call the Library at 419.259.5200.
Do I have to bring my printed ticket to the event? No, as this is a free event. Registration is requested though, as it helps us plan.