CANCELED 1 – 2:30 "Intro to Creating 360 VR Videos" FREE AT&T workshop, Sea...
Description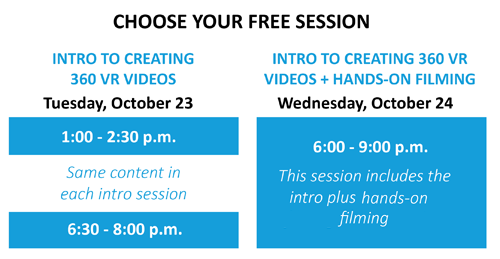 CANCELED
"Intro to Creating 360 VR Videos" is a free 90-minute workshop that uses lecture and live filming demonstrations to cover:

- Why 360?
- What equipment do you need?
- How does producing video in 360 differ from traditional video?
- What are the steps and challenges of planning and filming a 360 movie?
- How is post production different from standard video?
- How do you distribute a 360 video?
Mike Cuales, Creative Director at NC State University and owner of LEVR Studios, leads the workshops.

So come to The Lounge by AT&T, our brand new part coffeehouse, part co-working space, and part learning center. Come work, hang out, collaborate and experience a new way to shop. This is a great opportunity to not only learn about creating 360 videos but also to network and meet people!


---
All workshops are suitable for everyone, whether experienced in shooting traditional or 360 VR videos or not. So join us for an afternoon and explore the world of 360!
Attendance is limited, so register now.
---
LOCATION



800 E Thomas St
Seattle, WA 98102

A new way we join your community by creating a relaxed, locally-inspired space, that's part retail store, part coffeehouse, part co-working space, and your second living room. The Lounge offers unique events and experiences tailored to the local community for anyone to enjoy.
---
Join the AT&T Seattle Tech & Entertainment: Workshops and Competitions meetup to stay up to date on local AT&T events.
And sign up for the AT&T SHAPE newsletter and be the first to know about our upcoming entertainment hackathons, short film competitions and 360 filmmaking workshops across the country.
---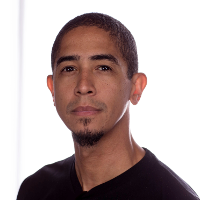 Mike Cuales, Creative Director, NC State University / Owner, LEVR Studios
In his current role as Creative Director at North Carolina State University's Department of Distance Education and Learning Technology Applications (DELTA), Mike manages a diverse team of multimedia designers. In the past few years, he has focused his efforts on the exploration, production and application of interactive 360º VR video in higher education courses and University-wide initiatives.
Mike has taught animation and digital imaging at NC State's College of Design and teaches VR and 360 filmmaking workshops for NextGen Interactions. He pioneered a 360 VR video production course at Duke TIP and has presented at SXSWedu (two years), UNC Cause, Liberact, HOW Design, Hopscotch Design, Art of Cool, RTP 180, NCMA Learn and the 2017 Digital Libraries conference.

Mike partnered with Derek Alan Rowe from WildEyesVR to contribute to the series of science-based VR field trips for kids of all ages. One of the films produced, BugVR, was exhibited at the NC Museum of Natural Sciences BugFest event which was attended by over 35,000 visitors. He has produced unique immersive installations and VR pop-ups for multi-million dollar exhibits featuring the work of Ansel Adams and Georgia O'Keeffe.