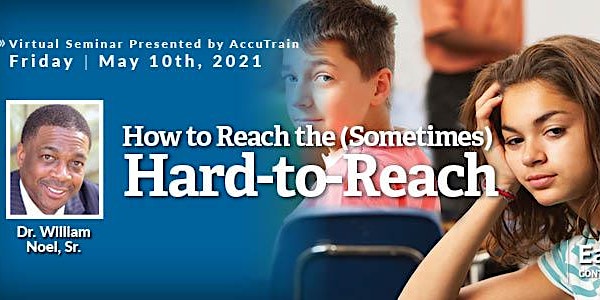 CANCEL How to Reach the (Sometimes) Hard-to-Reach Virt Seminar May 10, 2021
About this event
This is a live ONLINE event. Attendees will be able to login beginning at 9:45 am ET/6:45 am PT. The live session will begin at 10:00 am Eastern Time/7:00 am Pacific Time.
 REGISTERING WITH A PURCHASE ORDER?
To submit a registration form along with a purchase order. We also accept registration forms and school purchase orders by fax, mail or email (pd@accutrain.com).
Order processing fee does not apply to purchase orders.
All prices are quoted in US Dollars.
Educators must learn about students' lives outside school in order to connect with -- and successfully teach -- "hard-to-reach" students, says Dr. William Noel, Sr. Students' "stories" and interests have direct implications on what they do and how they perform inside school. While every educator has biases, this one-day seminar will help teachers and administrators learn how attitudes & expectations about hard-to-reach and "at-risk" students can negatively or positively affect them academically and/or behaviorally. Dr. Noel will discuss how educators can better relate to hard-to-reach students by showing respect and preserving their self-esteem.
When behavior is an issue with hard-to-reach students, the educator's response is critical. Dr. Noel says a "criminalized" punitive response can lead to anger, a decreased desire to succeed and ultimately even to the "school-to-prison" pipeline. A "medicalized" solutions-oriented response can help students learn from failures and accept responsibility for their actions – preparing them for success in the future. Dr. Noel believes educators should seek to connect with students by being transparent about their own past – the good, the bad and the ugly. When educators discuss their own past failures, it helps students learn that it is okay to fail – as long as a lesson is learned. Through successful connections, vulnerability and mutual respect, educators from every background can help those (sometimes) hard-to-reach kids thrive!
SEMINAR HIGHLIGHTS
• Shift in Philosophy
• Proven Strategies for Connecting with Hard-to-Reach Students
• Discipline vs. Punishment
• Emotions & Feelings
• Attitudes, Expectations & Mindset
• Set Your Climate
• Culturally Competent
• What Motivates Students
LEARNING OBJECTIVES:
• Understand the role of student support
• Examine relationships and how impact teaching
• Understand the potential damage done by punitive measures
• Learn the dangers of low expectations with disadvantaged kids
• Discover how to set the climate in your classroom – be a thermostat not a thermometer
ABOUT THE PRESENTER
William Noel, Sr., Ed.D
"The two most important days of your life are the day you were born, and the day you find out WHY." This quote from Mark Twain perfectly captures Dr. William Noel's personal calling and dedication to working with children. That higher calling and dedication is why Dr. Noel remains committed to being an influential role model for all students, but especially for the (sometimes) Hard-to-Reach students. Dr. Noel emphasizes the importance of connecting with those students through establishing genuine relationships, and teaching them to make better decisions. He would be the first person to debate that knowing WHO you teach may be more important than WHAT you teach. Dr. Noel began his journey in education as a substitute teacher, then as an alternative education teacher, social studies teacher, coach, assistant principal, and now district director of student support and disciplinary review. When asked by a colleague if he was going to miss teaching, Dr. Noel replied, "I will always be a teacher; just no longer from a classroom."
AGENDA
SEMINAR OBJECTIVES
In this one-day seminar, you will learn to:
WHO SHOULD  ATTEND
Classroom Teachers
Principals & Other School Administrators
Special Education Personnel
School Counselors
Social Workers (all levels)
School Resource Officers
Counselors & Therapists in Private Practice
Parent Advocates