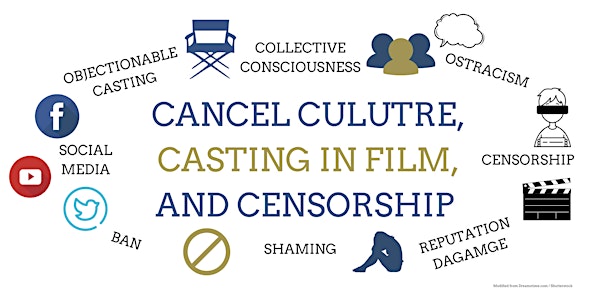 Cancel Culture, Casting in Film, and Censorship: A Discussion
Join the PBKNY Diversity & Inclusion Committee for an interactive panel discussion on cancel culture and casting in film.
About this event
Please join the PBKNY Diversity & Inclusion Committee on Thursday, November 3, 2022 at 7PM EDT for an interactive and intriguing panel discussion on the impact of social media, "cancel culture," and "wokeness" on directors' casting of actors in their movies and actors' decisions to play characters from different racial, ethnic, sexual orientation, or religious backgrounds.
For example, consider the following:
Should Lin-Manuel Miranda have been criticized (and then apologized) for not casting Afro-Latinos in the main cast of "In the Heights"? Is it problematic that Eddie Redmayne played a transgender role in "The Danish Girl" or Tom Hanks played someone with a disability in "Forrest Gump"? Are criticisms of James Franco playing Fidel Castro in an upcoming film valid because Franco is not Cuban or Latino? Should Jamie Foxx's "All-Star Weekend" have been shelved because Robert Downey Jr. plays a Mexican character? Should that same reasoning also apply to Ana de Armas playing Marilyn Monroe in "Blonde"?
What impact does such criticism and limitation on creative thought and artistry have on free speech? Should social media users, other actors, etc. function as a de facto jury on what viewers can and cannot watch (or access)? What are the consequences of setting such limitations on the directors/actors themselves, society as a whole, or us as actual and potential viewers? How should we, as individuals, PBK members, community leaders, react and respond? Does cancel culture and/or "wokeness" stifle discourse, knowledge sharing, and creativity?
Moderated by Diversity & Inclusion Committee Chair Nicole Lancia, panelists Dr. Angelyn Mitchell of Georgetown University and Professor Louis Seidman of Georgetown Law will address these challenging questions and more, with an opportunity for audience Q&A at the conclusion of the panel.
***
Join Zoom Meeting: https://us06web.zoom.us/j/83035340656?pwd=ZE9aaFNQVVFiamgxdFBodFBER1ZwZz09
Meeting ID: 830 3534 0656
Passcode: 175154
One tap mobile
+16469313860,,83035340656#,,,,*175154# US
+19292056099,,83035340656#,,,,*175154# US (New York)