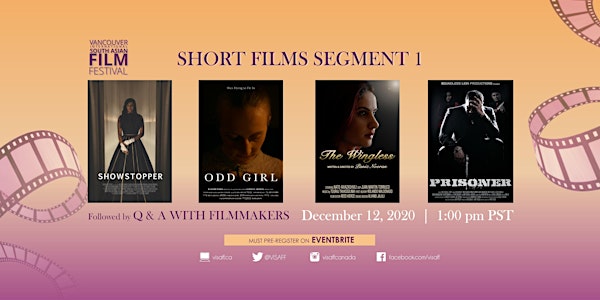 Canadian Short Films Segment 1- Online Only
Canadian Short Segment
When and where
Location
Surrey City Hall 13450 104 Avenue Surrey, BC V3T 1V8 Canada
About this event
Showstopper
Film is about the struggle of dealing with pressure from loved ones, society, social media and other external factors, and learning to find validation from within yourself. The film shows through the internal and external forces at play, beyond all doubt, nothing will triumph except you as yourself – just as you are. We all have to become our own showstoppers.
Odd Girl
Dylan, a popular and charismatic high school student, finds his perfect existence suddenly compromised by the unwelcome attentions of lonely outcast, Belinda. Much to Dylan's disappointment, his best friend, Mindi, takes pity and invites her into their inner circle. As Mindi and Belinda grow closer, Belinda lights up with new-found confidence while Mindi becomes cold and reclusive, distancing herself from Dylan and his friends. As this increasingly abnormal behaviour becomes intertwined with eerie supernatural forces, Dylan is compelled to dig deeper into Belinda's true character, but what he discovers next is something more menacing than he ever imagined.
The Wingless
The story begins in a gloomy room where there is a girl who is packing her stuff. She is not happy with her situation.She grabbed everything she needs and takes a step toward the door to leave the room. But suddenly a chain on her feet stops her from taking another step forward. She is stuck now. She gives up while she is standing in front of a shiny door that she cannot leave.
Prisoner
Akshay, a former Indo-Canadian gangster, lives a new life with his wife, Sukhmani. But when his former boss and cousin brother, Mavi, vengefully returns into his life, Akshay has no choice but to return to the gang life to seek justice and face his past.
Q and A will Filmmaker
Moderated by
Sidartha Murjani
Actor/ Director/ Producer