Canadian Guidelines on Alcohol Use Disorder among Older Adults

Tuesday, 29 October 2019 from 12:00 PM to 1:00 PM (EDT)
Event Details
Presenter: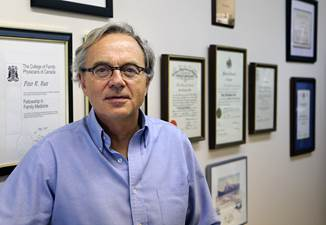 Dr. Peter Butt is a graduate of McMaster University and a Fellow with the College of Family  Physicians of Canada.  He is an Associate Professor in the Department of Family Medicine at the University of Saskatchewan in a position dedicated to Addiction Medicine, and serves as a consultant to Mental Health and Addictions in the Saskatoon Health Region.  His national committee work includes the National Alcohol Strategy Advisory Committee, Chair of the Canadian Alcohol Low Risk Drinking Guidelines Expert Advisory Group, Co-Chair of the Standard Drink Label Working Group for the Canadian Centre on Substance Use and Addiction; and Physician Lead on the Alcohol Screening, Brief Intervention and Referral project for the College of Family Physicians of Canada.  Provincially he is the Physician Lead on the Saskatchewan provincial "Take Home Naloxone" project, Chair the Opioid Advisory Committee for the College of Physicians and Surgeons of Saskatchewan, and serves on Health Canada's First Nations Prescription Drug Abuse Initiative.
Summary:
The Canadian Coalition for Seniors Mental Health (CCSMH) has been funded through the Substance Use and Addictions Program (SUAP) of Health Canada to create a set of four guidelines on the prevention, assessment, and management of substance use disorders among older adults for alcohol, benzodiazepine receptor agonists (BZRAs), cannabis, and opioids.
Join us for this session to learn about the Canadian Guidelines on Alcohol Use Disorder Among Older Adults where you will hear about our recommended low-risk drinking guidelines for older adults as well as about the other prevention, screening and treatment recommendations from the upcoming Guidelines.

Terms & Conditions
By registering for this event, you will be added to the brainXchange newsletter list where you will be emailed bi-monthly newsletters and information on upcoming events. You may unsubscribe at any time. This event will be recorded. By choosing to participate in the event you consent to the recording. Recordings will be made available on the brainXchange.ca website and Vimeo.
Have questions about Canadian Guidelines on Alcohol Use Disorder among Older Adults ?
Contact brainXchange