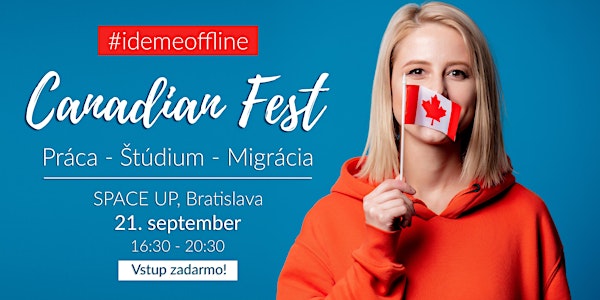 Canadian Fest 2022 | Práca - Štúdium - Migrácia
Event o práci a štúdiu v Kanade. Prednášky kanadských škôl, slovákov študujúcich v Kanade a možnosť konzultácie s imigračnou konzultantkou.
When and where
Location
SPACE UP | Coworking & Events 95 Záhradnícka 821 08 Bratislava Slovakia
About this event
Láka ťa práca alebo štúdium v Kanade? Chceš sa dozvedieť ako sa v Kanade trvalo usadiť? Zmeň svoj život a vykroč za svojím kanadským snom! 🇨🇦
Príď na náš každoročný veľtrh Canadian Fest, kde sa dozvieš všetko podstatné. 🇨🇦
Podujatie sa bude konať v priestoroch coworkingu SPACE UP v Bratislave v stredu 21.9.2022 od 16:30 do 20:30.
Vstup je zdarma, stačí sa registrovať.
Tento rok ideme konečne OFFLINE a ty sa tak môžeš face to face stretnúť so zástupcami kanadských vysokých škôl, vypočuť si zaujímavé príbehy slovákov žijúcich v Kanade, prípadne zistiť viac informácii o práci a možnostiach emigrácie.
Čo ťa na Canadian Feste čaká tento rok? 🇨🇦
V priebehu večera si budeš môcť vypočuť prednášky týchto colleges:
📌 ILAC International College
+ Georgian at ILAC
📌 Tamwood College
+ Go International
📌 Canadian College
+ St. Lawrence College
📌 Whistler Adventure School
+ uvidíš život a štúdium v Kanade očami študentov, ktorí s nami vycestovali a dodajú ti odvahu prečo povedať tejto príležitosti ÁNO! 🎓
Okrem štúdia zistíš informácie aj ohľadom práce v Kanade (Working Holiday) a rôznych druhoch víz ✈️
A ako bonus sa dozvieš všetko potrebné o emigrácii do Kanady od našej imigračnej konzultantky Kristíny z KM Global Immigration 🤝🏻
Presný časový harmonogram a predstavenie jednotlivých speakerov už čoskoro.
TEŠÍME SA NA TEBA!