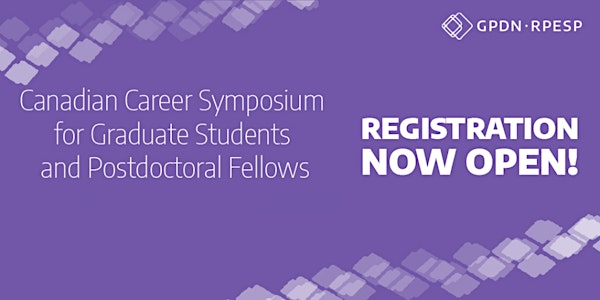 Canadian Career Symposium for Graduate Students and Postdoctoral Fellows
Join graduate students and postdoctoral fellows from across Canada for the 3rd annual Career Symposium, with 3 days of career sessions.
About this event

CANADIAN CAREER SYMPOSIUM
Each year, the GPDN hosts a career symposium for Graduate Students and Postdoctoral Fellows aimed at professional development and career exploration. Presentations by GPDN members and invited experts cover topics including inspirational keynotes, career self-assessments, resumes, informational interviews, and networking.
GPDN 2022 Career Symposium Agenda
SYMPOSIUM CANADIEN SUR LES CARRIÈRES
Chaque année, le RPESP organise un symposium sur les carrières pour les étudiants aux cycles supérieurs et pour les chercheurs postdoctoraux, portant sur le développement professionnel et sur l'exploration de carrière. Les discours liminaires visent à inspirer et les présentations, données par des membres du RPESP et par des experts invités, abordent des sujets tels l'auto-évaluation professionnelle, la création du curriculum vitae, l'entretien d'information et le réseautage.
2022 RPESP CARRIERE SYMPOSIUM ORDRE DU JOUR
Ordre du jour avec informations détaillées
Sponsoring Institutions:
Athabasca University
Brock University
Carleton University
Concordia University
Dalhousie University
HEC Montréal
L'Université de Montréal
l'Université de Sherbrooke
McGill University
McMaster University
Memorial University, School of Graduate Studies
Polytechnique Montréal
Queen's University
Simon Fraser University
Toronto Metropolitan University
Trent University
Université du Québec en Abitibi-Témiscamingue
Université Laval
University of Alberta
University of British Columbia
University of Calgary
University of Guelph
University of Lethbridge
University of Manitoba
University of New Brunswick
University of Regina
University of Saskatchewan
University of Toronto
University of Waterloo
University of Windsor
The University of Winnipeg
Western University
York University