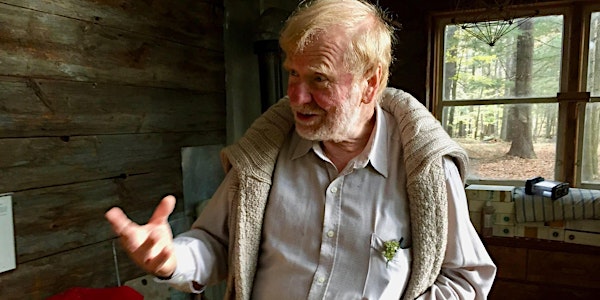 "Can we rehydrate California?" with Walter Jehne and Didi Pershouse
Location
Paicines Ranch
13388 Airline Highway
Paicines, CA 95043
Description
The Soil Carbon Sponge Tour 2018 and the NoRegrets Initiative invite you to join globally renowned soil and climate scientist Walter Jehne and author Didi Pershouse for a presentation on how restoring health to California's soil will rekindle its natural ability to soak up rain and store massive amounts of water, and rehydrate the state for the long term.
Walter and Didi will share practical, affordable strategies for collaborating with natural systems: how a healthy soil sponge can reduce flooding, drought, algae blooms, and wildfires; how green landscapes can cool the climate and rehydrate desertifying areas; how grasslands and forests create their own rainfall and influence continental weather patterns, and the enormous human health and economic benefits of doing this work.
This is a rare opportunity to hear Walter Jehne and seats are limited. Please RSVP by April 14th.
For the full US and Canada Tour schedule, please visit the Soil Carbon Sponge 2018 Tour site: https://www.didipershouse.com/soil-carbon-sponge-seminars.html
About the speakers:
Walter Jehne is an internationally recognized climate scientist, soil microbiologist, and innovation strategist. He has immense field and research experience in forests, grasslands, agriculture and soils at national (CSIRO) and international (UN) level. Walter's scientific work has focused on soil biology, plant root ecology, mycorrhizal fungi, glomalin, soil-carbon formation, as well as on biology's enormous influence on hydrological cycles, weather patterns, regional and global cooling, air quality, and cloud formation and precipitation. He has a remarkable ability to explain complex systems in easy to understand ways.
For the other half of his decades, Walter has worked more broadly beyond science, at Federal Government level, leading a transformation in industry and policy. This diversity of experience has given Walter a unique and exceptional capacity to devise multi-stakeholder win-win strategies – turning challenges into opportunities. This year he was part of an invitation-only UN-FAO conference in Paris looking at bringing soil into the next IPCC report.

For more on Walter Jehne's work, see www.globalcoolingearth.org.
Didi Pershouse is the author of The Ecology of Care: medicine, agriculture, money, and the quiet power of human and microbial communities as well as Understanding Soil Health and Watershed Function. As the founder of the Center for Sustainable Medicine, she developed a practice and theoretical framework for systems-based ecological medicine—restoring health to people as well as the environmental and social systems around them.
After 22 years of clinical work with patients, Pershouse now travels widely. Her workshops and talks engage farmers, schools, and watershed groups across the US in opportunities to improve soil health, public health, and climate resiliency through changes in land management. She is board chair of the non-profit Soil Carbon Coalition. You can learn more about her work at www.didipershouse.com, and http://soilcarboncoalition.org/learn.