Can Social Games Solve America's Biggest Health Challenge? A talk with Raj...
Event Information
Location
IBM Center for Social Business
NOTE: Enter IBM at 1 Charles Park
Across from Galleria Mall
Cambridge, MA 02142
Description
The IBM Center for Social Business welcomes Dr. Rajiv Kumar, literally a game changer in tackling healthcare issues. His company, ShapeUp, designs social games that bring employees together help each other stay healthy. The theory: peer support and accountability are the keys to wellness.
Refreshments at 3:30. Talk at 3:45.
About the talk
Facing rapidly rising health care costs driven by unhealthy behaviors and a national obesity epidemic, self-insured employers have told their employees to "shape up." But regular physical activity and healthy eating are easier said than done. Many years and millions of dollars have been wasted on employee wellness programs that get astonishingly low participation.
Social gaming is changing that. ShapeUp has developed an online behavior change solution for employee populations that uses social gaming, in the form of team-based competitions, to activate, motivate, and guide participants toward reaching their healthy goals. This approach generates extraordinary company-wide engagement rates and has been shown to produce clinically significant health outcomes.
This talk will describe how ShapeUp has used social games over the past 5 years to reach 2 million lives across 93 countries at companies like HP, Aetna, Raytheon, and Sprint. It will also explore how the latest advances in mobile apps, personal fitness devices, and real-time rewards are creating new ways to enhance the wellness experience.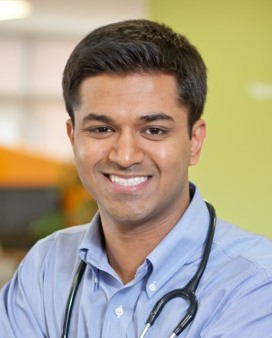 Rajiv Kumar on how ShapeUp came to be

"During medical school, I realized that many of the worst health problems we face as a nation--diabetes, heart disease, cancer, hypertension, osteoarthritis, depression--are related to our collective unhealthy lifestyle. I also learned through my clinical encounters that the patients who succeeded in adopting and sustaining healthy behaviors were those who leveraged their trusted social network for support, motivation, and accountability.

By launching a community non-profit organization (Shape Up Rhode Island) and a for-profit company (ShapeUp), I've dedicated my life to helping people reverse and prevent obesity-related illnesses through group behavior change models.

Our goal is to build the largest online social application that connects people around the world to improve their health."
You can follow Rajiv on Twitter.
Date and time
Location
IBM Center for Social Business
NOTE: Enter IBM at 1 Charles Park
Across from Galleria Mall
Cambridge, MA 02142