CAN I KICK IT? featuring "Ong Bak: Muay Thai Warrior"
The CAN I KICK IT? monthly movie series at Songbyrd DC returns for the new year with a screening of Ong Bak: Muay Thai Warrior
When and where
Location
Songbyrd Music House 540 Penn Street Northeast Washington, DC 20002
About this event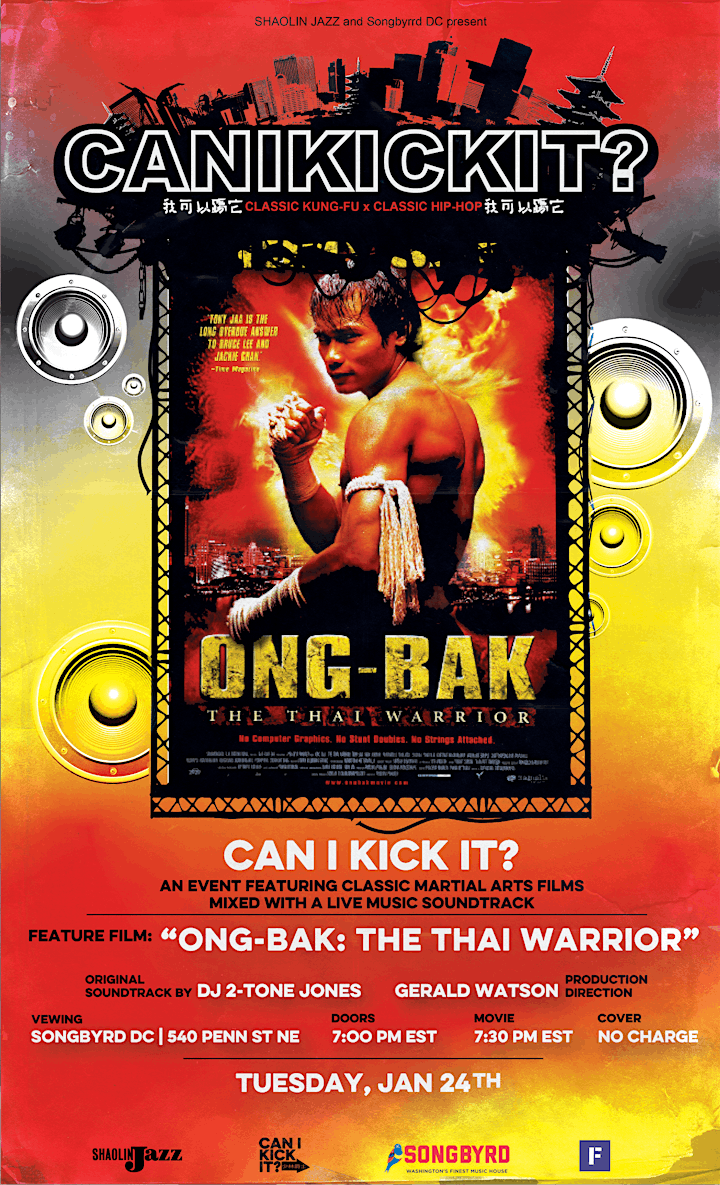 The creators of Shaolin Jazz are excited to bring back their CAN I KICK IT? monthly series for the new year. Join them on Tuesday, Jan 24th at Songbyrd DC for a screening of the hard-hitting martial arts classic Ong Bak: Muay Thai Warrior (starring Tony Jaa). Shaolin Jazz co-creator DJ 2-Tone Jones will be providing a mix of hip hop and more to score the film live (scene-by-scene).
As always the event is free. Doors open at 7p and the film will kick off at 7:30p. Food and drink options will be available throughout the evening as well. Plus, the Shaolin Jazz merch table will be on hand with some apparel items and more.
About Ong Bak
In Thailand, the impoverished village of Ban Nong Pradu has its most precious Buddha statue stolen from the temple. Luckily the small town also has a very skilled fighter in the form of Ting (Tony Jaa), who sets out on a quest to recover the cherished figure. His journey leads him to Bangkok, where he must wrangle the statue from Don (Wannakit Sirioput), a volatile drug dealer. Meanwhile, the village is suffering a severe drought and needs the Buddha to restore vitality.