Location
Franklin Park
1332 I Street Northwest
Washington, DC 20005
CAN I KICK IT? Downtown DC Summer Flicks presents a screening of the '90s cult classic action flick "Passenger 57" starring Wesley Snipes!
About this event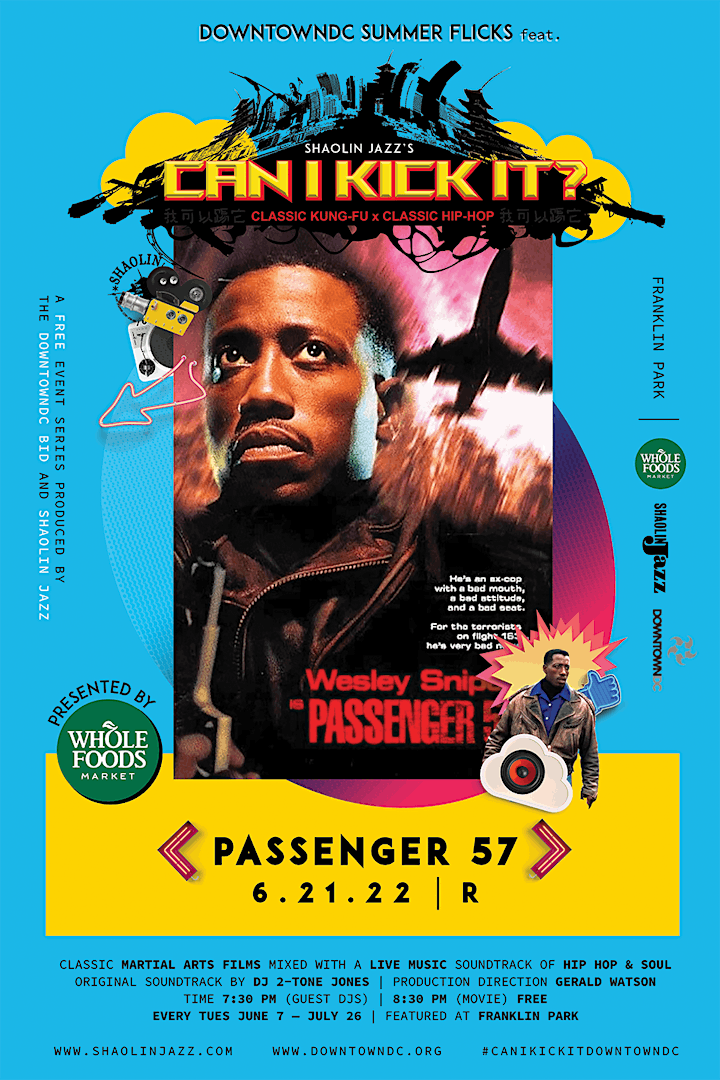 The CAN I KICK IT? Downtown DC Summer Flicks series presented by Shaolin Jazz and the Downtown DC BID is back for another season of new and cult classic action flicks remixed with an unforgettable soundtrack. This year's series is sponsored by Whole Foods and will take place every Tuesday through June and July at the newly renovated Franklin Park. Come out on June 21st for a not-to-be-missed screening of the '90s cult classic action film Passenger 57 starring Wesley Snipes. Richmond's finest DJ Prolific will set things off with a guest set at 7:30pm, plus there will be food options and other amenities nearby.
At each CAN I KICK IT? new and cult classic martial arts and action films are screened, and scored live (scene-by-scene) with a mix of hip-hop, funk, rock, jazz and more mixed live by DJ 2-Tone Jones.
About Passenger 57
John Cutter is a former policeman flying to Los Angeles to start his new job working for the anti-terrorism unit of a major airline. However, apprehended terrorist Charles Rane is on the flight, too, being transported by the FBI. After Rane's accomplices kill the FBI agents and free him, Cutter realizes the entire flight is in danger. With the help of flight attendant Marti Slayton, Cutter tries to capture Rane and free the passengers.