Description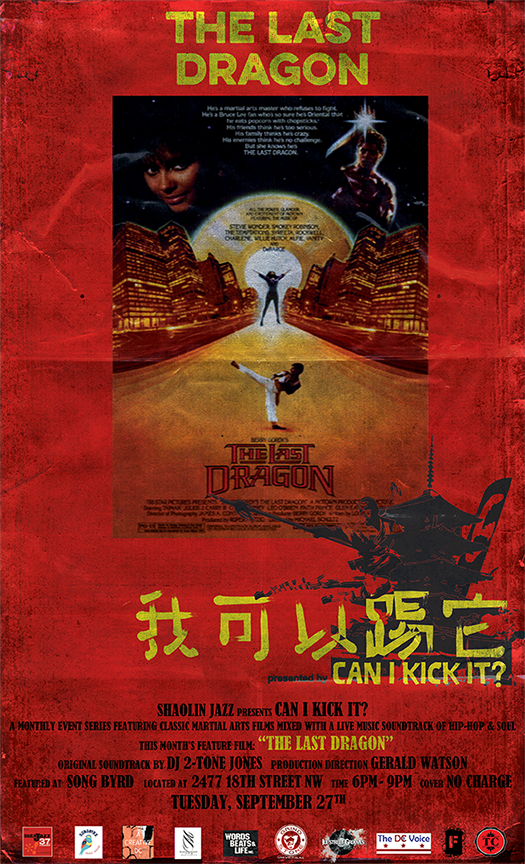 The creators of SHAOLIN JAZZ proudly present a unique event catered to lovers of Martial Arts flicks, the music inspired by the films, and everything else in between...CAN I KICK IT? Every 4th Tuesday of the month we screen a classic martial arts movie while a soundtrack of Hip-Hop, Funk, Soul and cinema soundbites are mixed live by DJ 2-Tone Jones. SHAOLIN JAZZ Art and additional visuals will also be on display.
Join us on Tuesday, September 27th at Songbyrd Music House for the next edition of CAN I KICK IT? as we'll be screening a true American cult classic The Last Dragon (starring Taimak and Vanity).

The prize for this month's trivia will be two copies of the autobiography of Taimak aka Bruce Leeroy, star of The Last Dragon, entitled "Taimak, The Last Dragon."
This month we'll also be highlighting one of our media partners - streetwear line Grindstone Universal, who will setup a pop-up shop in Songbyrd's record cafe.
Tuesday, September 27th, 2016

6pm-10pm/Film begins at 7pm

Songbyrd Music House 2477 18th St NW (Adams Morgan)
Screening The Last Dragon

Drink + Food Specials

Movie Trivia courtesy of

Taimak

Pop-up shop featuring streetwear brand Grindstone Universal

Music curation provided by DJ 2-Tone Jones


For additional info: shaolinjazz.com / twitter: @SHAOLIN_JAZZ37 / IG: @shaolinjazz