Can- Can Cabaret at Soundwell SLC
About this Event
Madazon Can-Can Presents
CAN-CAN CABARET (A Burlesque Showcase)
Headlined by Miss Brawling Beauty
Emceed By: The SLC Showgirl "Gia Bianca Stevens"
Featuring the Burlesque Graduating Class of 2021
This is a limited capacity and socially distanced seated event.
(Min 2 and Max 6 tickets per group)
Groups who purchase together will be required to sit together.
Masks must be worn at all times except when actively eating or drinking
Friday April 23rd, 2021
7:00PM Doors / 8:00PM Show
21+ Show | Valid ID Required
***9:30PM SHOW CURFEW ***
Can-Can Cabaret is a Performance Art celebration for the Spring 2021 graduating class of 'Madazon Can-Can's Burlesque Training Program'. This three month Burlesque intensive has brought together some incredible humans from video game developers to visual artists, contraception activists and working professionals to take it all off and show Salt Lake City that yes, you too Can-Can striptease with the best of them.
This unique showcase not only features the graduates, but also brings in the original Utah Burlesque mother from Las Vegas, Miss Brawling Beauty, to strut her stuff alongside the new burly babes. Local favorites who've been working to provide Utah with some much needed sensuality will also make appearances including our drag queen emcee and Salt Lake City Showgirl, Miss Gia Bianca Stevens. We'll also be breaking out some Boylesquers for your masculine fantasies in this city of salt.
Burlesque showcases the radical, wild and sensual nature of being human and celebrates each individual's unique identity in ways that stir and incite. A wide variety of bodies, art styles, and identities will be present so we're sure to tickle anyone's fancy. Make sure to get your tickets and support your local striptease artists because lord knows…Salt Lake City needs us.
In accordance with new local regulations, tickets must be purchased in advance and will be sold in orders of two or more (maximum of 6) with designated seating upon arrival.
The teams have worked diligently to make sure that our venue's safety measures meet and exceed local health recommendations; this includes socially-distanced group-based seating, increased sanitation throughout the venue, mandatory staff PPE requirements, and table-side beverage service.
We ask all attendees to be mindful of other guests, to wear masks at all times when not actively eating or drinking, and maintain social distancing.
Face masks and temperature checks will be required upon entry.
Must be 21+ to attend
Please email Info@LiveNiteEvents.com if you have any questions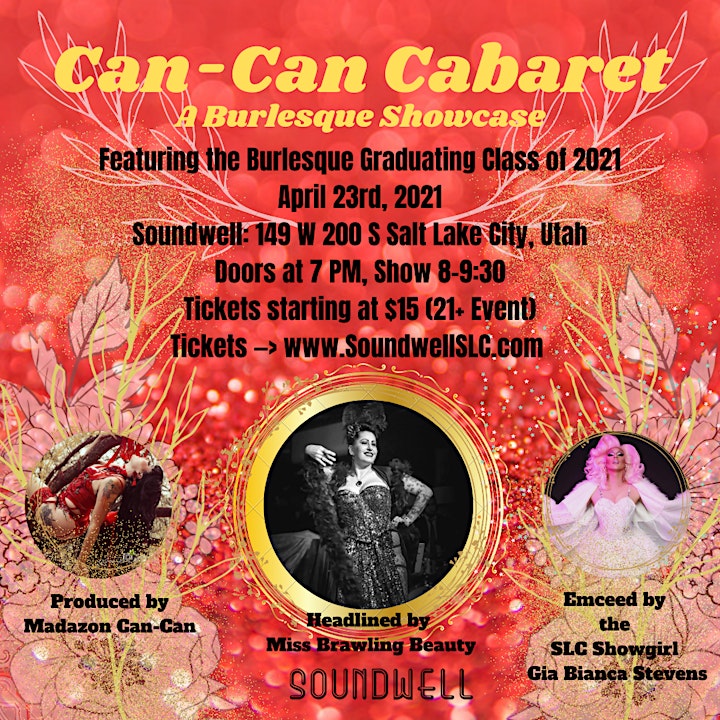 Performers
Date and Time
Location
Refund Policy