Can a Simple Sticker Help Us Act On Climate Change?

Wednesday, May 20, 2015 from 6:00 PM to 7:30 PM (EDT)
Event Details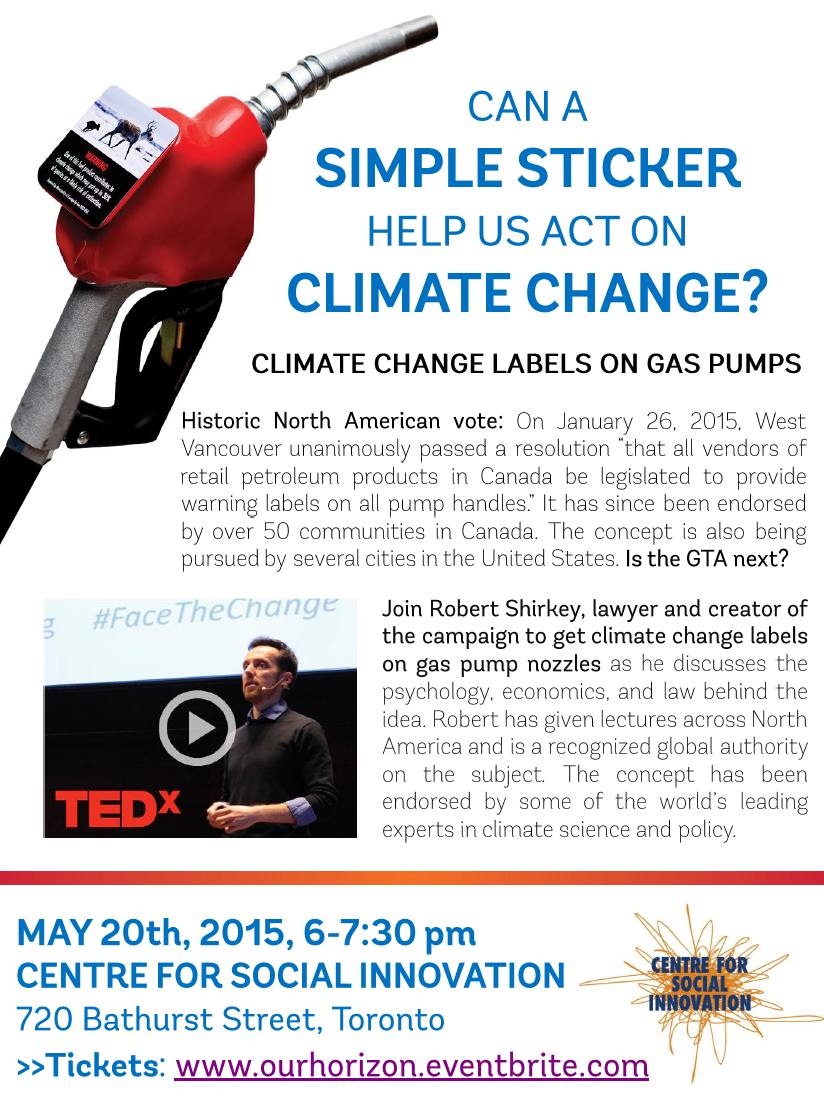 On January 26, 2015, West Vancouver unanimously passed a resolution "that all vendors of retail petroleum products in Canada be legislated to provide warning labels on all pump handles." Global TV called it "a historic Canadian first." It has since been endorsed by over 50 communities in Canada and is also being pursued by several cities in the United States. Are GTA communities next?
Our Horizon is an organization that's working with municipalities to require gasoline retailers to place climate change information labels on gas pump nozzles. Since Our Horizon launched in Toronto in early 2013, the project has been featured in media all over the world. The concept has also been endorsed by over a hundred academics and leaders in their field from disciplines including the natural sciences, social sciences, public policy, health, and business at universities across North America.

Join Robert Shirkey, Toronto-based lawyer and creator of the campaign to get climate change warning labels on gas pumps as he discusses the psychology, economics, and law behind the project. He has given lectures on the topic across North America and is a recognized global authority on the subject.

Prior to founding Our Horizon and launching its unique approach to addressing climate change, Robert operated a private practice in downtown Toronto. He also has experience as an Assistant City Solicitor and Prosecutor. Before completing his law degree, Robert studied business, economics, and psychology at the undergraduate level. He graduated with distinction and was the university valedictorian. His trial experience as a lawyer and his playful sense of humour makes him a compelling and entertaining speaker.
What people are saying:

"I have never seen an idea as brilliant as this one. It's very cost effective… I have to congratulate Mr. Shirkey on an absolutely outstanding job. This is the best thing that I've seen come across my desk in 10 years."
Guelph City Councillor Bob Bell (video)
"Shirkey speaks at breakneck pace with a lawyer's clarity and the energy of a children's entertainer."
DeSmog Canada article.
"I heard Rob speak at a Net Impact event for MBAs. The idea is elegantly simple and scalable."
Rick Smith, prominent Canadian author and environmentalist.
"Rob is a visionary who is not only looking to change the course of climate change, but our relationship with the environment. Through the Our Horizon initiative, Rob will revolutionize how we think about our environmental impact."
Alex Meers, Director, Me to We Leadership Programs.
"It speaks to people precisely at the point in time when they need this message… How that message is framed is equally as important as when they receive it."
Toronto City Councillor Mike Layton on why he likes the idea in the Toronto Star.
"I heard Rob's presentation at the Waterloo Citizens' Environmental Advisory Committee. There's a lot more to the idea than meets the eye and I'm glad we invited him to fully explain it. The committee has considerable interest in the labelling proposal and I look forward to exploring further in the new term."
Waterloo City Councillor Mark Whaley.
"Out of the minds of youth come great things… I hope that we can be the first or second in Canada to do it."
West Vancouver Councillor Bill Soprovich after hearing 16-year-old resident Emily Kelsall present the idea.
"I think it's a great idea."
Fredericton's Deputy Mayor Eric Megarity after hearing students Nicholas Decarie and Karen Buckle present the idea.
"Genius proposal."
Upworthy, the fastest growing media website of all time.
"Just like we have on all packs of cigarettes, smoking cigarettes has been known by the surgeon general to cause cancer. We would love to see this idea spread all over the country."
San Francisco Supervisor John Avalos on climate change labels on gas pumps.
"I've been to all 19 COP meetings and I've never seen an idea so simple yet so powerful."
Delegate at the United Nations COP19 in Warsaw, Poland upon seeing Our Horizon's gas nozzle.
When & Where

Centre for Social Innovation - Annex
720 Bathurst Street
Toronto, ON M5S 2R4
Canada

Wednesday, May 20, 2015 from 6:00 PM to 7:30 PM (EDT)
Add to my calendar
Organizer
Our Horizon is a national not-for-profit climate change organization that empowers people and communities across Canada to change the world. We think globally and act municipally.